Suara.com – PSSI Chairman Erick Thohir said the involvement of local products as the official merchandise for the 2023 U-20 World Cup was an important breakthrough to enliven this prestigious tournament in Indonesia.
"Thus, the launch of the 'Champion' merchandise is part of the enthusiasm to enliven FIFA's second biggest 'event', namely the 2023 U-20 World Cup," said Erick, quoted by ANTARA from the PSSI website, Wednesday (8/3/2023).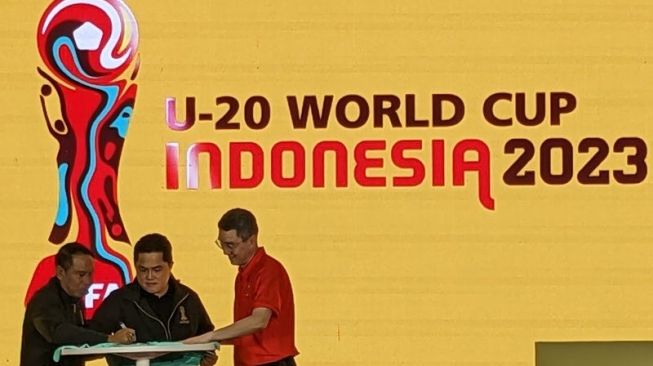 PSSI Chairman, Erick Thohir (center). (ANTARA/Michael Siahaan)
"Juara" is the brand name of the local company PT. Champion Raga Adidaya (JUARAGA) who holds the official license for the 2023 U-20 World Cup.
For the 2023 U-20 World Cup, JUARAGA made 53 types of official souvenirs including jerseys, pants, jackets, uniforms (jerseys), hats, sandals, mascots, magnetic decorations, key chains, stickers and others.
Also Read: List of Players Participating in the Second TC of the U-22 Indonesian National Team, None Appears Regularly in League 1
These objects are produced from 95 percent of local raw materials.
JUARAGA also involves MSMEs as production partners to produce these products. However, Champion CEO Mochtar Sarman ensures that all of their products are of international standard.
"I thank FIFA and PSSI for trusting and appointing us as the official 'merchandise' producer for the 2023 U-20 World Cup," said Mochtar.
Meanwhile, PSSI Chairman Erick Thohir also reminded that the 2023 U-20 World Cup is an international competition that has received wide attention because it often produces the best soccer stars on earth.
Famous names such as Maradona, Lionel Messi, Paul Pogba, Erling Haaland and Sergio Aguero are graduates of the U-20 World Cup.
Also Read: The Indonesian National Team's FIFA Matchday is getting blurry, the opponents of Burundi and Kenya are apparently not clear
"So don't be surprised if later in the 2023 U-20 World Cup many clubs will send their scouts. It will also be an opportunity for the Indonesian national team to be monitored and watched," said the man who is also the Minister of BUMN.
The 2023 U-20 World Cup will be held in Indonesia from 20 May-11 June 2023.
To date, 20 countries out of a total of 24 have confirmed their appearance at the 2023 U-20 World Cup, namely Indonesia, Dominican Republic, Guatemala, Honduras, United States, Fiji, Brazil, Uruguay, Colombia, Ecuador, New Zealand, England. , France, Israel, Italy, Slovakia, Gambia, Nigeria, Senegal and Tunisia.