From Liguria to Friuli, the Italian of the Absolutes exchanges the roles of his main actors for one day. Then he stages a duel at tenths of a second. Absolute protagonists Andrea Verona and Brad Freeman
March 20, 2023
Grade, Gorizia, 19 March. After Andora, Grado. The Enduro of the Absolutes of Italy it moves from Liguria to Friuli and in two weeks it offers an encore of the highest level with excellent protagonists, an exchange of roles for a day and an incredible duel on Sunday. In the West, Brad Freeman, Beta, had won by force and with very few objections in the East Andrew VeronaGasGas, it imposes itself shipped and safe in first day of the race, also leaving very few spaces to the opponents. Sunday, however, Freeman plays the chargeVerona counterattacks, morale the duel is state of the art and ends in favor of the official English Beta for a trifle, 1 second and 75 cents of difference at the end of the last Extreme.
Sun, early spring also in this case (at least on Saturday), a "eight" of about thirty kilometers with 16 Specials on Saturday and 14 on Sunday. A constantly high pace. Impeccable organization of the place MMVV Moto Club, as well as the supervision of the Promoter OffRoad Pro Racing. Saturday almost one way. Verona, 8 times, Freeman, 4, Bernardini, McDonald, Watson and Holcombe once win. However Andrea Verona takes the lead at the end of the first special stage and stays there for the whole day, until the end. Hardest fought Sunday. 8 specials for Verona, 5 for Freeman, one for Watson, Verona leads half day, the other and final half is the turn of Freeman which brings home, thus, the third success out of four races of the Italian 2023.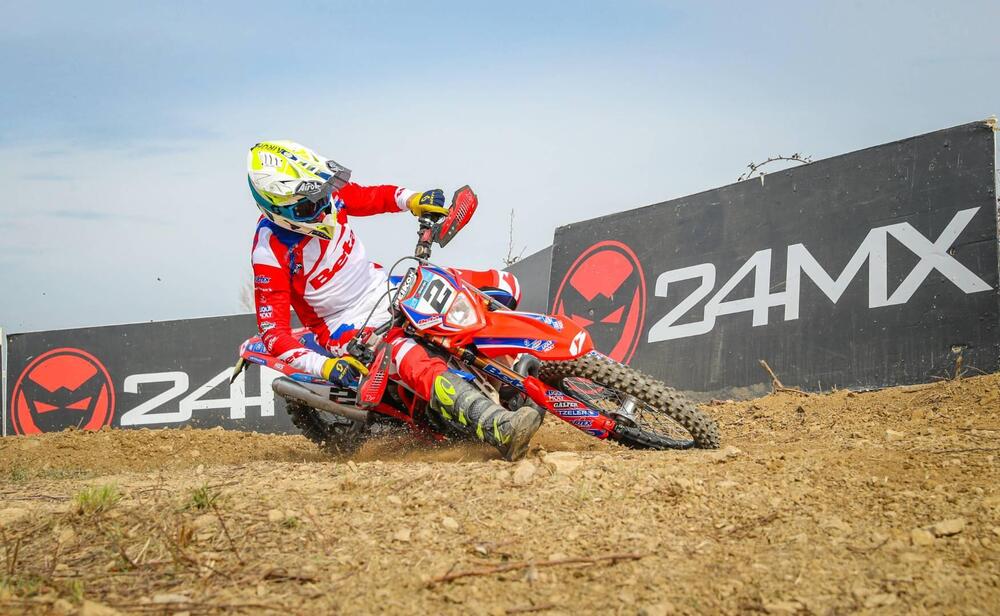 At the great uncertainty that characterized the Absolute of the two days in Friuli, there was a perfectly specular trend as regards the other classes, all characterized by double winners. Kevin CristinoFantic, won the 125, Nicholas RecchiaTM, the 2502T, Morgan Lesiardo the 300, Thomas OldratiHonda, the 2504T, Andrew VeronaGasGas, the 450 e Manolo Morettini, Honda, the Junior. In this sense, another small "anomaly" is the exchange of the 4th and 5th positions of the overall between Watson, Honda, and Milner, TM.
After four days of competition of the Absolutes, it means that we are now beyond the first third of the Championship. Some indications on the main favorites are starting to be clearer. The most beautiful is that, apparently, Verona and Freeman will beat each other out for the whole Italian (to then transfer this verve to the upcoming World Cup). With 77 points, currently Freeman is 6 lengths ahead of VeronaHolcombe third already detached. cristino125, Get old2504T, Verona450, Freemanforeigners, e MorettiniJunior, travel to full score, the other classes are more fluid. Next appointment with the Absolutes, the 5th Round (single) in Chieti on April 24th, just moved from Fara Filorum Petri to San Martino on the Marruccina. Not bad, just eight kilometers of moving.
In the meantime, let's get ready for the inauguration of the EnduroGP World Championshipwith the Italian Grand Prix on the weekend between March and April a Sanremo-Arma di Taggia.
© CIE Images – Beta Media – Honda RedMoto Media – TM Team Boano – Offroad Pro Racing
IMF Absolutes of Italy Enduro 2023
Andora (SV), 4-5 March
Grade (GO), 18-19 March
San Martino on the Marruccina (CH), 23 April
Pieve city (PG), 18 June
Sant'Angelo in Vado (PU), 22-23 July
Boario Terme (BS), 9-10 September