Crash returns with his friends and enemies in this new installment.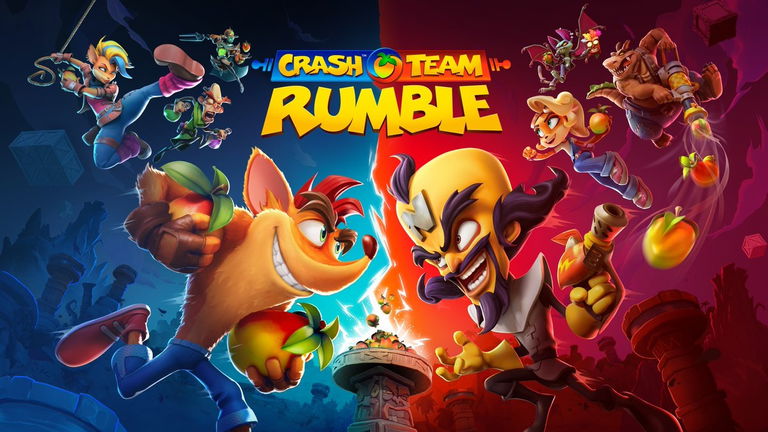 Good vs Bad in the new Crash Team Rumble.
join the conversation
The delivery of Crash Team Rumble left a good taste in our mouths at The Game Awards gala. Now we know more details and we even finally know its official release date.. Let us anticipate that you are going to spend a very fun summer with your friends and family thanks to this new installment. Yes, June is the month chosen to put us at the controls, more specifically, on the 20th.
After this information, Some Toys for Bob developers have talked a little more about everything that this Crash Team Rumble can offer us. This online multiplayer game will face two teams of 4 players each, the goal is simple… Beat your rivals at all costs. We also want to point out that the developer may have anticipated Spyro's return for his 25th anniversary.
Crash Team Rumble arrives on our consoles on June 20
During this installment, players will not only have to choose their favorite character, but they will also be able to decide between roles, powers and much more. All this, of course, always focusing on winning the game; As we are used to this type of game, each piece of equipment you choose could change the way you play. So decide on one that suits you well. Initially, these will be the playable characters:
Crash BandicootCoco BandicootTawna BandicootDingodileDr. Neo CortexDr. Nitrus BrioDr. The evil TropyCatbat
These eight characters will form the teams of the players and cEach one will have different attacks and abilities. All this added to what we have mentioned before about selecting improvements or roles will make your character unique. This extrapolated to the game will also make each one different from the previous one. It seems that Crash Team Rumble has a lot of options to have fun.
Toys for Bob loves to create characters. It's been a real pleasure coming up with the move sets and different ways to play these characters.
These words have been narrated by creative director Dan Neil, so we can see that the team has put a lot of care into the product that it is going to offer us. In addition, they have also talked about the three roles that we can choose depending on what we want to focus on in the game. These are "scorer", "blocker" or "reinforcement": the former is in charge of collecting wumpa, the blockers are in charge of defending and getting gems and the reinforcement is in charge of getting the relics.
But don't worry that you decide a role does not mean that you have to stay stuck there, you can do any function with any role you choose. This is very good, since you are not limited to just the "main function" of your character, so to speak.
There is nothing stopping a scorer from capturing the gems or a blocker from collecting wumpa and stacking it.
Remember that Crash Team Rumble will arrive on all platforms on June 20. In addition, if you reserve the game you will have access to a closed beta that will be available from April 20 to 24. While we still have a bit of a wait to do, the information and gameplay that's coming our way makes our wait a bit more bearable. See you on the battlefield.
join the conversation