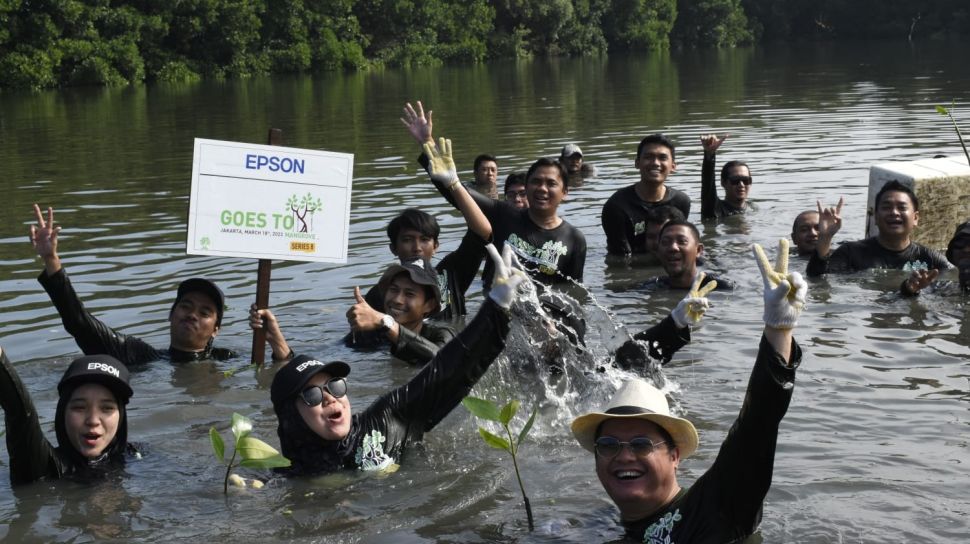 Suara.com – As a form of corporate social responsibility (CSR) for the environment and concern for conservation, PT Epson Indonesia continued its CSR activities by planting 6,000 trees in the Cibis Nine office area, Cilandak, Jakarta. This activity was carried out on March 18-19 2023, in addition to planting 6000 trees, it was also followed by planting mangroves which were carried out at the Mangrove Nature Tourism Park.
In this CSR activity, PT Epson Indonesia planted various categories of tree seeds based on their class, namely in the category of fruit trees, industrial tree trees, ornamental tree plants, and native Indonesian ornamental plant trees.
The entire management of PT Epson Indonesia planted the tree seeds in Cibis Park, Jakarta, and urged all employees of PT Epson Indonesia to plant tree seedlings.
M. Husni Nurdin said that the activity of planting tree seedlings was part of a series of PT Epson Indonesia's CSR programs in 2023. According to him, planting tree seedlings was very important and very useful, the massive tree planting movement was an effort to anticipate global climate change, and prevent other environmental damage that results in a decrease in natural productivity and environmental sustainability. "This planting is a manifestation of our actions in preserving the environment and can increase public awareness to plant and care for plants as part of an attitude or mindset that is inherent in everyday life," said Husni.
M. Husni Nurdin explained again that this activity was a continuation of the series we had previously carried out which was attended and symbolically carried out by Epson Global President Yasunori Ogaw, so that the program provided could be continued until it reached the exit program.
The greening activities carried out for two days had a very positive effect, because the enthusiasm of the employees on the second day of the CSR program was extraordinary, on the second day of the CSR event namely Mangrove Rehabilitation, PT Epson Indonesia also invited several media partners to participate in the event CSRs this time. This activity also began with a joint tour to the event venue which started from the PT Epson Indonesia office in Jakarta to the Mangrove Nature Tourism Park in Pantai Indah Kapuk.
In supporting the preservation of mangrove forests in the area, PT Epson Indonesia also held an action to plant 250 mangrove seedlings with employees and representatives from PT Indonesia Epson Industry. This planting activity is also a form of PT Epson Indonesia's CSR implementation carried out by the company in supporting environmental preservation.
Planting mangroves is the 8th series of activities starting in 2019 with a total of 1951 mangrove trees planted.
"This mangrove planting activity can be used as a strategic moment in an effort to anticipate the impacts of climate change, prevent abrasion, and restore critical land as well as decarbonize efforts," said PT Epson Indonesia's Head of Brand & Communication, Nolly Dhanurendra.
In the long term, continued Nolly, tree planting and mangrove planting activities will also provide economic benefits for people who depend on marine products. This activity is also a manifestation of one of the points in the Sustainable Development Goals (SDGs), namely point 13 which preserves and protects the earth from the effects of climate change.