development team ACE Team, has created a series of almost surreal games called Zeno Clash, which is set in the world of Zenozoik. They are games with hand-to-hand combat mechanics with the twist of being in the first person. Two Zeno Clash games were released, with the latter receiving a lukewarm commercial reception and putting the series on standby. However, the games earned a legion of fans and they were hungry for more, but the wait is over with Clash: Artefacts Of Chaos.
Without the "Zeno" suffix, it indicates a significant change to the gameplay of Clash: Artefacts Of Chaos. It's still a beat 'em up but now in third person with progression and exploration with a Dark Souls twist. It is a very technical game that requires mastery of its mechanics in order to advance, but for some reason, it feels like something is missing.
the hour of awakening
Clash: Artefacts of Chaos has a more personal story in which we handle a strange being called Pseudo. Who after waking up from what seems like a dream, witnesses how an old man and what looks like a black owl that calls him grandfather, accept a strange duel from a local game that continues with a fight. The old man loses both the game and the fight and is accidentally killed by an attack from his rival. This is how Pseudo intervenes, defeats the enemy and takes pity on the owl named Boy who is left alone and a place to stay.
Pseudo begins a tour in which he intends to take Boy to Gemini, the multi-headed leader of the area, to help them. However, Gemini wants Boy to take advantage of him, which Pseudo objects to but is outmatched by an artifact Gemini possesses. This is how Psuedo and Boy need to obtain similar artifacts to face the dangers they will face.
It is a story that we may find charming, at first because of the way Pseudo takes pity on Boy. Later, we will learn more about the particular stories of both characters. You will discover important places for the history of these protagonists and we will witness conversations and discussions between the main couple. The story is well paced and surprisingly impactful. We will see how the interaction between Pseudo and Boy strengthens as they travel through this psychedelic world and is very reminiscent of the journey of Kratos and Atreus from God of War.
Open our way to our fists… or weapons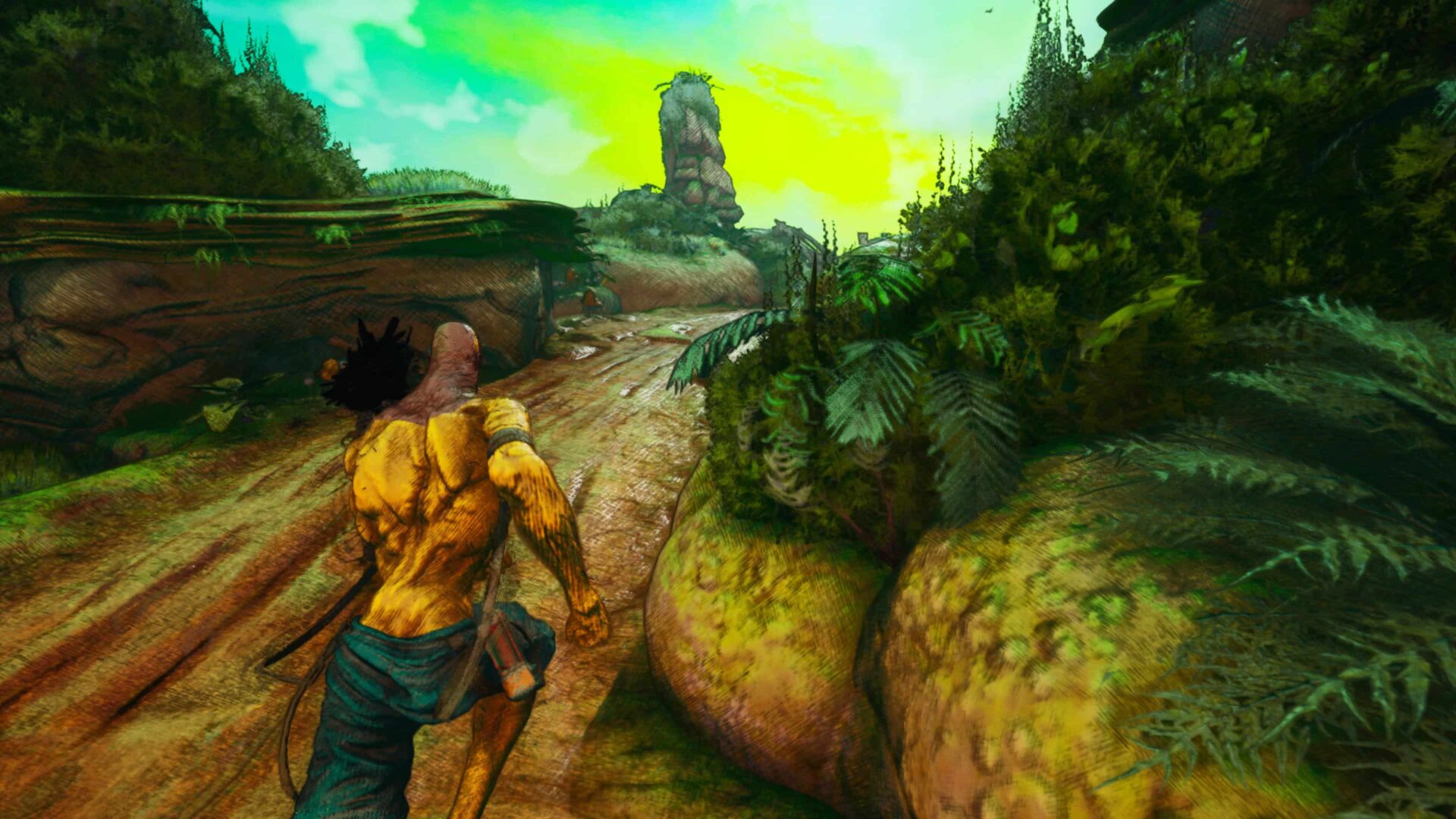 Clash: Artifacts of Chaos features a melee fighting system. At the beginning we will have to choose between three possible fighting styles: Slash Stance, Boxing Stance and Spear Stance; each position has its advantages and particularities, for example, the slash is for attacks with a wide arc of attack, the boxing is for attacks with fists and the spear is for medium-distance attacks. Choosing one or the other at the beginning indicates that we will have to obtain the other styles later in the adventure, so we are not tied to just one.
Many of the strange creatures on Zenozoik are violent and will attack on sight. However, we cannot trust ourselves since as I said, if we do not master the combat mechanics we will have a hard time. We have a light and strong attack button, these attacks are contextual, that is, depending on the direction of the stick; one button to dodge and one to block. By hitting and being hit by enemies, we will fill a special meter with which we can enter First Person Mode to perform devastating attacks.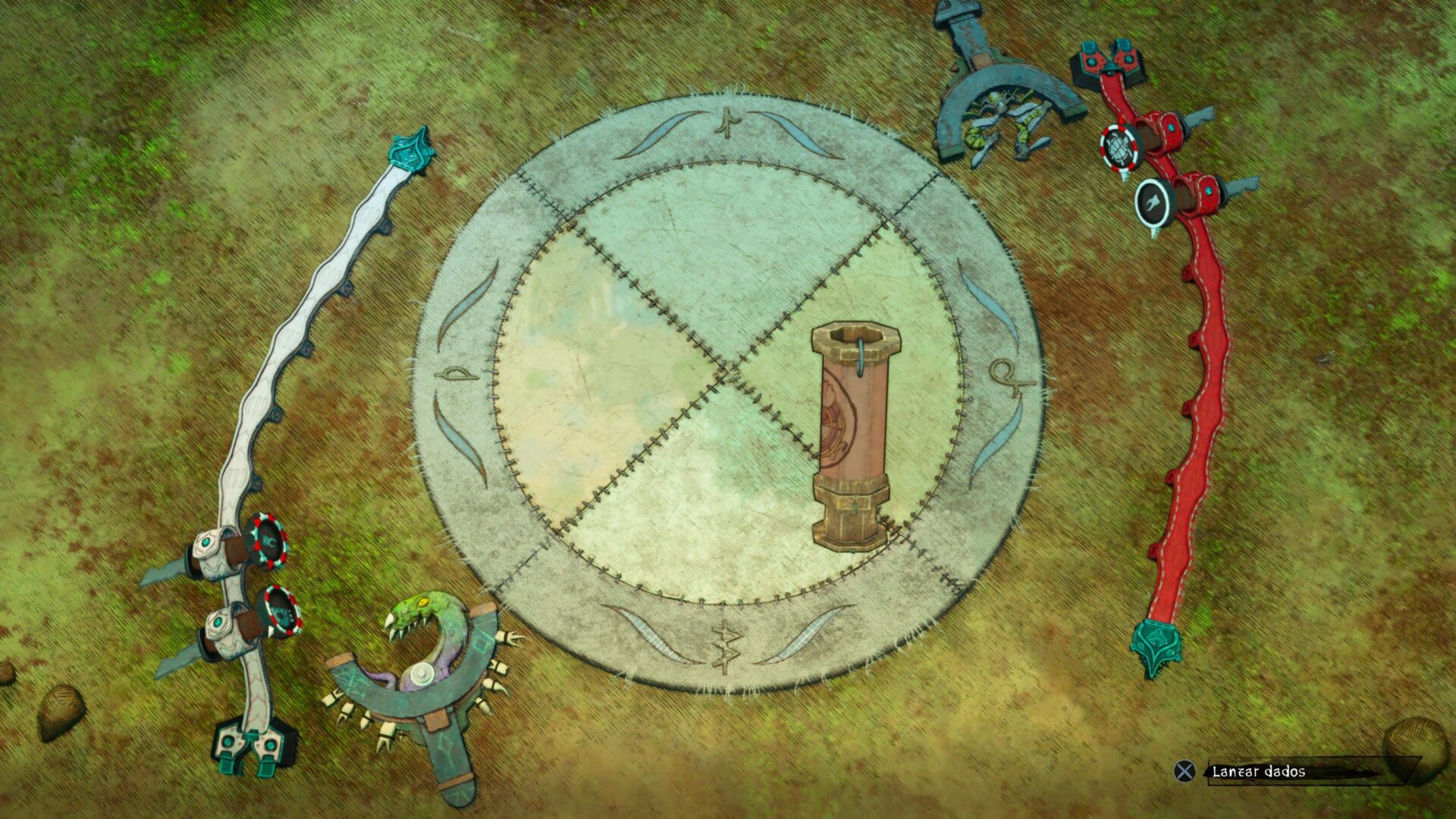 Some of the enemies will offer duels in which you must first win a game called the Ritual and then proceed to battle. The ritual consists of a minigame that depends on chance and we must throw some dice and drop small totems that decrease or increase the values ​​of the dice. Throughout the game we can either get or buy better totems and more dice from merchants to improve our odds. However, as you progress, the enemies increase in difficulty and the game becomes more complicated and takes longer to complete. The winner of the Ritual can deploy their chosen consequence artifact during the fight and depending on its effect will influence the fights.
The Ritual minigame isn't bad, however it gets boring and tedious in the end. Sometimes it's better and quicker to get close to your opponent during the slow-mo waiting period and start the fight. Since one of the consequence artifacts is actually a free hit, there isn't much of an incentive to use the Ritual outside of enjoying your own brand of dice rolling.
very technical battles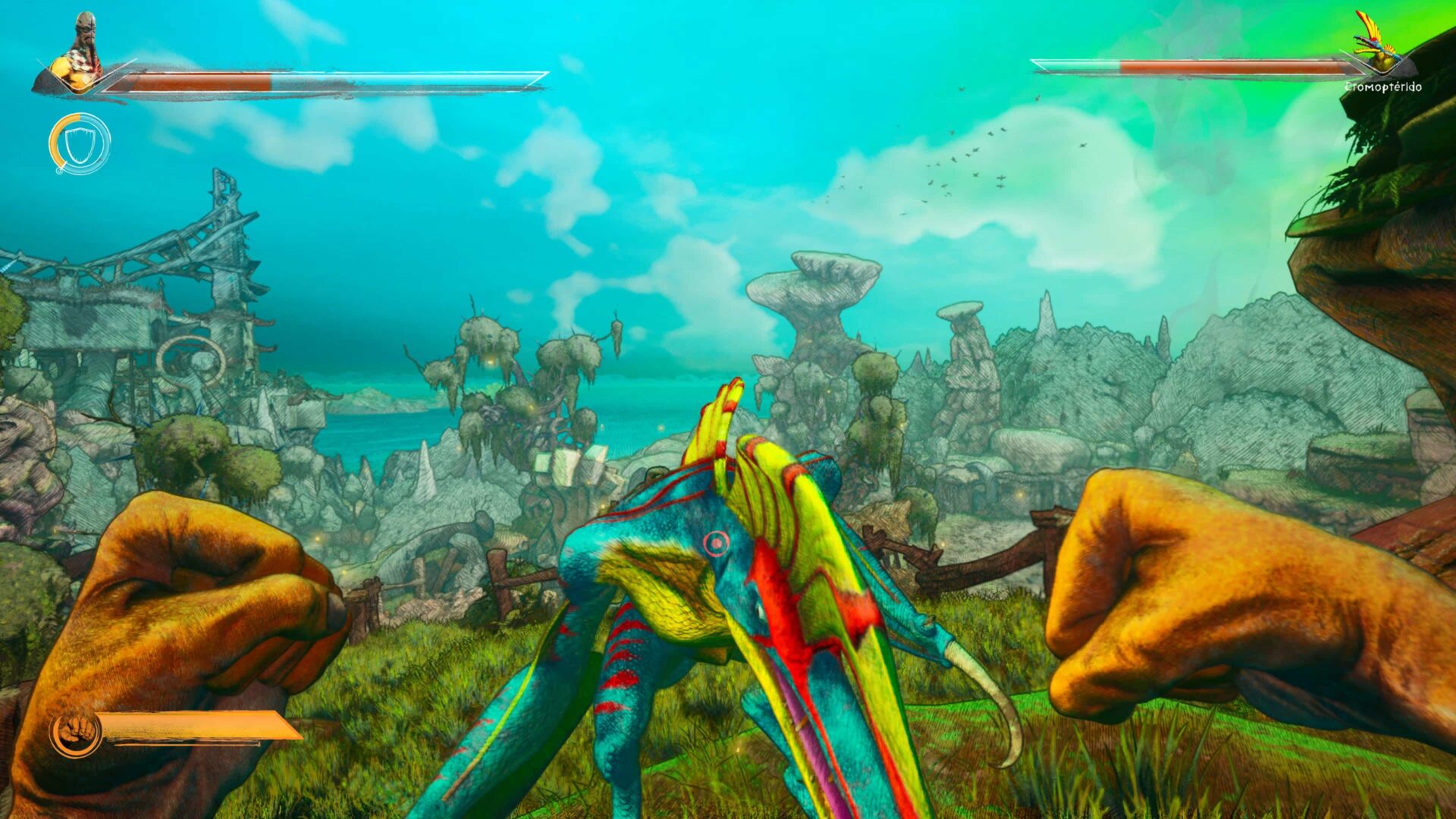 The fights are no walk in the park as they can be difficult, even with generic enemies. Fights are won with frequent use of dodges at the right moment and knowing how to handle limited resistance. Blocking is not as intuitive as other games. However, tight areas can make combat frustrating, when there are multiple opponents and native animals join the fray.
Another detail is that we can exchange positions. Putting points into a stance and some special attacks, which makes the system customizable. However, having so many options does not always mean that we will use all of them.
There will be camps scattered around the map and they work like the bonfires in Dark Souls. They are also save points and allows you to create health potions and level up Pseudo. We can also switch to night sleeping in the tent, allowing you to explore through Pseudo's real form where he looks like he's made of bones as well as traveling without Boy.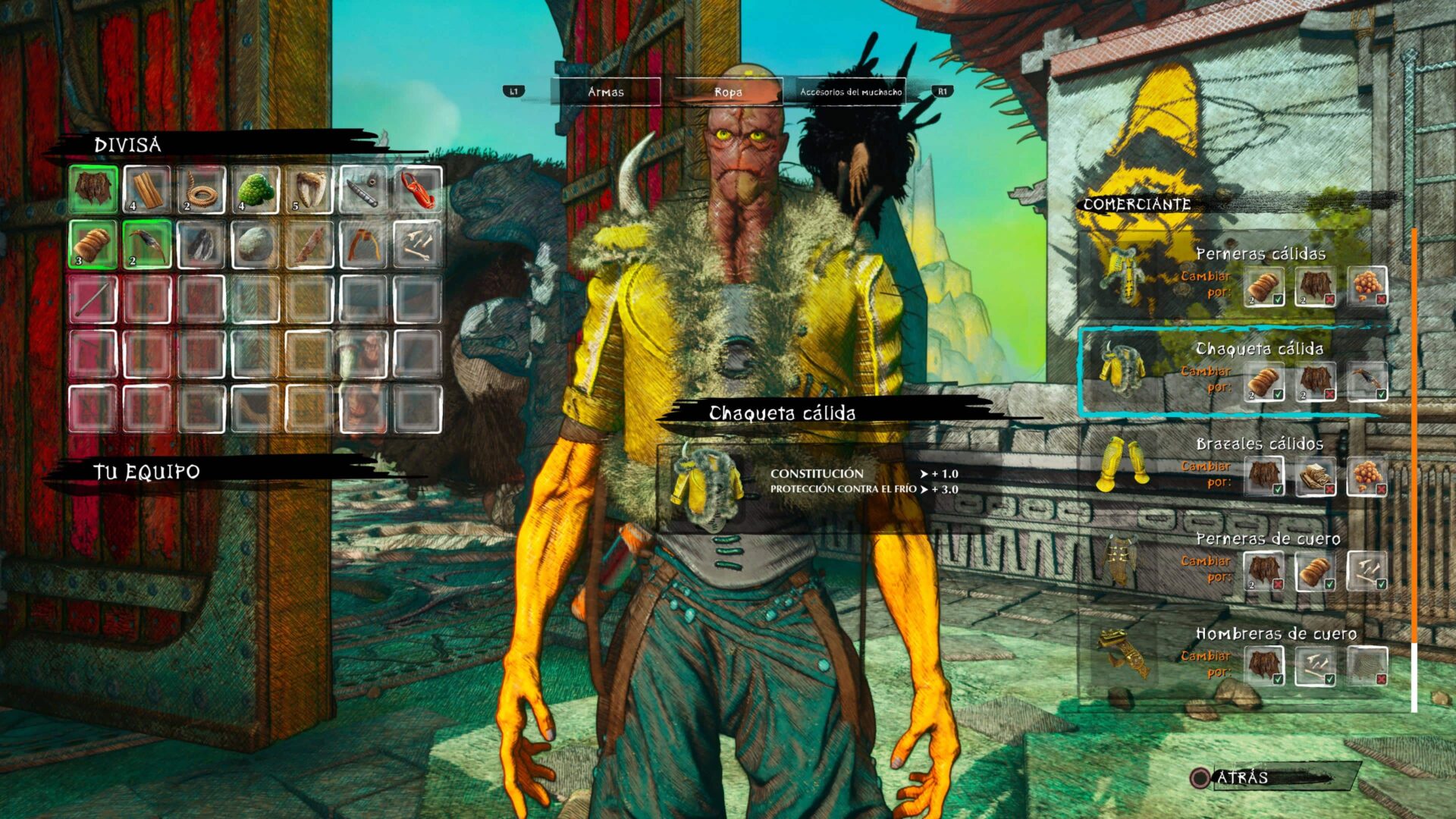 When exploring at night we can cross obstacles of brambles to access hidden hiding places and defeat mini-bosses. The world has slightly tougher opponents than during the day. Killing mini-bosses will clear the briar-covered pathways and allow Pseudo to explore deeper. Scouting at night is also limited in range, so you'll have to wake up to navigate further.
If we die during the day, we have a chance to recover our body through an automatic switch to night. If Pseudo dies in a fight against a very strong enemy, then you have to fight the same party again with full health from him. This is really frustrating and chops up the pace quite a bit.
a surreal world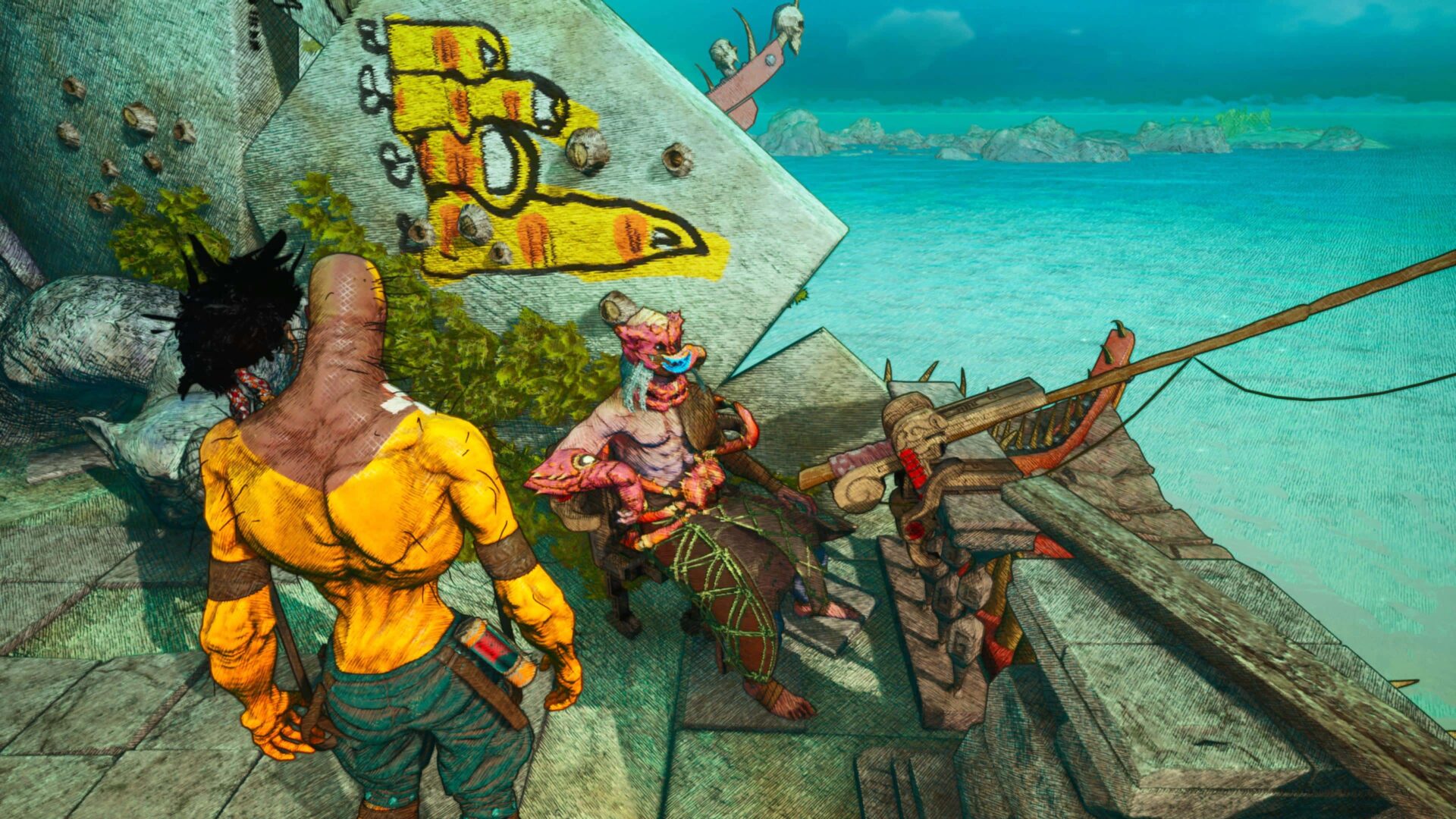 Clash: Artefacts Of Chaos has a weird and cool art style with a world that looks like something out of a Dali work. Landscapes have that charm that can both captivate and amaze with its strangeness. The characters have a very diverse forms, we hardly see different enemies, except the generic ones. The game looks like a moving painting with lines resembling a hand sketch. Everything runs smoothly, though the areas are broken up into many smaller pieces with brief charges in between.
Its soundtrack is more orchestral using singing choirs and waves, along with more classical fight music and a good variety of instruments. Songs are cleverly used on a few occasions, for story purposes. It comes dubbed into English, with Pseudo having a commanding voice, and is generally a good choice.
verdict
Clash: Artefacts Of Chaos is a game that follows in the footsteps of the Clash series with a change in gameplay. It presents a story that can captivate the player in which discoveries and reunions begin. At the playable level, it is a very challenging and interesting game, however, it needs some polishing because its mechanics require a lot of precision to master. It has a light Dark Souls touch that combines very well with the universe created by the developer studio. Aesthetically it looks like an interactive painting with very surreal and cool landscapes.
Note: This review was made on PS5 and the code was provided thanks to Nacon.