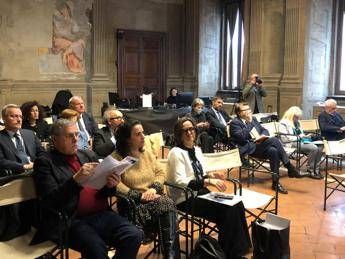 "The four main lysosomal storage diseases – Fabry disease, Pompe disease, Gaucher disease and first type mucopolysaccharidosis – are rare genetic diseases but frequent in our area. The diagnostic delay compromises the therapeutic result, neonatal screening is fundamental but is limited to a few geographical areas. There is no reason not to include these pathologies in the extended newborn screening". Thus Alberto Burlina, UOC director of hereditary metabolic diseases, Aou of Padua, on the sidelines of the presentation of the second edition of 'Raro chi trova', an initiative promoted in Rome by Takeda Italia with the patronage of the Italian Society of Pediatrics (Sip), the Italian Association Anderson-Fabry (Aiaf), Italian Gaucher Association (Aig), Italian Mucopolysaccharidosis Association (Aimps) and Cometa Asmme, Association for the Study of Hereditary Metabolic Diseases.
"In 2015, the Veneto Region – recalls Burlina – approved a law for the start of extended newborn screening for these four pathologies. To date, we have screened more than 250,000 newborns in the Triveneto area. This is the most important case series in Europe. What What is striking from the data that emerged is the frequency of cases with 1 affected newborn for every 4,000 births, hence the importance of screening for early diagnosis". "Another piece of data", equally important, "tells us that these recognized newborns were able to start a complex therapeutic path, based both on the infusion of the missing enzyme and, in some cases, on the use of a bone marrow transplant with results that I would say drugs compared to the seriousness of the pathology".
As far as type 1 mucopolysaccharidosis is concerned, "we were able to undergo a transplant within the first 6 months of life in some patients who are now totally normal – assures the expert -. With regard to Pompe disease, which gave a very serious cardiomyopathy that led to death, none of the patients diagnosed with newborn screening died. Everyone lives. These are results that make us think because this screening is limited to a few geographical areas".
The screening process for lysosomal pathologies "is different from the approach we use for the screening of other pathologies envisaged by law 167 of 2016 – Burlina is keen to clarify – I would say that it is more complex, it is also based on diagnostic techniques that must be complete from a laboratory point of view, it also means having very sophisticated equipment, it is not enough to use pathways already present for other pathologies". This type of technique "also has a different urgency than other types of neonatal screening, so we should also think of macro-areas to extend screening to lysosomal diseases" he concludes.