When assembling a Gaming PC, an important factor (although little appreciated) is the component that gives it power. The PSU or Power Supply play a delicate role and this time we are going to talk about my experience with the Be Quiet! Pure Power 12M of 1000W.
Packing
Unlike many components in a PC, few of us talk about the power source and it makes sense. It is what gives power to the PC and if you have an adequate balance with low energy demand there is no need to change it for a long time but the reality is different since with each generation change of CPU or GPU the demand is different.
Without leaving aside how much energy it can give us, there is also certification. This Pure Power 12 M is certified 80 PLUS® GOLD. This means that the PSU provides 87% efficiency at 100% load. At 50% load, it provides 90% or higher efficiency. There are no power supplies in the industry that are 90% efficient at all loads. With that, this power supply consumes less power while running quietly, which is very beneficial for your high-end system.
Many guides and many publications talk about the efficiency of each one of these certifications, but what we must be clear about is that the Gold certification is the one recommended for the gamer standard, the Silver is the cheapest option but it does not really give the efficiency percentage. suitable and of course the Platinum is the most premium of all. In general, there is no "correct" certification, but what we must take into account is how much efficiency we need in our PC in relation to the components.
What comes inside the box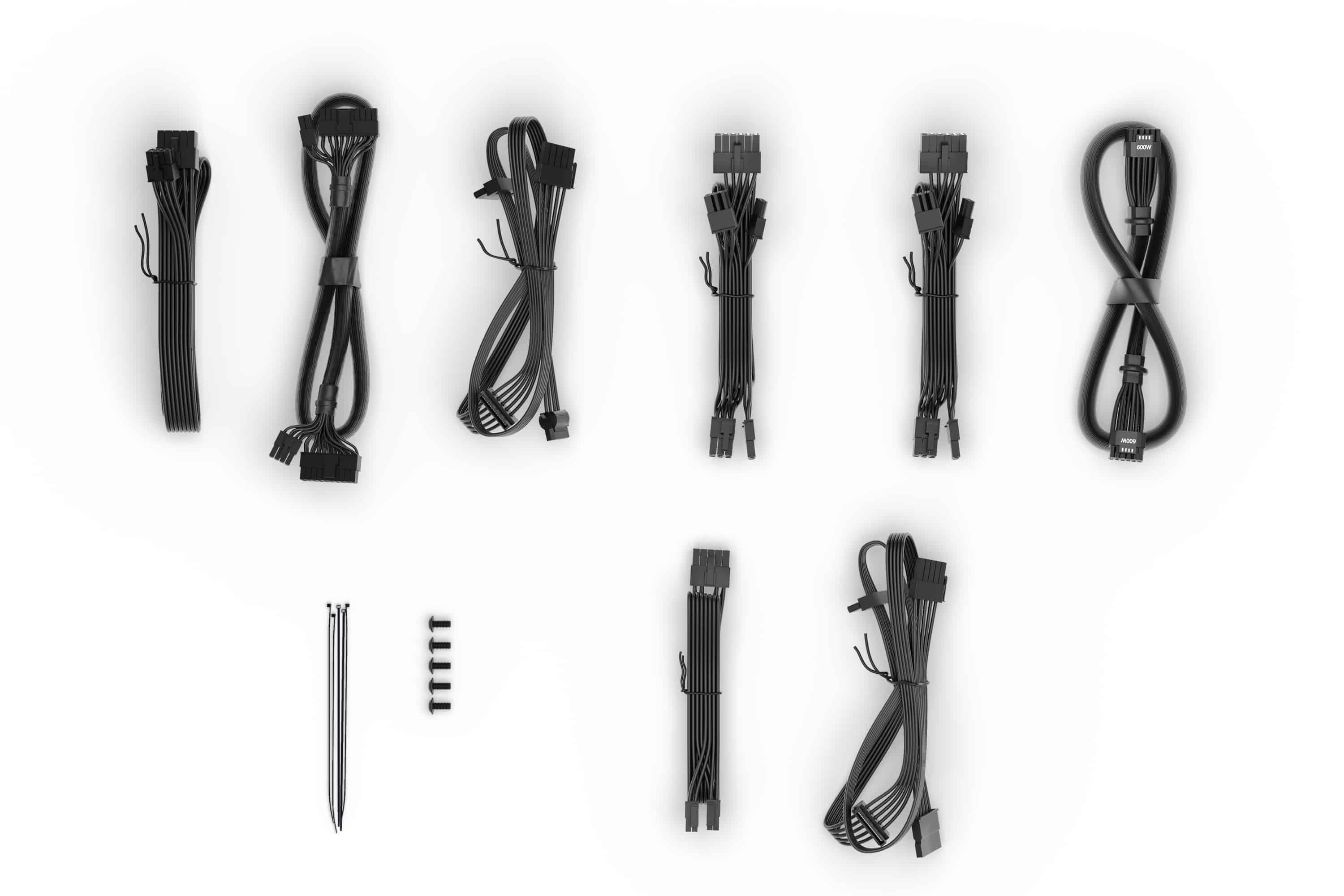 Knowing the most important thing, let's go to another one that has really caught my attention and that is the management of the cables, which is generally an important factor because this example that they sent us is completely Modular, which means that all the cables can be removed, this to add better aesthetics (by having fewer cables connected) or simply to add those custom cables that many like.
The quality of the braided cables is very high, you can feel that they will have a fairly long durability and that in my case is the most important thing of all. The number of necessary cables is included and above all we have the manual to be able to identify each of the cables and how to use them. It really caught my attention that the cable that goes to the Motherboard is relatively short compared to the previous one I had, it was not a problem when installing it but in a smaller saucepan this can be very useful.
Another great but great addition is the compatibility with a direct connection of 600W to connect to the latest generation current cards. The wire 12VHPWR for PCIe 5.0 it is quite robust as well and it saved me a lot not only aesthetically but also in the speed of installation without having to go to connect the 3 PCIe cables that my card needs. In the same way, these cables are included in the package to connect cards from past generations.
Before
After
Obviously from the features that we know is that part of this PSU is how quiet it is. Although many will say that this is unnecessary if it is a reality and more so when its efficiency is being forced. In addition to the fact that the cooling of this Pure Power 12 M is incredible. The power supply has a so-called LLC topology that provides best-in-class voltage regulation and efficiency. That makes it perfect for a gamer, content creator, or design use.
He Pure Power 12 M without any cable connected it has an approximate weight of 4.20 Lb and dimensions (in mm) of 160 x 150 x 86. As you can see in the image, its connector is only for Europe, this is due to the manufacturer's place of origin but nothing that an adapter could not solve. We must take into account that this adapter must withstand a good voltage and we try not to buy a simple adapter that cannot pass the energy or when the connector heats up it has some kind of problem. The easiest solution is to use a power connector from a unit that has the equivalent wattage of the unit, but it is not recommended to use non-certified wiring.
Many will perhaps say that a PSU should have RGB in some cases which I am really opposed to. The design that this Pure Power 12 M it has something that the others do not and it is that color together with the construction material that makes it special. Regardless of where the design is located, it is really attractive, even if we are simply looking at a black component, knowing what is inside is what counts, not how it looks.
In conclusion
The Be Quiet! Pure Power 12 M of 1000W proves to be an excellent power supply for enthusiasts with excellent comfort when installing and that design that guarantees a pleasure for our eyes. Like all products of this brand, silence took over my PC, in addition to the fact that now we practically have excellent technology for managing watts internally in the PC. The addition of a PCIe 5.0 12VHPWR cable made my life so much easier when it came to connecting my RTX 4080 without having to run those 3 PCIe cables in the way. Although the cable to connect the motherboard is a bit short compared to other brands, the difference is quite noticeable. This review was made with a copy provided by Be Quiet!.