Everyone is talking about it: Aston Martin is the team of the moment after Fernando Alonso's third place in the Bahrain GP. After a less than perfect start, the Spaniard was forced to earn a place on the podium with overtaking that highlighted the qualities of the AMR23.
The Silverstone car built a comeback that wasn't easy because on the straight there was a shorter DRS zone and having set up a high-downforce aerodynamic configuration on the rear wing didn't allow for easy overtaking at the end of the straight.
Fernando Alonso, Aston Martin AMR23, George Russell, Mercedes F1 W14
Photo by: Mark Sutton / Motorsport Images
Alonso, therefore, had to ingenuity to exploit the characteristics of the "verdona" by inventing unusual attacks such as at turn 10 against Lewis Hamilton. Overtaking was successful thanks to the strong point of the AMR23: braking.
The Spaniard seemed to excel in the braking sections of turns 1, 8, 10 and 11, demonstrating not only a good aerodynamic balance.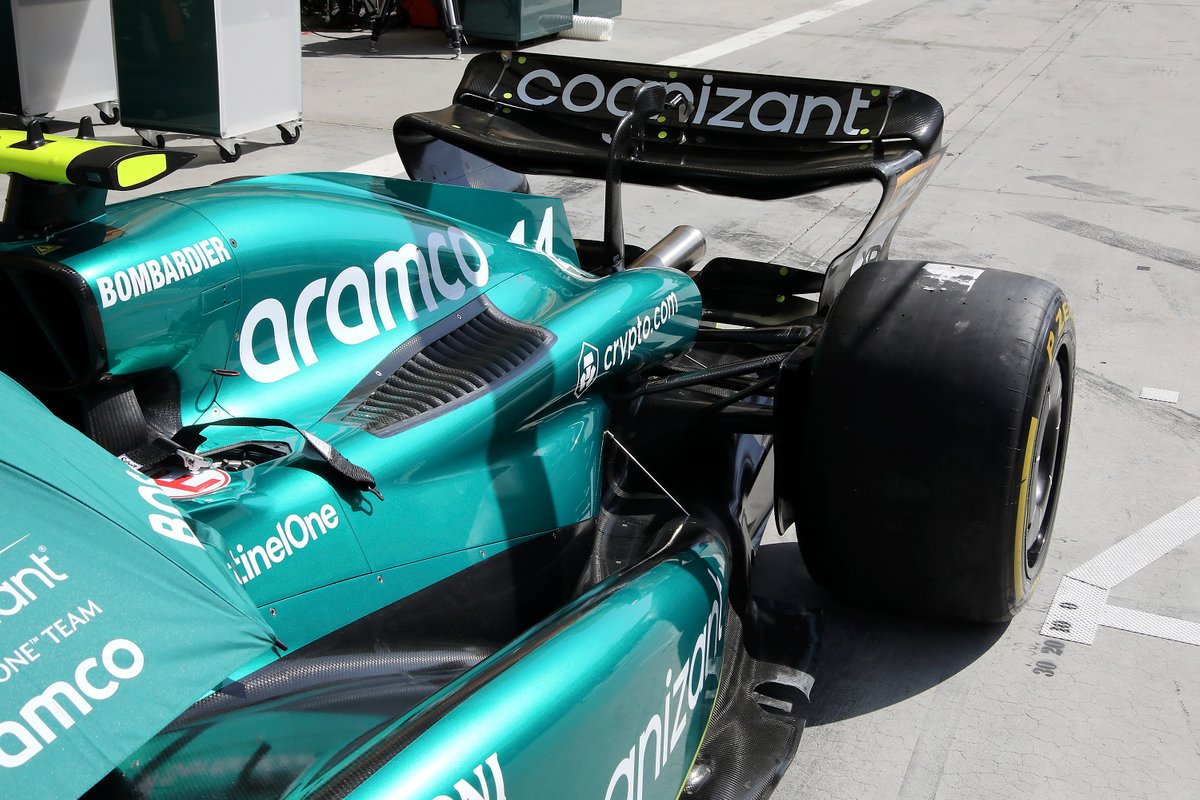 Aston Martin AMR23, technical detail of the belly very carved towards the bottom
Photo by: George Piola
Observers persist in saying that we observe an exasperation of the Red Bull RB18, while we disagree with this view, since Aston Martin has developed its own concepts that go even beyond the Milton Keynes conception, such as the deep excavation above the belly which makes it possible to take advantage of the Coanda effect to bring a high pressure flow which is located above the frame to the foot of the bottom.
And also in terms of the braking system, Aston Martin has gone beyond the Red Bull choices: on the RB19, Adrian Newey kept the caliper in a vertical position mounted beyond the axle, as was the "verdona" last year, while Luca Furbatto proposed the extended caliper which was one of the must-haves of the Milton Keynes team.
The caliper is the result of a collaboration with Brembo: already last year a reticulated version was proposed on the AMR22 which allowed good heat evacuation associated with another very important characteristic of unsprung masses: lightness.
Aston Martin AMR22, detail of the reticulated front caliper created in collaboration with Brembo
Photo by: George Piola
Aston Martin has reviewed all the air passages inside the front corner with the clear intention that the heat produced by the braking system (disc plus caliper) be isolated and expelled from specific ducts, while a flow of fresh air has the task of separating the two carbon baskets to maintain a cool temperature in the space between the two elements which prevents the transfer of an increase in temperature to the rim and, therefore, to the tyre.
Read also: