Suara.com – The Coordinating Minister for Politics, Law and Security (Menko Polhukam), Mahfud MD asked that all parties should be able to behave like the General Chair of the PDI Perjuangan or PDIP Megawati Soekarnoputri because they adhere to Pancasila and the Constitution in democratic life in Indonesia.
This was conveyed by Mahfud at the National Symposium entitled 'National Peace Towards the 2024 Election Without the Politicization of Religion' which was held by the PDIP through Baitul Muslimin Indonesia (Bamusi) at the PDIP Party School, Lenteng Agung, South Jakarta, Tuesday (21/3/2023).
Meanwhile, Mahfud initially said that Indonesia had been agreed to be a democratic country. However, there is a constitutional reference when the Motherland implements this idea.
"So, what is important in democracy is having elements, in democracy there is a constitution, because there is Pancasila as an ideology, under it there is a constitution. The constitution rules the game which is very fundamental. The state is regulated in the constitution," said Mahfud.
Also Read: Mahfud MD's Concern About Strange Rp. 349 Trillion Transactions, More Dangerous Than Corruption
For this reason, he also reminded that all elements of the nation could imitate Megawati who always obeyed the constitution when she was in democracy, including in the context of holding elections.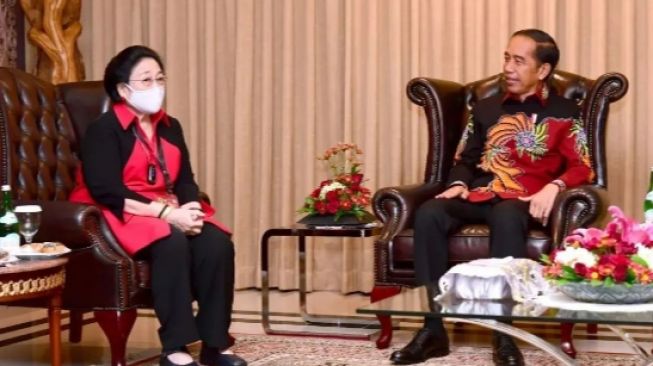 Joko Widodo and Megawati Soekarnoputri's moment of togetherness (Instagram/presidentmegawati)
"Therefore, you have to shout, Mrs. Mega (Megawati Sukarnoputri) always shouts, in essence, everyone must obey the constitution. Do you want elections or whatever, because the state is chaotic, it doesn't follow the constitution. Everything is as it pleases," he said.
He added that democracy contained in the constitution conveys that there is a limitation of work space between the executive, judiciary and legislature. According to him, power should not be unlimited.
"It is not permissible for that power to be unlimited. You are president, what is your scope? Apart from that, it belongs to the legislature or the judiciary. The central government has authority. Distribute that power," he said.
Furthermore, he said, democratic life according to the constitution in Indonesia outlined the implementation of elections which need to be held once every five years.
Also Read: Strange Transactions Reaching 349 Trillion at the Ministry of Finance, Sri Mulyani Explains the Analysis Report
"The fixed time is five years. Don't shorten it. It's not allowed. It's also not allowed to be extended, except through the process of changing the constitution. Those are the principles in a state that are subject to constitutional provisions," he concluded.