Suara.com – Online gambling has recently become a hot topic on Twitter. Twitter users are busy telling personal experiences and those around them who fall into poverty because of online gambling.
A number of artists who received online gambling endorsements were then highlighted. Among them are Denny Cagur, Ari Lasso, Boy William, Gilang Dirga, Jessica Iskandar, and Sule were caught promoting Agen138.
Interestingly, the six famous artists promote Agen138 as an online game that can generate money. A search for this @deductiveid account has been watched 4.7 million times as of Wednesday (29/3/2023).
Warganet then criticized the artists who promote online gambling. They questioned the endorsement system, which did not seem selective, as well as the firm action taken by law enforcement against the choices of these public figures.
Also Read: Promoting Online Gambling, Two Twin Celebrities in Bukittinggi Arrested: They are Still Amateurs
This is because two celebrities from Bukittinggi were recently arrested for promoting online gambling. The two celebrities are even still students.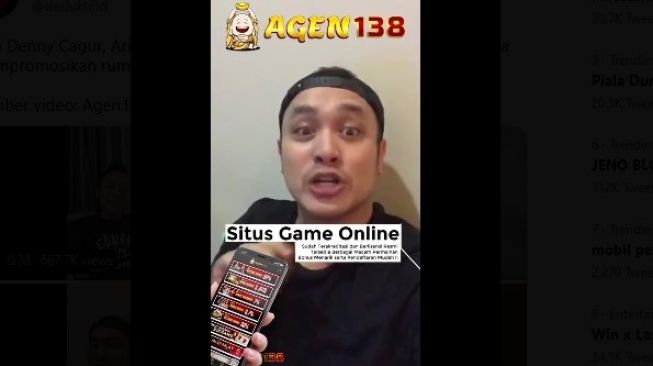 Gilang Dirga is considered to be promoting online gambling. (Instagram)
"I swear Ari Lasso, Denny Cagur, Boy William, Sule are really weird. Even though it's clear that only Slot300 is really a gacor slot," commented the account @seggs ***.
"These artists are really stupid, have they had so little income to promote online gambling sites? Which online game suggested we make a deposit, bro. The feeling of the game isn't really that exciting," said the account @Badreb ***.
"Aren't you arrested, sir? @DivHumas_Polri. I'm confused that I live in Indonesia. Hopefully, the wrong people will get a reward someday, amen," replied the account @yudhae ***.
Also Read: Viral! Stories of Employees Trapped in Online Gambling to Darken Hundreds of Million Company Money