Discover the new series and movies coming to Disney+ in the coming weeks.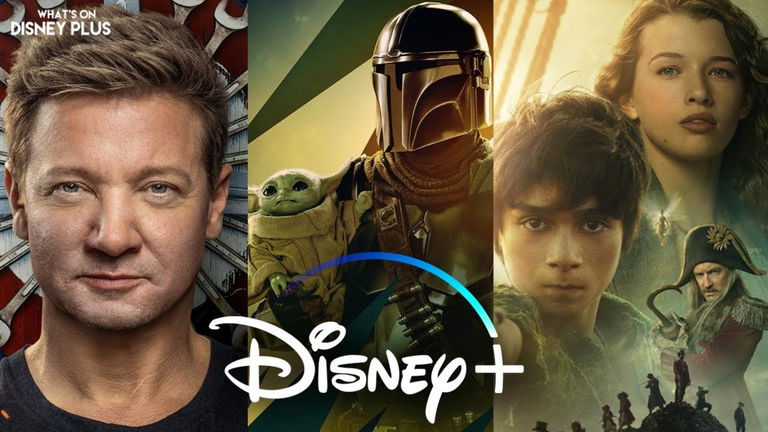 More Mandalorian and Peter Pan, great news from Disney + in April
join the conversation
The month of April is about to start, so the Disney+ streaming platform is ready to add new series, movies and documentaries that are added to the premieres of March, which began the third season of Star Wars: The Mandalorian, which will continue with the premiere of chapters every week this month.
As usually happens throughout the year, Disney+ includes news on a weekly basis without prior notice, although for now it anticipates that it will celebrate Earth Day on April 22 with a new documentary series from National Geographic made up of four chapters entitled "The secret of the elephants", produced by James Cameron and narrated by Natalie Portman.
Subscribe to Disney+ NOW
All Disney+ premieres in April 2023
AMEN. Francis responds (April 5)
Special directed by Jordi Évole and Màrius Sánchez to show the meeting that holds the current leader of the Catholic Church with ten young people of different ages, origins and with very diverse lives and experiences. It is a situation never before recorded by a camera: a close and honest conversation between one of the most influential people in the world and ten Spanish-speaking young people between the ages of 20 and 25.
Beyond the Vatican In his talk with these young people, the pope addresses issues such as feminismthe role of women in the Church, abortion, loss of faith, homosexuality, abuse in the Church, racism, or bullying, among others.
The Good Mothers (April 5)
Series awarded with the 'Berlinale Series' Award at the 73rd Berlin International Film Festival and inspired by a true story to tell the story of Denise, the daughter of Lea Garofalo, Maria Concetta Cacciola and Giuseppina Pesce. Born into the deadliest of Italian mafia clans, the three women dare to defy the 'Ndrangheta and attempt to destroy her from within.
Will Trent (April 5)
Series based on Karin Slaughter's best-selling book to tell the story of Georgia Bureau of Investigation (GBI) Special Agent Will Trent, who was abandoned at birth and endured a harsh childhood in Atlanta's overcrowded foster care system. . But now, determined to use his unique point of view to ensure that no one is abandoned like he was, Will Trent has the highest GBI case resolution rate.
Tiny Beautiful Things (7 de abril)
Before starring in her own Marvel series as Agatha Harkness, Kathryn Hahn protagonizará Tiny Beautiful Things, a series based on the bestselling collection by Cheryl Strayed. The story is about a woman whose marriage is hitting rock bottom, whose daughter barely speaks to her, and whose writing career is a thing of the past. When a friend of hers suggests that she replace him as a writer for an advice column, Clare ends up betting on it.
Rennervations (April 12)
Jeremy Renner reimagines decommissioned vehicles and rebuilds them into mind-blowing creations that serve communities around the world.. The series features the participation of Anthony Mackie, Vanessa Hudgens, Anil Kapoor and Sebastián Yatra.
How I Met Your Father Season 2 Part 1 (April 18)
In the near future, Sophie continues to tell her son the story of how she met his father, transporting us to the present for the second season. Sophie and her tight-knit group of friends will keep trying to find out. who they are, what they want from life and how to fall in love in the age of dating apps and limitless options.
A slob at home (Seasons 1-8)
You would too (April 26)
A new Spanish series that begins with an armed robbery on the bus line that connects the Barcelona airport with Manresa, where three robbers end up dead, although the murderer manages to escape and the six witnesses on the bus seem unable to identify the fugitive.
The agent Fran Garza and his partner and ex-partner Rebeca Quirós suspect that the witnesses are not telling the truth, since the six claim they have not seen the face of the murderer, but everything indicates that they have made a pact of silence to protect the fugitive by considering him a vigilante. The case goes viral and public opinion is positioned against the police and in favor of the Justiciero.
Sam Meffire: Fall of a Saxon Symbol (April 26)
Peter Pan and Wendy (April 28)
New film of the well-known tale focusing on Wendy Darlinga girl who is afraid of leaving her childhood home behind until she meets Peter Pan, a child who refuses to grow up. Together with his brothers bell, a tiny fairy, will travel with Peter to the magical world of Neverland. There she will meet an evil pirate, captain hookand he will embark on an exciting adventure that will change his life forever.
join the conversation