We tell you all about the adorable Pokémon that will destroy you in the next Tera-raid of Scarlet and Purple.
The Pokémon Company has announced details about the upcoming Tera Raid battle event for Pokémon Scarlet and Purple, which will begin this week and will bring with it a boss Pokémon that is as adorable as it is challenging.
After Decidueye's difficult Tera-raid, players can look forward to a new challenge with the arrival of the Pokémon Blissey as the next boss of Tera Raid. This event will be available for a limited time and promises a few rewards for those who defeat it.
5 Star Blissey Tera Raid Battle Event
Here you have the main data of Blissey's Tera Raid in Pokémon Scarlet and Purple:
Start Date: March 24, 2023 End Date: March 26, 2023 Tera Raid Boss: Blissey Additional Rewards: Experience Candy Increased amount of Teraliths Blissey's Teratype: Fairy
As of now, there is no information on whether this event will be repeated in the future, so players interested in catching this Blissey shouldn't miss it.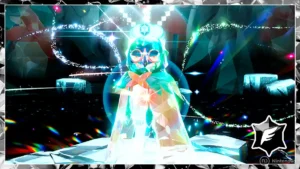 We tell you everything you need to know about Decidueye's Tera Raid in Pokémon Scarlet and Purple for Nintendo Switch.
Blissey, known for being a Normal-type Pokémon and the evolution of Chansey, is famous for its large amount of hit points (HP) and its ability to heal to allies (and himself) in combat. You will need to come up with effective strategies to defeat this resistant Pokémon and make the most of the rewards the event has to offer.
Strategies and counters to beat Blissey in her Tera Raid
To face Blissey in this Tera Raid, you should keep in mind that, although Blissey is normally a Normal type, in this Tera Raid change to Fairy type. Therefore, it is advisable to carry Pokémon with Steel or Poison-type movesas these are super effective against Fairy-type Pokémon.
The set of attacks is still unknown that Blissey will have, but We recommend you go training to a Revavroom which is very effective against Fairy-type Pokémon.
Fuente.