Entering (8 p.):
650 g of flour + 25 g to stretch
200 ml of warm milk
180 ml of lukewarm water
10g of salt
20g of sugar
12 g baker's yeast
250 g of chocolate cream
1 beaten egg (to paint)
Powdered sugar
Mint leaves
Elaboration:
Put the flour in a bowl, add the water, milk, sugar, salt and crumbled yeast. Mix until the flour disappears. Knead briefly by hand, cover the mixture with kitchen film and let it rest at room temperature for approximately 30 minutes (autolysis).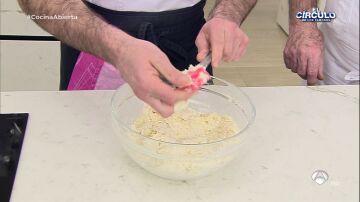 Prepare for the meal antena3.com
Take the dough out of the bowl, transfer it to the counter and knead it for 3-4 minutes (folding it from the ends towards the center) until you get a round homogeneous dough. Put it in the bowl, cover it with kitchen film and let it ferment at room temperature for 2 and a half hours (or in the fridge overnight).
Transfer the dough to the counter and dust it with a little flour. Roll it out with a rolling pin until it forms a rectangle (50 cm x 35 cm approx.) half a centimeter thick.
Knead the bread | antena3.com
Put the chocolate cream in a pastry bag and cover half the dough (starting with one of the long sides). Roll it through the chocolate part until you reach the part that does not have chocolate. With a knife, score parallel lines (as if it were a piano keyboard) on the piece that does not have chocolate.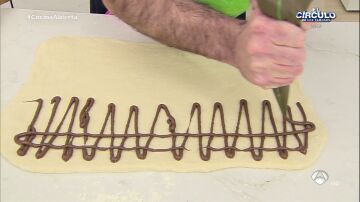 Put the chocolate on the bread | antena3.com
Moisten your hands and run them over the roller (to remove any remaining flour it may have). Keep rolling it over the scratched part.
Place the roll in a savarin mold (the one with a hole in the center), leaving the grated part facing up. Cover with a cloth and let rise at room temperature until doubled in volume (1-2 hours). Remove the cloth and brush the dough with beaten egg.
Heat the oven to 200º and when it reaches the temperature, lower it to 180º, introduce the bread and bake it for 35-40 minutes.
Remove it from the oven, let it cool, take it out of the mold, sprinkle it with a little icing sugar and garnish it with some mint leaves.
Advice:
Today we have filled the bread with chocolate, but it would also look great with peanut butter or jam.