They discover Konami's registration of the Project Zircon trademark, which appears to be connected to the Castlevania franchise.
On March 7, Konami registered the trademark Project Zircon in Japan. The Japanese company, which has brought Silent Hill back to life and seems to be preparing the return of Metal Gear, could also be working on a new project of the Castlevania saga.
The same franchise that recently sneaked into Dead Cells with a spectacular DLC is the only link between Konami and "Zircon", the term used to name this mysterious project. As Gematsu collects, zircon or "Zircon" is the jewel that sells for less value in games from the saga.
Konami Digital Entertainment filed a trademark for "Project Zircon" on March 7 in Japan.

The only connection between "Konami" and "zircon" I was able to find is that zircon appears as a jewel (the least valuable) in the Castlevania series.https://t.co/3DPHFySPP5 pic.twitter.com/TWPXyOQo5v

— Gematsu (@gematsu) March 14, 2023
At the moment, it is unknown what it could be. In fact, among the data in the registry, mention is made of gaming machines, so it is possible that it is a castlevania video gamebut also somehow pachinko machine or arcade.
Fortunately, in recent weeks, Konami's intention to leave its mark around E3 with several of its most iconic franchises has been very loud. In fact, along with the Metal Gear Solid 3 remake rumorsalso came rumors of the castlevania resurrection that in Nintendúo we have also been able to hear through other sources.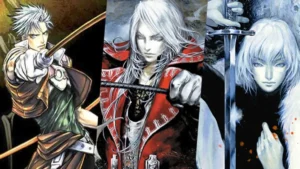 Konami has released a commemorative Castlevania NFT bundle that has managed to sell for over $150,000.
Via