We list the anime options that resemble Neon Genesis Evangelion.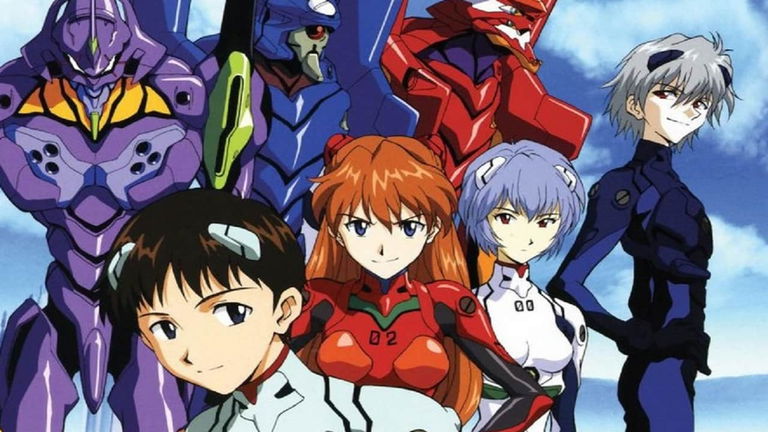 A list with the anime most similar to Neon Genesis Evangelion.
join the conversation
When it comes to iconic and transcendental anime, we find a fairly popular title in the Mecha and science fiction genre: Neon Genesis Evangelion. This Japanese animated series has become one of the best and most recommended works of anime, although it has also been quite criticized.
The main reason why this work is so criticized is because throughout its chronology it shows viewers a plot and an ending that are somewhat confusing for the vast majority of people who have seen this anime.
Despite the large amount of criticism that people have made towards this anime since it came out, there are many other people who see this work as an anime iconand they enjoy the story and the interesting background that it has.
Anime similares a Neon Genesis Evangelion
Released in 1995, Neon Genesis Evangelion is an anime that was directed and produced by Hideaki Anno, in conjunction with the Gainax animation house. this series It is based on Yoshiyuki Sadamoto's manga of the same name.its creator and founder of the animation studio Gainax.
Neon Genesis Evangelion is classified into the genres Mecha, science fiction, psychological and philosophicalfor which we can find many anime with which it shares certain similarities around the plot.
Ghost in the Shell (1995)
It is an animated adaptation of the manga titled Ghost in the Shell, which was created by Masamune Shirow. could be classified as a cyberpunk and science fiction animesince its history contains various futuristic elements, such as cyborgs.
Likewise, the Ghost in the Shell timeline shows quite a mystical plotset in the 21st century, which through its characters explores quite deep and philosophical themes.
Top wo Nerae! Gunbuster
Unlike the previous option, Top wo Nerae! Gunbuster (also known simply as Gunbuster), it's an ova anime consisting of 6 episodes. It is also a Mecha anime, like Evangelion. Noriko, the protagonist, must train to become a space pilot, following the alien invasion that the galaxy has suffered.
The similarities between these two works could be due to the fact that both have the same director, Hideaki Annoand even the animation studio that brought them to life is the same, Gainax.
Ergo Proxy
It is classified as a Cyberpunk, psychological and science fiction series, categories in which we also find Neon Genesis Evangelion. This anime was created by Dai Sato, animated by the Manglobe studio and directed by Shuko Murase.
Its broadcast on television took place in 2006, and had 23 episodes in total, in which viewers will be able to witness existential conflicts, battles in a post-apocalyptic environment, and all this wrapped in a philosophical plot that tends to confuse.
Eureka Seven
It's anime it's basically about highlights, and consists of a total of 50 chapters. It was created by Jinsei Kataoka, brought to the screens thanks to the BONES studio, and under the direction of Tomoki Kyoda.
Its protagonist is Renton, a 14-year-old boy, who lives in a reality set in the future, specifically in the year 12005, in which humanity now lives in space. Renton joins forces with Eureka, a mecha pilot, with whom he will venture into amazing and awesome adventures.
Darling in the Franxx
Created by Kentaro Yabuki, and produced by the Trigger studio in conjunction with the animation house A-1 Pictures, it is an anime classified in genres like science fiction, mecha and action.
The story is based on the fact that the planet Earth has been destroyed, so now humanity lives in a floating city called Plantation. The young people in this work (like Hiro, the protagonist), must defend the inhabitants of Plantation from the extraterrestrial creatures, using giant robots.
Right Toppa Gurren-Lagann
Just like Evangelion and Top wo Nerae! Gunbuster, this anime was developed by the animation house Gainaxwhich would explain the similarities that we can find in each of these works.
Tengen Toppa Gurren-Lagann, se klasifika en categories like action, sci-fi, and mecha. The story basically shows two young people named Simon and Kamina, who discover a robot and, in the middle of the war that was taking place, decide to ally themselves under the name "Team Gurren" in order to survive.
RahXephon
If what you are looking for is an anime that is similar to Evangelion in the aspect of containing wicks, RahXephon is one of the best options. Developed by the BONES studio, and directed by Yutaka Izubuchi, it has 26 episodes in total.
This anime is set at the beginning of the 21st century, in Japan, and its protagonist is Ayato Kamina, a young man who discovers that he can control a giant robot called RahXephonand sets off on a journey to find a place in the world around her.
Serial Experiments Lain
classified as a cyberpunk anime and psychological thrillerSerial Experiments Lain is one of the most similar to Evangelion in terms of plot, since its history and development focuses on philosophical issues such as reality, identity and social communication.
This anime was directed by Ryutaro Nakamura, by the hand of the Triangle Staff studio. Follow the young Lain Iwakura, an introverted student who must enter the Wired, a communications network similar to the Internet. The series explores a plot of conspiracy theories and twists that are absolutely amazing.
Bokurano
This anime listed as a work of science fiction and tragedyis based on the manga of the same name by Mohiro Kitoh, and was brought to the screens by the Gonzo animation house, by the hand of director Hiroyuki Morita.
The story is based on a group of 15 children, between the ages of 10 and 15, are involved in a "game", in which they must use a giant robot named Zearth to defend the planet of an invasion of monsters that come from a galaxy far, far away.
join the conversation