Muslims around the world are currently undergoing Ramadan fasting, the euphoria of going home to Eid 2023 has begun to be felt. Some people have already made preparations for the 2023 Eid homecoming.
During a homecoming trip, of course, resting places are important for travelers because an important part of a safe and comfortable homecoming is getting enough rest.
For travelers who cross the Trans Java toll road, Suara.com has summarized several resting places in the best instagramable toll road rest areas.
The following is a list of the Trans Java Toll Road rest areas which are scattered along the toll road and have magnificent buildings and are facilitated with various complete facilities.
Also Read: Registration for Free Eid Mudik 2023 from the DKI Jakarta Transportation Agency is Temporarily Closed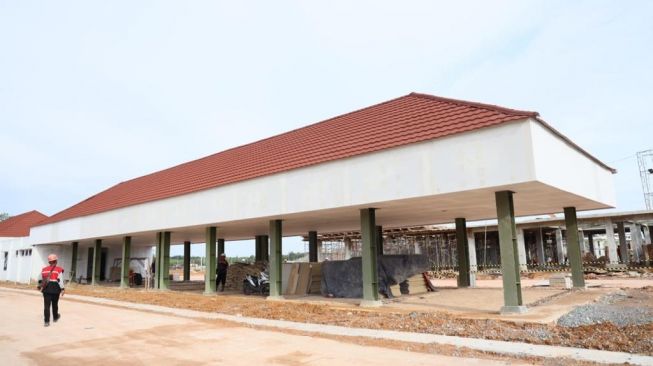 Indralaya-Prabumulih toll road rest area [ist]
1. Rest Area KM 260B
For travelers crossing the Trans Java Toll Road, it is mandatory to stop at the Heritage Rest Area KM 260B on the Pejagan-Pemalang Toll Road section. Initially, this Rest Area was a sugar factory that was built in 1908.
Currently, the area has been modified in such a way as not to tear down the original building so that it becomes an instagramable vintage rest area.
The luxury and splendor of this rest area can accommodate as many as 10 thousand visitors on a land that has an area of ​​10.6 hectares. Not only the mosque, there is also a complete souvenir and culinary center, as well as 80 cubic cubicles of toilet facilities.
2. Rest Area KM 429
Also Read: Transportation Agency Map 5 Points Prone to Accidents in Sleman Ahead of Homecoming and Eid Holiday Tourism
Rest Area KM 429 presents a stunning mountain view. This rest area is located at KM 429 on the Semarang – Solo Toll Road.
From the rest area, you can see a panoramic view of Mount Ungaran which will look beautiful at sunset.
Not only the natural scenery, the mosque building in the rest area is no less beautiful. The dome of the mosque, which has a shape like a zupa-zupa, looks very unique.
Other facilities provided in this rest area are gas stations, toilets, restaurants, food courts, souvenir centers, coffee shops and so on.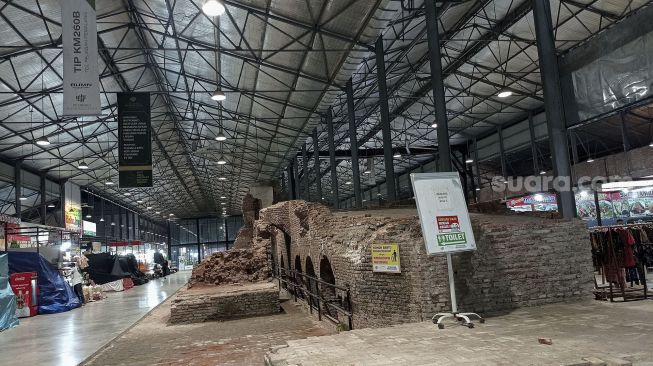 The atmosphere at the Rest Area KM 260B Heritage-Banjaratma on the Pejagan-Pemalang Toll Road section, Brebes Regency, Central Java, Thursday (6/1/2021). [Suara.com/Angga Budhiyanto]
3. Rest Area KM 456A – 456B
Rest Area Pendopo KM 456A – 456B is located on the Semarang – Solo Toll Road. In this rest area, there is a sky bridge that can connect Rest Area 456A and Rest Area 456B. Therefore, travelers can visit both buildings at the same time.
The reason it is named the Pendopo Rest Area itself is because the architecture of the building is said to be similar to the pavilion.
4. Rest Area KM 575
Rest Area KM 575 is located on the Ngawi – Sragen Toll Road. The architectural design presented in this building is similar to that in Europe so that it can attract attention. The concept of the building that is carried is a modern classic.
Starting from mosques, outlets, food courts, and other spots, these are like works of architectural design.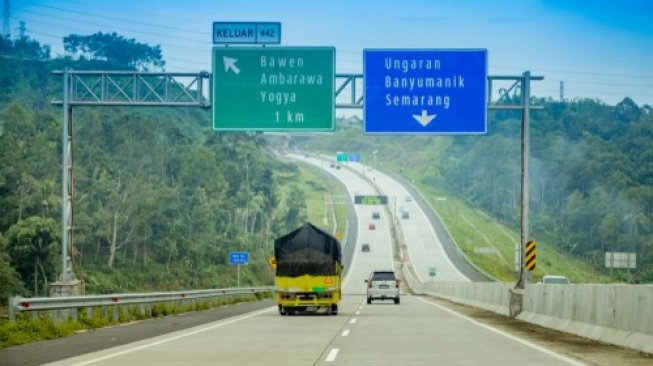 Ilustrasi rest area. (Shutterstock)
5. Rest Area KM 260B, Pejagan-Pemalang Toll Road
Rest Area 260B is located on the Pejagan – Pemalang toll road, Brebes Regency. This rest area is known as rest area 260B Heritage-Banjaratma.
This building used to be a former Banjaratma sugar factory founded by a Dutch company.
This rest area has several popular photo spots, including the former sugar factory furnaces, rollers, sugar factories, slide games, weeds, to the mosque.
6. Rest Area KM 19 Toll Jakarta – Cikampek
This rest area has been in operation since 2005 with a modern design offering. It is even known that the canopy in the gas station area in this rest area has received an award from the Indonesian World Record Museum (Muri) as the most unique canopy in Indonesia.
There are complete facilities ranging from restaurants, gas stations, cafes, minimarkets, ATM outlets, executive toilets, mosques, to workshops.
7. Rest Area KM 22 Toll Semarang – Bawen
Rest KM 22 is in Ngemplak Hamlet, Susukan, East Ungaran. One of the most favorite icons in this rest area is the red-domed mosque.
The red dome looked very majestic even from a distance. Some of the facilities that can be enjoyed in this rest area are canteens, supermarkets, playgrounds, parking lots, and toilets.
Contributors : Syifa Khoerunnisa