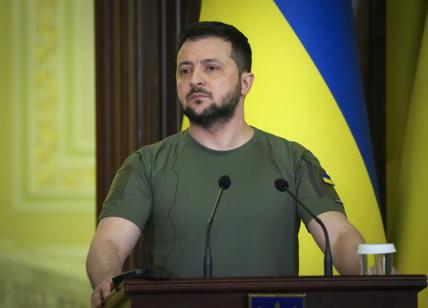 (Image source: La Presse)
War Ukraine, Zelensky for a year now has become an "icon" of planet Earth. Analyses
"The President of Ukraine Volodymyr Zelensky will appear on video tomorrow at Berlin Film Festival. It is a special honor for us to be able to digitally welcome the President of Ukraine Volodymyr Zelensky Thursday evening at the opening of our festival," say the directors of the Berlinale Mariette Rissenbeek and Carlo Chatrian. So the Ansa a few hours ago. And nothing, Zelensky we can't take it off our cabasisi anymore. More resistant than Covidmore stubborn than a hailstorm, more annoying than a pimple at Christmas, the Ukrainian president for a year now has become an icon of planet Earth to which the same pop portrait of Mao by Andy Warhol makes a mustache. It is everywhere like water, sky, earth and wind.
READ ALSO: War in Ukraine, that's why Berlusconi is the only one able to negotiate peace
You can no longer light one television that you don't see him appearing in the sweat-soaked green T-shirt. You can't open a cell phone that appears as the first image of the day. You can't browse a newspaper that you don't see him, who has become more famous than Jesus Christ e you John Lennon put together. Zelensky but it is only the bad conscience of the West. His epiphany speaks to us of hubris, of a lack of limits, of a pathological egocentrism and of a dangerous tendency towards destruction. There Ukraine issue it is too complex to be left in the hands of a shrewd third-rate comedian who was about to go to his own country on trial for corruption and was saved from war.
READ ALSO: Sanremo 2023, Zelensky invites the winner to Kiev. The letter read by Amadeus
Subscribe to the newsletter