With 2022 already behind us, we can safely say that last year was a desert of xbox exclusives. We are not talking about 365 bad days with this, since Game Pass sustained, and with great success, the performance of the Microsoft division. A Plague Tale: Requiem, the final version of Grounded, Signalis and many other works have nourished us during the last 12 months in the best way.
Among all of them, the figure of Pentiment emerges, the last Obsidian title that had the tremendous misfortune of appearing on the market between two titans like God of War Ragnarök and Pokémon Scarlet/Purple. That sandwich at launch caused the spotlight not to focus on him, but we are talking about one of the best games to have passed through Xbox in recent years. Obviously, it is an exclusive that is in Game Pass for Xbox One, Xbox Series and PC.
The proposal of the work is not simple, because historical, visual and mechanical factors are combined. We control Andreas Maler, a teacher who is taking his first steps as a renowned artist during his stay in the small Bavarian town of Tassing. Specifically, Maler participates in the work carried out by the monks in the nearby Keirsau monastery.
A complex time for the world of writing and the dissemination of knowledge, since we are situated at the beginning of the 16th century. The printing press has been present in society for a few decades, but the craftsmanship of previous generations has not yet disappeared. Under this very particular context, a series of murders begin to unleash in the town and it will be our task to discover who is perpetrating such crimes.
A paradise of details
The work of the visual team of Repentance it is absolutely colossal. At a graphic level we find a aesthetic typical of the books of the Middle Ages and it is something that is reflected at all times with details that can go missing. For example, the characters associated with the printing press will write their lines of dialogue in the speech bubbles using the revolutionary Gutenberg machine. For their part, the rest will write with a pen everything they say.
The oldest inhabitants have faded pieces of their design, showing the infirmities of age. On the other hand, young people or newborns have a particular brilliance typical of the energy that they overflow. The narrative richness of the game is sustained by the variety of plots that we can address, since there is never an inescapable path when it comes to solving the mystery of Tassing.
Due to the long time jumps that occur in the title, we can choose which past we want Maler to have, which will grant us different conversational skills, repairing objects or offering very specific knowledge. Once again, no profile for the protagonist is better than another, since we simply open different doors through which to continue walking in the story.
Each of the characters overflows with a unique personality and you will get to know them progressively, knowing which foot they limp on and what their virtues are. Time is an important factor, since the days go by and we will have to choose very carefully who we want to chat with before eating, working or attending to different obligations.
Learn history without realizing it
Surely it happens to you that you have no idea of ​​what was going on at the time in the Bavarian Alps and it is perfectly understandable. That region is far away for most of us, but Repentance It is a wonderful opportunity to learn details about those years. And it is not that a character puts on giving the sheet for 10 minutes as if he were a history classbut is integrated organically.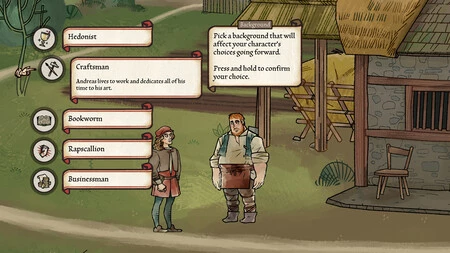 Of course, all the characters end up referring to issues that go beyond the Tassing lands or academic, political, religious and social backgrounds. Due to the fact that a multitude of terms and names escape our mental archive, the game allows a section to be displayed with a simple button in which it is clarified in a few words what they are referring to in the scene.
All the words with which you can interact are underlined to make it easy to choose them and best of all, they are data that do not go to limbo. Repentance presents a notebook that we can open at any time to check everything we have experienced so far. Names of the characters, their faces and a small descriptive text or a kind of encyclopedia to review In case we want to refresh who was the Pope of those times, for example.