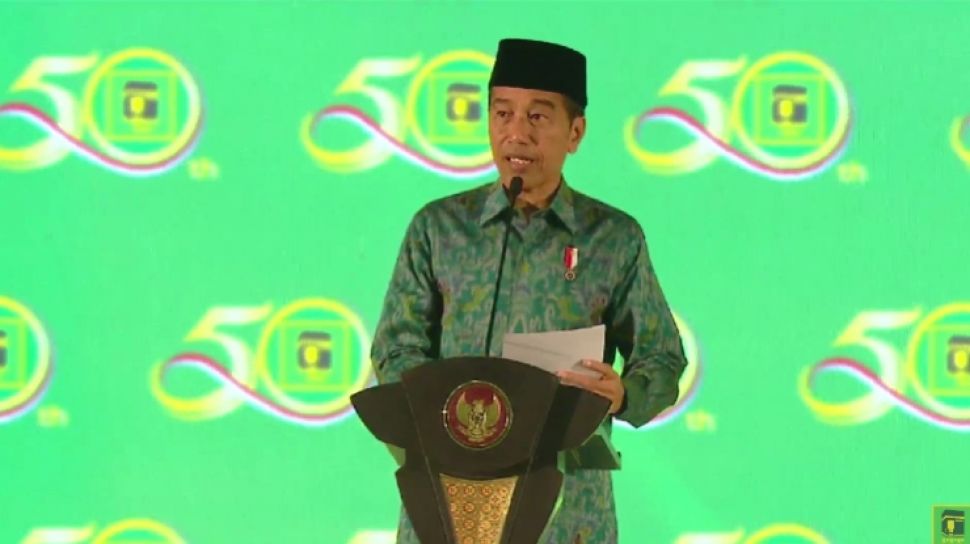 Suara.com – President Joko Widodo or Jokowi is so curious about the presidential candidates (candidates) and vice presidential candidates (cawapres) who will be endorsed by the United Development Party (PPP). Jokowi is excited to see PPP which has yet to be declared amid the many scattered candidates for the 2024 presidential election. Jokowi discussed this while attending the PPP's 50th Anniversary event at the Indonesia Convention Center (ICE), South Tangerang, Friday (17/2/2023).
"I want to ask, who is this PPP candidate?" asked Jokowi.
In the PPP event, the ministers who were invited were present. Jokowi mentioned their names as presidential and cawapres candidates.
There is SOE Minister Erick Thohir, Minister of Tourism and Creative Economy (Menparekraf) Sandiaga Uno, Coordinating Minister for Politics, Law and Security (Menko Polhukam) Mahfud MD to Minister of Defense (Menhan) Prabowo Subianto who are named as candidates.
Also Read: Poke Gus Yaqut at PPP's 50th Anniversary, Mardiono Requests Additional Candidates from GP Ansor
"Because everyone is here, you know, all the presidential and vice presidential candidates are present," he said.
Jokowi also mentioned the General Chairperson of the Democratic Party Agus Harimurti Yudhoyono (AHY) to Acting PPP General Chair Muhamad Mardiono who also entered the ranks of the presidential and cawapres candidates.
After discussing the presidential and cawapres candidates, Jokowi left a message to PPP and all parties to be able to maintain political stability, security stability ahead of the 2024 Presidential Election.
"Because at this time it is very important and very necessary," he said.
Also Read: The moment when Jokowi almost forgot to mention AHY as a candidate for the presidential and vice presidential candidates at the PPP Harlah Event