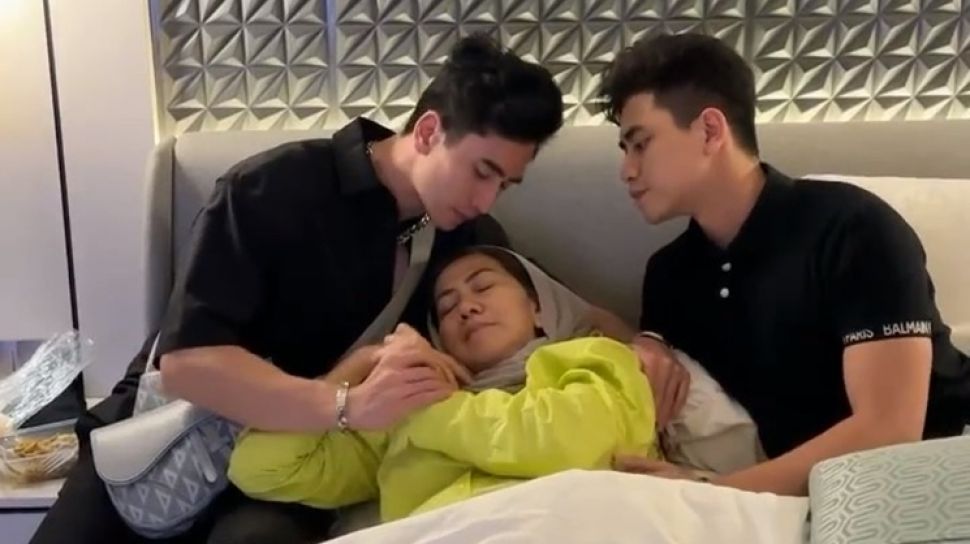 Suara.com – Athalla Naufal had heard about the arrival of Ferry Irawan's family to Venna Melinda's residence recently. But he didn't know the details.
"The situation is, I'm in Bali with my brother, I have work. But I saw it on social media, Uncle Ferry's mother came to the house," said Athalla Naufal in the Warung Buncit area, Jakarta, Thursday (9/2/2023).
Athalla Naufal appreciates the good intentions of the Ferry Irawan family who came to meet Venna Melinda. As fellow human beings, it is necessary for them to forgive each other.
"Yes, we do have to forgive each other, right," said Athalla Naufal.
Also Read: Venna Melinda was sued for divorce first by Ferry Irawan, Athalla Naufal: It doesn't matter what matters is separation
However, Athalla Naufal realized that Venna Melinda was still traumatized by Ferry Irawan's domestic violence act. So he asked the soap opera actress's family not to force their will to meet.
"In my opinion, we can't force people. Maybe Mom is still traumatized and isn't ready to meet her family, that's her right too," explained Athalla Naufal.
Broadly speaking, Athalla Naufal still chooses to support whatever steps Venna Melinda takes in her problem with Ferry Irawan.
"So what will happen in the future, I just depend on my mother," said Athalla Naufal.
As is well known, Ferry Irawan's family did come to Venna Melinda's residence. They wanted to meet to discuss allegations of domestic violence against a 46-year-old man.
Also Read: A month of being a victim of domestic violence, Venna Melinda still avoids crowded places
However, the meeting did not take place because Venna Melinda refused to meet Ferry Irawan's family.
The story of domestic violence in Venna Melinda's household was revealed after she made a report at the Kediri City Police on January 8, 2023. The mother of three admitted that she experienced physical violence after an argument at one of the hotels where they were staying.
"Abi lifted my body, Abi pressed my body until I couldn't move, Abi held my hand, then Abi pressed my head, Abi locked my forehead with my head. That hurt," said Venna Melinda.
Venna Melinda's report was handed over to the East Java Regional Police for processing. Until finally, Ferry Irawan was named a suspect in domestic violence on January 12 2023 and was detained.
Ferry Irawan was subject to Article 44 paragraph (1) and Article 45 of Law Number 23 of 2004 concerning Domestic Violence for alleged physical and psychological violence against Venna Melinda with a threat of five years in prison.
It didn't end there, Venna Melinda also announced her desire for divorce from Ferry Irawan because she did not acknowledge domestic violence in Kediri.
"For me that is enough. He is not a person with a conscience, not a responsible husband," said Venna Melinda.
By Ferry Irawan, Venna Melinda's wish for divorce was granted. He sent a lawyer to register the application for divorce at the South Jakarta Religious Court on February 7, 2023.
However, based on the latest information, Ferry Irawan's divorce request for divorce has not been received because the requirements have not been completed.