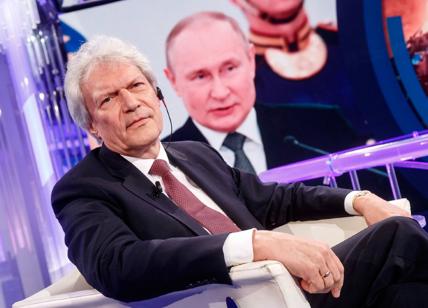 Sergei Ravoz, the Russian ambassador in Italy
Arms to Ukraine, Zelensky urges allies: "We need to react promptly"
Il conflict Between Kiev e Mosca now comes to his 342nd day. To hold court in the international debate is sending weapons to Ukraine: The United States they clarified that they will not send i F-16 fighter in Kiev. In the same vein too Hungary e Austria: no weapons to Ukraine. Budapest and Vienna would like to prevent the ongoing conflict from escalating, said the Hungarian defense minister, Kristof Szalay-Bobrovniczkyafter talks with his Austrian counterpart Claudia Tanner Budapest.
READ ALSO: Ukraine, Johnson: "Putin threatened to bomb London". The Kremlin: "Fake"
While the president French Emmanuel Macron he has not ruled out supplying military aircraft to the Ukrainian resistance. As well as the Poland: The country would be willing to go as far as supplying F-16 fighters, said Andriy Yermak, Kiev's senior adviser. In the background the Ukrainian president Zelensky launched his appeal, urging the allies on sending arms: "The decisions" taken by the allies "have been good, but it is essential that the strong decisions are timely. It is of great importance for us to react quickly", Zelensky clarified. Meanwhile from Moscow the Russian Foreign Ministry announced the visit of the Chinese president Xi Jinping in the country during 2023, a key "bilateral" event for Moscow-Beijing diplomatic relations.
READ ALSO: Nuclear weapons, how the Chinese could see the British secret weapons
Ukraine war, Moscow announces Xi's visit in 2023
Il Foreign Ministry Russian announced the visit of the Chinese president Xi Jinping in Russia during 2023. As the dicastery stated in a document on the results of Moscow's diplomacy for 2022 and the prospects for the current year, this visit will be "the key event in relations between Moscow and Beijing in 2023". The ministry also stressed that last year, Russia and China "managed to coordinate their activities by foreign policy in order to maintain global peace and stability," and have experienced significant growth in economic cooperation. "We are committed to bringing the relations between Russia and China at a higher level for bilateral progress and for the mutual benefit of our peoples," the ministry concluded. But the confirmation has not yet arrived from Beijing.
Ukrainian war, Washington's no to fighters
US President Joe Biden he answered "no" today when asked at a press conference if the United States would supply fighter jets F-16 to Ukraine. Last week Biden had announced the decision to send to the country 31 wagons armed Abrams. Shortly after that announcement, Yuri Sakadviser to the Ukrainian defense secretary, said he was optimistic about the possibility of receiving Western fighter jets, such as the American F-16s.
Ukrainian war and weapons in Kiev, the "wall" of Austria and Hungary
Hungary and Austria will not send weapons to Ukraine and would like to prevent the ongoing conflict from escalating, said the Hungarian defense minister, Kristof Szalay-Bobrovniczkyafter talks with his Austrian counterpart Claudia Tanner in Budapest. According to TASS, "Hungary's position is clear: we do not ship weapons to the conflict area, because we want to avoid its escalation, and our position coincides with that of Austria", he said Szalay-Bobrovniczky, underlining that the two ministers discussed the situation in Ukraine. "Even Austria, which is neutral, does not ship arms where hostilities are taking place." From him, Tanner he stated that he considers the risk of the Ukrainian conflict spilling over into Europe as the greatest danger: "We are not talking only about conventional warfare, but also about non-traditional threats, such as the growth of migration, exacerbated by war".
Arms in Kiev, Macron "doesn't rule out anything" on fighters
"Nothing is excluded in principle" is instead the response of the French president Emmanuel Macronto a question about whether to send planes from hunting in Kiev. However, Macron stressed that any decision assumes certain "criteria": a "demand formulated" by Ukraine, which "is not such as to produce an escalation", nor aimed "at hitting Russian territory but rather to support the resistance effort". And finally, "that it does not go to weaken the capacity of the French armed forces".
Ukrainian war and weapons in Kiev, tanks and 300,000 men from Poland
Poland, on the other hand, would be willing to go as far as supplying F-16 fighters, said Andriy Yermak, the senior adviser to the Ukrainian president, Volodymyr Zelensky. Yermak said Ukraine has had "positive signals" from Warsaw in a Telegram post, though the Polish prime minister was careful to stress that his country would only act in consultation with NATO allies. "We coordinate all actions aimed at strengthen the defense forces of Ukraine with our NATO partners," he said Mateusz Morawiecki in the press conference in which he announced his intention to increase his country's defense spending al 4% of GDP, when asked about jets. According to what Repubblica writes, Warsaw would therefore be willing to double the personnel of the Armed Forcesordering 500 of the latest generation wagons.
War in Ukraine, the attack by Russian ambassador Razov on Crosetto: "Injustices and discrimination from Italy"
In the meantime the Russian ambassador in Italy, Serghei Razovsent a open letter al minister of Defense, Guido Crosetto. "Dear Minister – reads the letter published on the Facebook page of the embassy – on 30 January you gave an interview to Corriere della Sera in which, among other things, you stated that Europe must not close its doors to the Russians and perceive the Russian people as an enemy. 'I have never shared closures towards artists, sportsmen, the civilian population. We must leave channels of dialogue open,' he said. And he added: 'Why deny visas to Russian citizens ?It would be better for people to come to Europe also to hear a different voice.' We rarely agree – continues the Russian ambassador – with your statements and actions especially with regard to the supply of Italian weapons to Ukraine, but I think almost all Russian citizens would subscribe to these words without hesitation. But to what extent do these words correspond to reality? Let's look at the hard facts. Who is it that is reducing the opportunities for contact and dialogue between the peoples of our countries?".
"Italy – lists Razov – continues to seize real estate, property and other assets of Russian businessmen declared 'oligarchs'. On this basis, legally shaky, it comes discriminated against an entire category Of citizens of our country which has invested its capital in the development of Italy".
War in Ukraine, the Russian ambassador Razov: "Unjustified actions from Italy"


"With improbable pretexts and with the excuse of 'solidarity' – the ambassador writes again – they were unjustifiably expelled from Italy 30 employees of the Russian embassy in Rome, people who worked so hard to develop and strengthen bilateral relations". Also "at the initiative of the Italian side were interrupted i air connections direct between our countries, reducing so at minimum il Russian tourism in Italy".
"In Russia we are used to judging by deeds rather than words. And the facts are very far from your words, whose sincerity, even if you want to, it is difficult to believe. Respectfully, S. Razov".
Subscribe to the newsletter