Suara.com – Police Headquarters through the Division of International Relations (Hubinter) stepped in to find out the traces and whereabouts of a lecturer at the Indonesian Islamic University (UII) named Ahmad Munasir Rafie Pratama who was reported missing after serving in Oslo, Norway.
It is known that the Hubinter Division is currently led by the Head of the Hubinter Division, Brigadier General Krishna Murti. Krishna previously served as Head of the International Missions Bureau (Karomisinter) in the National Police's Hubinter Division.
Kadiv Humas Polri Inspector General Dedi Prasetyo said that the party had not received a report regarding the disappearance of the UII lecturer. However, they will continue to track.
"So far Hubinter has not received this information. Hubinter will trace it first," said Dedi when contacted by journalists on Saturday (18/2/2023).
Also Read: UII Yogyakarta Lecturer Disappears in Norway, Family Reports to Police
Before being declared missing, UII lecturer Ahmad Munasir had sent a message to his wife in Indonesia while he was in Istanbul, Turkey.
"Waiting for boarding," said Ahmad's message.
But after that, there was no more communication between Ahmad and his wife.
UII Chancellor Fathul Wahid said that Ahmad had undergone various activities at USN. In this activity, the team consisted of four people including Fathul as the chancellor.
The purpose of their visit to USN is to strengthen cooperation between the two universities, with funding support from the European Union, through the Erasmus+ scheme.
Also Read: Disappeared in Norway and Was Detected in Turkey, These are the Physical Characteristics of a Yogyakarta UII Lecturer
They have been at USN since February 5 2023. Exactly on February 12, the team left Norway via Oslo airport. Fathul admitted that he had met Fathul in Oslo on Saturday (11/2/2023) night.
"The team was divided into three different flights. AMRP was alone on the return flight to Indonesia, via Istanbul, Turkey," he said.
The route they took was Oslo-Istanbul-Riyadh-Istanbul-Jakarta. However, Ahmad did not provide any detailed information about the flight to his colleagues at UII, including his wife.
Various attempts to contact through various online channels, including email, were attempted, but none of them have been responded to by AMRP," he explained.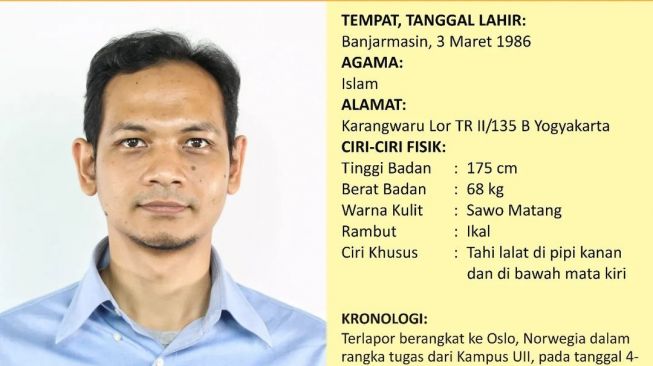 UII Yogyakarta lecturer Ahmad Munasir Rafie Pratama was declared missing in Norway since February 12, 2023. (IG @/poldajogja)
The family tried to find out where Ahmad was by matching the last message to his wife. They estimate that Ahmad will land in Jakarta on February 16, 2023 at around 18.00 WIB.
The facts were revealed when Ahmad's sister checked at the airport. It is known, Ahmad's name was not in the flight manifest.
Regarding this situation, UII has contacted the Indonesian Embassies in Norway and Turkey, including contacting the conference committee in Jeddah who ordered flight tickets.
The campus has also contacted Turkish Airline in Oslo to ensure that the AMRP has boarded the plane.
Tracing was carried out by scanning Ahmad's activities online. There were traces of online activity in Turkey on February 13, 2023 between 03:00 and 08:00 but are currently untraceable.
"Currently, UII is still waiting for information from the Turkish Airline office in Jakarta to help determine the final stopover city," he said.
Fathul then appealed to parties who have information regarding AMRP's whereabouts to contact the UII Public Relations WhatsApp number 0821 3173 7773.