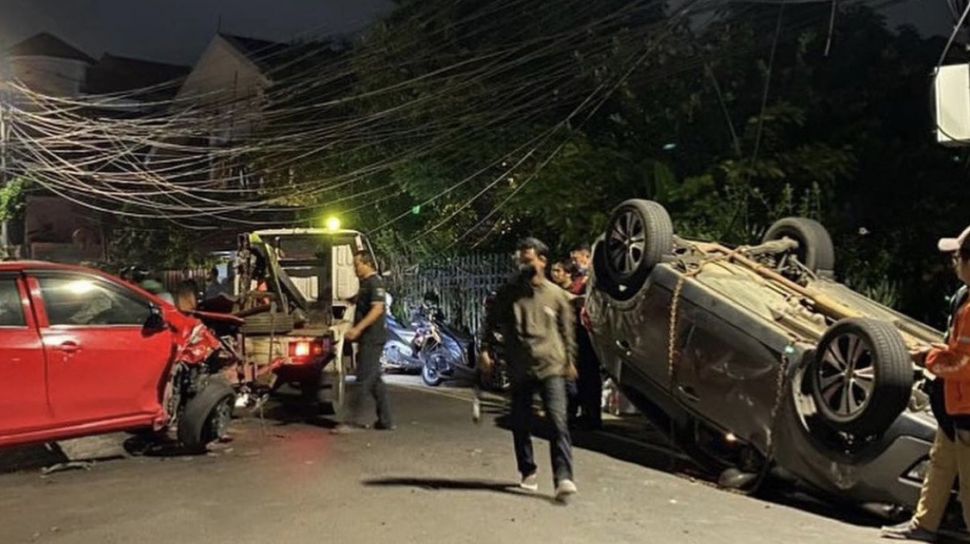 Suara.com – Two cars were involved in a bullfighting accident on Jalan Raya Kemang Utara, to be precise near the ex-Ducati Mampang workshop, South Jakarta, on Wednesday (15/2/2023) around 00.30 WIB.
Related to this, the Head of the Traffic Accident Unit for the South Jakarta area, AKP Suharno, said that the incident began when a KIA Sportage car with police number B 1541 UJH drove from west to east on Jalan Raya Kemang Utara.
Arriving at the intersection, there was a Daihatsu Sigra car, with police number B-1623-ZK from the south about to turn towards the west.
"So an accident occurred," said Suharno, when confirmed, Wednesday.
Also Read: Arya Saloka Talks About Long Journeys and Prays for Andin to Enter Heaven
As a result of this incident, the KIA Sportage vehicle driven by a woman with the initials CN (31) overturned. The position of the roof of the car is below, while the wheels of the vehicle are facing upwards.
Meanwhile, the Sigra car driven by a man with the initials RM (24) suffered a broken front axle.
In the aftermath of this accident, a passenger from the Sigra car suffered a bruise on his head, and is still being treated at the Siloam Mampang Hospital.
"We are still investigating the cause of the accident," concluded Suharno.
Also Read: 15 Victims of a Bus Accident Transporting Kindergarten Children Treated in Hospital, Here's the Chronology