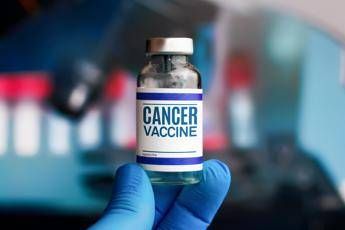 Large-scale clinical trials of vaccines for various forms of cancer are due to begin in the UK this year. Patient enrollment will begin from September 2023. The UK government will work with the German BioNTech to get up to 10,000 people enrolled in clinical trials of mRNA immunotherapies to treat cancer. The official announcement had arrived in recent days and was reiterated by BioNTech's top management.
Read also
The project is managed by the National Health Service (NHS) and Genomics England. The goal – BioNTech explained – is to speed up research on this front, learning the lessons of the Covid-19 pandemic. In fact, against the Sars-CoV-2 coronavirus, the development of the vaccine was accelerated also thanks to the collaboration between health systems, academia, regulatory authorities and the private sector. Trials will run until 2030. About a third of mRNA vaccine candidates are already in trials in the UK and all use a fixed combination of mRNA-encoded tumour-associated antigens. These include – as reported by 'Nature' online – BNT111 for advanced melanoma, BNT112 for prostate cancer and BNT113 for head and neck cancers and other malignancies. Also under the agreement, BioNTech will establish a research and development center in Cambridge, UK, employing around 70 researchers, as well as an office in London.
The company aims to ensure that these therapies soon become a regular treatment for patients with certain types of cancer. Technology has come a long way, underlined the top management of BioNTech, specifying that it is now possible to create a personalized cancer vaccine in 4-6 weeks, where once it took even 3-6 months.