The Indian company presents the Interceptor 650 Lightning Edition and the Continental GT Thunder Edition, special versions which however will not be imported into Italy
February 20, 2023
And R.Soyal Enfield Continental GT 650 e Interceptor 650 they have been on the market for several years and are enjoying great success, both at home and in Europe where they are appreciated for their classic look and general accessibility, as well as often being the basis for interesting specials and letting the creativity of specialists and customizers run wild.
This time, however, the special version is "made in Royal Enfeld", in the sense that the Indian company has presented the versions Lightning e Thunder of the two twin cylinders: they do not distort the platform but constitute an enrichment of the endowment through a plethora of Genuine Royal Enfield accessories.

Thus holding stationary the Euro 5 approved air-cooled parallel twin from 47 horses at 7,250 rpm and the double cradle frame with classic style suspension (traditional fork and double rear shock absorber), the Interceptor 650 Lightning sees the addition of a pair of soft side bags, the Touring saddle, crash bars, an aluminum engine sump protection, a small plexi to protect the instrumentation, the Touring mirrors and the CNC machined oil tank cap. Pricing starts from £6,459 but it grows according to the chosen livery (in the case of the standard Interceptor the range is between 6,039 and 6,539 pounds).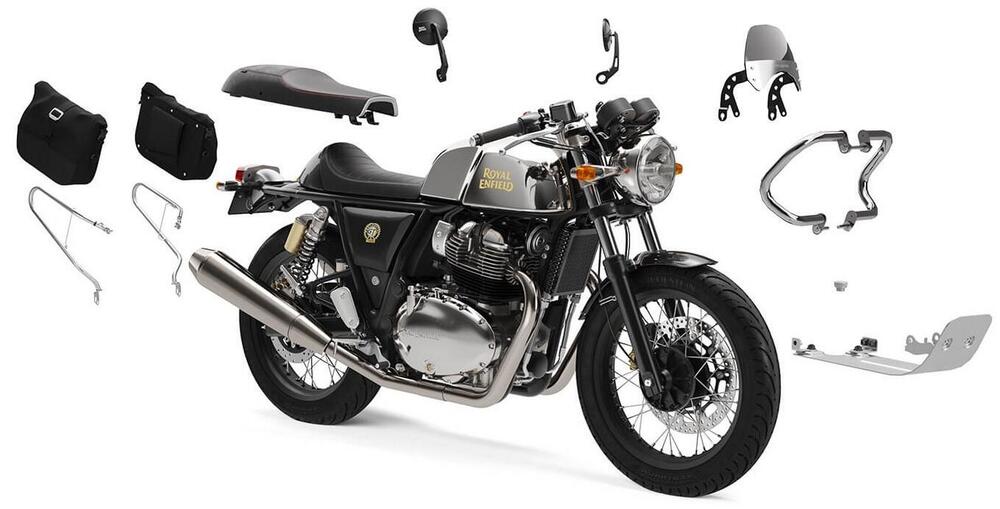 The endowment for the cafe racer is not very different Continental GT 650 Thunder which, however, sees its tourist character underlined by the special version: Touring two-seater saddle, soft panniers, an aluminum engine sump protection, a small plexiglass to protect the instrumentation, the Touring bar-end mirrors. The price in this case starts from £6,659 (while the standard versions start at 6,239).
It has not been declared by Royal Enfield how many specimens will be available but availability is limited: the Continental GT 650 Thunder and Interceptor 650 Lightning will not be imported into Italy.