Find out what the Rasenshuriken is, how it works, and how it was created.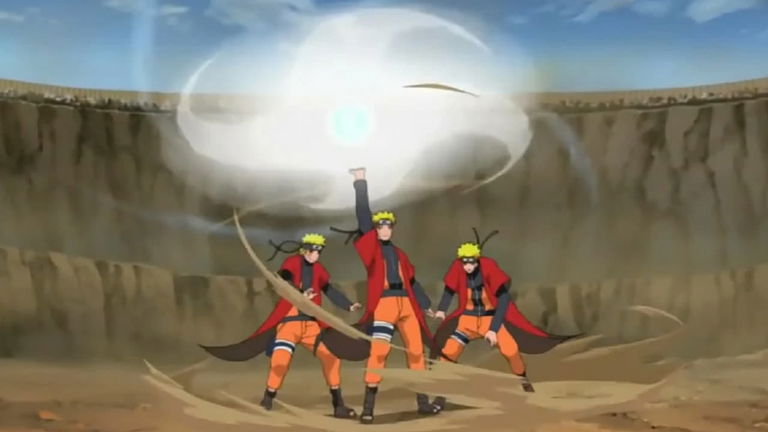 We explain everything about Naruto's Rasenshuriken.
join the conversation
It is well known that in the story of Naruto there is a wide variety of attacks and fighting techniques Quite powerful that each shinobi uses when fighting against any opponent or threat. Since in this story there are many very powerful villains in Naruto, both Naruto and his friends have trained hard to be able to face them.
Among the various transformations of Naruto and the many fighting techniques we can find a rather powerful jutsu called Rasenshurikenwhich Naruto managed to develop once he was able to master the Rasengan.
Naruto fans have been able to see the famous character use this powerful attack on several occasions, which is why in this post We will explain everything about the Rasenshuriken de Naruto.
What is Naruto's Rasenshuriken?
The attack or jutsu known as Rasenshuriken, which is used by Naruto, is quite a powerful technique which Naruto developed once he mastered the Wind-type Chakra and the Rasengan.
naruto managed make use of this jutsu for the first time in the manga in chapter #339, while the first time we could see this attack in the anime Naruto Shippuden in episode #87.
Previously mentioned, Naruto developed this jutsu as a result of the RasenganTherefore, to understand how the Rasenshuriken works, it is necessary to know what the Rasengan is and how it works.
The Rasengan was created by none other than the Fourth Hokage.Minato Namikaze, since Naruto obtained this ability as a kind of inheritance from his father, Minato.
Naruto's father could develop the Rasengan after seeing a Tailed Beast Ball, thus creating a fairly powerful attack that would later become one of his signature attacks. Minato created this technique by compressing and rotating the chakra in his hand, managing to devastate his enemies with a special jutsu that did not require hand seals, but was still extremely powerful.
Although this technique already turned out to be a quite effective jutsu, Minato believed that this technique was incomplete, planning to complete it with nature transformationthus obtaining a definitive and devastating jutsu.
However, Minato could not fulfill his intention, because his end came sooner than expected. Therefore, the task of completing the Rasengan jutsu was transferred into the hands of his son, Naruto.
How did Naruto create the Rasenshuriken?
Once he had fought and lost against Sasuke, Naruto was convinced that he needed to reach a higher level of potential as a shinobi, for which Kakashi proposes that he train with him, with the aim of that Naruto created his own jutsu from the Rasengan.
Kakashi admitted that Naruto was the only one who could surpass his father, Minato, so he decides to train him to complete the task that Minato couldn't: complete the Rasengan. Being able to perform and accomplish this task would have taken Naruto years if it weren't for his Uzumaki lineage and the Nine-Tails chakra.
Naruto made use of the Shadow Clone jutsu to be able to gain weeks of training and experience in just hours, and by doing this continuously over a long period of time he was able to gain a lot of experience in a short time.
It is necessary to note that Naruto was not able to complete this technique so easily even with a single Shadow Clone, however, after practicing and trying for several days, Naruto found a way to maintain his form and apply the nature transformation to the jutsu at Same time. By accomplishing both tasks, Naruto developed a powerful attack which he called Rasenshuriken.
The base of this attack is a chakra sphere, and once Wind Style is applied to it, the Rasengan grows giant blades around him that rotate at high speed. At first, Naruto found it difficult to use this justu, and he had to train and practice to be able to master this attack well.
The creation of the Rasenshuriken finally completed the Rasengan, seeing how Naruto finally fulfilled Minato's wishand marking the beginning of the development of Naruto's power throughout history.
join the conversation