Nintendo is key to the new Tetris movie, although the surprise of its trailer has surprised us, revive its former president!
After a long time trying to hide everything, Apple has finally taken the step that everyone expected. The company has published the first Tetris movie official trailerwith which he announces his release date on Apple TV+ and confirms one of the cameos that we least expected, that of the deceased former president of nintendo.
A story that revolves around the crusade of bring the original Tetris to Game Boy, with a whole war for their rights in times of great tension between the United States and Russia. One in which Nintendo plays a crucial role, hence the trailer closes with neither more nor less than the presence of Hiroshi YamauchiNintendo president who led the company from the NES/Famicom until after the GameCube was released in 2002.
The Tetris movie opens on March 31 on Apple TV+ and, based on what this trailer shows, it seems "not bad". Will you see it at the premiere of it or will you wait for something later? It's going to be an intense week for video game cinema, considering that Mario will follow in his footsteps very soon after.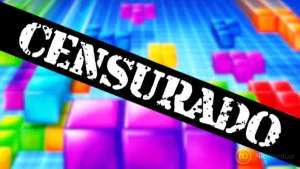 The American age rating agency has revealed the minimum age to see the Tetris movie. Watch out for minors!
Fuente