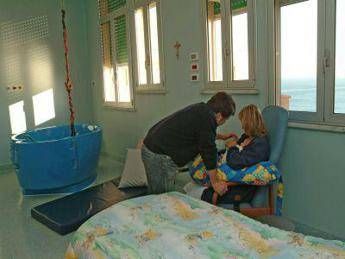 The Sole association was set up on Valentine's Day, promoted by the Mediaset television presenter Gorgia Venturini to finance perinatal care in Italian hospitals and assist mothers in the days following childbirth. The announcement of the birth of the association had been given by the showgirl the day after the death of a newborn at the Pertini hospital in Rome. The initiative, relaunched last Tuesday by the 'Hyenas', received the likes of Ilary Blasi, Wanda Nara, Giorgia Rossi, Michela Quattrociocche on social networks. The name of the association is that of Venturini's daughter, Sole Tea, but it also ideally means – explains a note – how women should never be left alone in the days and months following childbirth.
"These mothers should never be left alone – Venturini told 'Le Iene' – I have been a mother for less than 100 days, of a little girl who warmed my life after I lost my mother. Sole Tea was born with a pathology which in recent months has continuously brought me in and out of hospitals. I have known fragility. There have been moments in which I asked myself: will I really make it? I have known the difficulty of asking for help for fear of hearing me answer 'ah , but I did it all by myself". So you remain silent so as not to feel like the wrong one. Mothers have been made to believe that they have to take care of everything without ever complaining, because the charm of motherhood always pays us off and suffering makes us but this myth serves to hide the fact that in Italy we are often left alone from the first moments after giving birth; it serves to hide the hiring block in the ward, the frightening hole created by the lack of 9,000 midwives. the hunger daughter is no longer able to shut up, because she is kept out of hospitals due to Covid protocols, or because grandmothers in an increasingly aging society need their help and cannot help their daughters. Even rooming-in often does not represent an opportunity, but a forcing – Venturini observes – if not violence for a mother who asks for help".
"We have the right to be incompetent and unprepared, without having to be blamed for this – says the TV presenter – There is an ancient proverb of uncertain origin made famous by two great American politicians, Ted Kennedy and Hilary Clinton. She says that ' it takes an entire village to raise a child". The village is the parents, the family, the media, the institutions, the entire community. And it's up to all of us to build it, so that mothers are no longer alone".