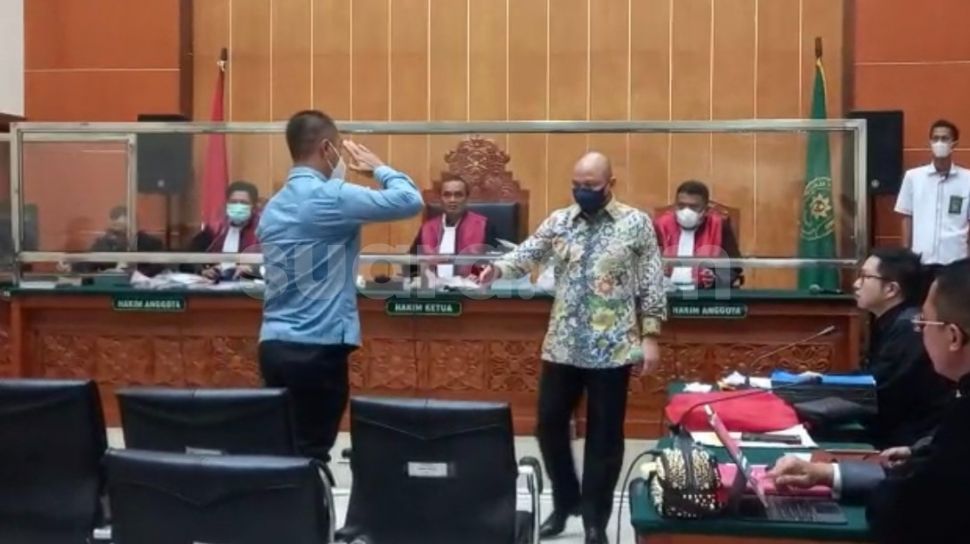 Suara.com – Inspector General Teddy Minahasa's moment was recorded when he got angry and scolded the witness from Polda Metro Jaya investigators. The former West Sumatra Regional Police Chief was presented as a defendant at the West Jakarta District Court, Monday (13/2/2023) in a case of embezzlement and sale of methamphetamine evidence.
The two-star police general's voice was loud and full of orders when asked about the information from his laboratory test results. He asked the witness who is a member of the Metro Jaya Police Narcotics Unit named Tri Hamdani about this.
Teddy Minahasa initially questioned the results of his laboratory which tested positive for methamphetamine, at the release which was made on 14 October. However, the laboratory test results were received by investigators on October 27.
"What is the basis of releasing me? If a leader is of the same class as the National Police Chief, of course, from the bottom up, he will receive the data. The most basic data is of course from investigators, both of you," said Teddy in the courtroom.
Also Read: Statement by Alexi Ubaedillah, the former Head of the Bukittinggi Police Narcotics Unit Regarding the Sabu Teddy Minahasa Case
"I'm asking now, have you ever presented data and information on the results of my laboratory to your boss?" asked Teddy.
Hearing the police general's question, Tri Hamdani only answered that he was ready. "Ready" Tri said.
"Thank You. It means you are saying that the leadership of the National Police was careless in giving a release," said Teddy.
"How is it sir?" Tri asked back.
"Do you have good hearing or not? Is my voice not loud enough?" Teddy snapped.
Also Read: Teddy Minahasa Continuation Trial, 8 Witnesses from Bukittinggi Police and Polda Metro Jaya Present
"Ready, it's hard, sir," Tri replied.
Instantly, Tri's words then changed, which previously said if he presented positive results, became no.
"Have you ever presented data to the leadership that my lab results were positive?" Teddy continued asking.
"Ready or not," said Tri.
It is known that the former West Sumatra Regional Police Chief, Inspector General Teddy Minahasa, stumbled on a narcotics case. The 2-star general is predicted to be the "mastermind" for embezzling 5 kilograms of methamphetamine evidence.
Apart from Teddy, there are several Polri members who are entangled in this case, namely AKBP Dody Prawiranegara, Kompol Kasranto, Aiptu Janto Situmorang, and Aipda Achmad Darwawan.
Apart from that, several civilians were involved in this case, including Linda Pudjiastuti alias Mami Linda alias Anita Cepu. Then Syamsul Maarif, Ariel alias Abeng, Mai Siska, and M Nasir alias Daeng.
In this case, Teddy was charged with Article 114 Paragraph (2) of Law Number 35 of 2009 concerning Narcotics juncto Article 55 Paragraph (1) 1st of the Criminal Code or both Article 112 Paragraph (2) of Law Number 35 of 2009 concerning Narcotics juncto Article 55 Paragraph (1) 1st Criminal Code.