Suzuki unveils the new V-Strom 650 Explorer, which boasts standard equipment with accessories that enhance its vocation for touring: available both for the V-Strom 650, with alloy wheels, and on the V-Strom 650XT with rays
February 23, 2023
Suzuki enriches the 650cc twin-cylinder Sport Enduro Tourer and presents the V-Strom 650XT Explorer, an even more travel and adventure oriented version. The endowment sees to be added a pack of original accessories which enhance its touring soul, and is available both on the V-Strom 650, with alloy wheels, and on the V-Strom 650XT, distinguished by spoked wheels. In both cases the Explorer model provides:
central stand; crash bar; touring fairing; plastic side bags
which add up to the hand guards and the lower tip, already present on both models and which lead to over 1,700 euros the overall value of the set-up.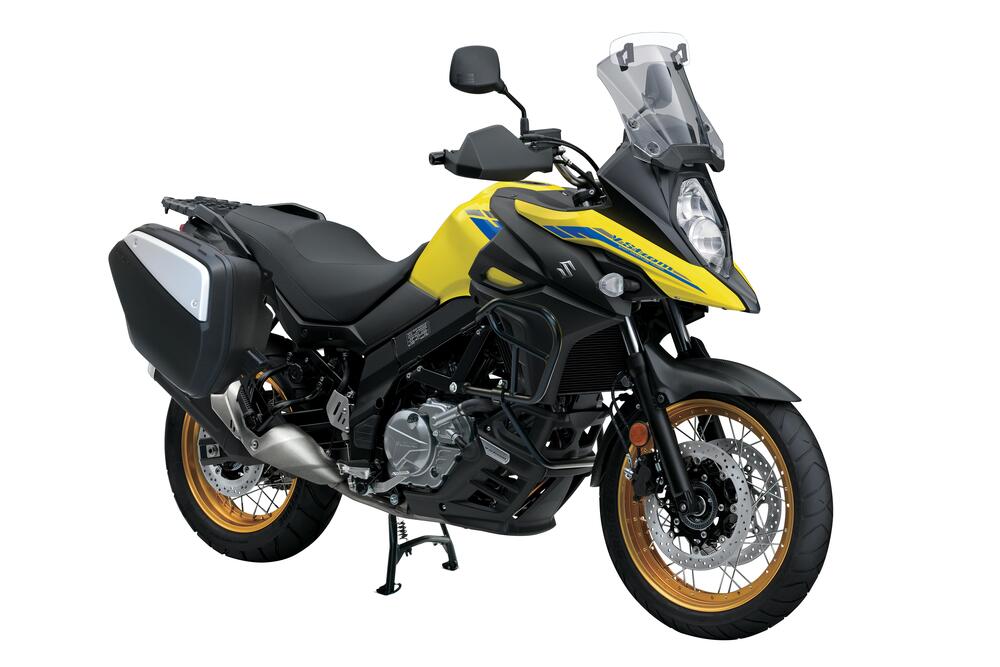 The technical base we know and which made the V-Strom 650 one of the most widespread medium-engined enduros does not change: in fact, we find the engine V2 at 90° in 645 cc and 71 HP at 8,800 rpm, for which average consumption of 25 km/litre is declared, equipped with dual ignition and dual throttle valves for each fuel body and with a maximum torque of 62 Nm but at 6,300 rpm.
The chassis is a double aluminum beam, with ABS and Suzuki Easy Start System and Low RPM Assist systems. The equipment of the V-Strom 650 also includes Traction Control, which can be adjusted on two levels and can be deactivated, a 12V socket and an instrumentation consisting of an analogue tachometer and multifunction digital display. The saddle is placed at 835 mm from the earth.