Users have discovered changes in Mario's voice in the latest ads for Super Mario Bros. The Movie. Will there be a surprise?
When the cast of actors of the mario bros movie, there were not a few complaints when seeing that Chris Pratt would give life to the plumber instead of Charles Martinet. The trailers have shown us an original voice that, although it works, does not seem to be convincing. However, it seems that it is changing Mario's original voice in Super Mario Bros. The Movie.
One of the people in charge of the GameXplain channel, Andre Segers, has shared a short video comparison on Twitter to demonstrate that it sounds different. In the fragment in which we see Mario with his Kart, his signature "Wahoo" It has been modified in the English version. It sounds different in the new movie announcement than it did in the second trailer.
Will we see more changes in the original version of Super Mario Bros. The Movie? Will they also apply to the Spanish dubbing? It seems that they are applying modifications so that the voice of Chris Pratt as Mario brings a better result.
By the way, did you know that in Spain there is a great wink with the voices of Mario and Luigi that does not occur in any other country? The Super Mario Bros. movie is opening very soon all over the world, and We are looking forward to knowing more about her.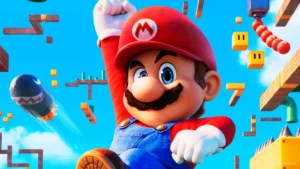 A movie website reveals how long the new Super Mario Bros movie lasts, making it clear that it will have a very tight duration.