The battle-royale also features a series of reward-packed challenges.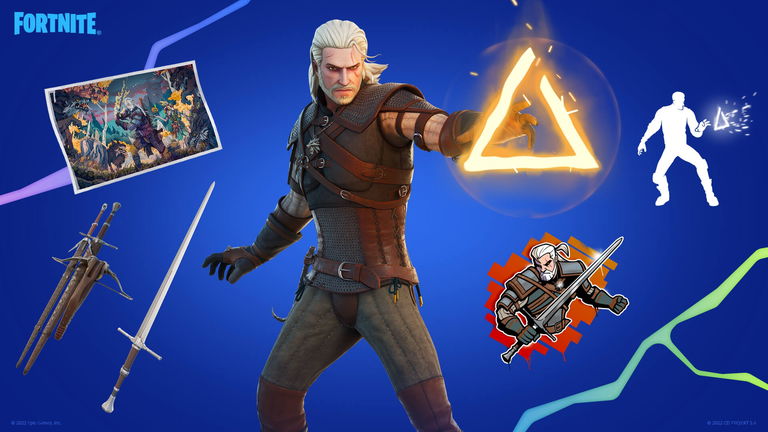 Geralt de Rivia, new Fortnite skin
join the conversation
As announced at the start of Fortnite Chapter 4 with Unreal Engine 5.1, the battle-royale has signed a collaboration with The Witcher which began today, Tuesday, February 7. All players who own or purchase the Chapter 4 – Season 1 Battle Pass will discover the Geralt of Rivia quests divided into two parts that lead to getting the skin of the character.
Page 1 of the quests is available today, while page 2 will be available on February 28 with the release of update 23.50. Each task gives away a reward, these being the missions from page 1:
Activate augments in 5 different matches: They are not exactly elixirs, but they will have to do. Unlock the Geralt of Rivia loading screen.Complete 3 contracts: It's business, it's nothing personal. Unlock the graffiti muscle memory.defeat a boss: No one in their right mind would dare confront you. Unlock the backpacking accessory Weapons of the witcher.Gesture in the citadel throne room: As if you were in Kaer Morhen. Unlock the by the gesture of Señal de Igni.Deal 500 damage to opponents with melee weapons: Always finish the job. Unlock the Pickaxe Warlock's Steel Sword.
Players who clear all five missions will receive the Geralt of Rivia outfit.while completing the as-yet-unknown quests on page 2 will earn an alternate style for Geralt.
The Witcher challenges also start in Fortnite
Curiously, just a few days after the arrival of Gohan and Piccolo from Dragon Ball Super to Fortnite, although The Witcher has come to Fortnite with more prominence. The battle-royale has incorporated Fortnite School of Flame challenges to unlock even more rewards, starting with a cosmetic pickaxe called the Warlock's Silver Sword. Emoticons and graffiti will be other rewards that will be obtained by completing tasks that will also grant additional experience.
join the conversation