3 is not only the perfect number, but also that of Carlos Sainz Jr.'s seasons as a Ferrari driver. In fact, the Madrilenian is preparing to take part in the third campaign as standard bearer of the Prancing Horse in Formula 1 and his ambitions are clear and precise: to fight to win until the end.
If in 2022 Ferrari had a sparkling start, then losing all the initial momentum; this year the ambitions are legitimately different. The arrival of Frédéric Vasseur as team principal and a car that is only apparently very similar to the F1-75 are good starting points.
Sainz said he was enraptured by the shapes of the SF-23, the single-seater presented today at Fiorano with which Ferrari will race in the 2023 Formula 1 World Championship. What strikes him most is the accuracy of the details, of how each detail has been taken to the extreme without distorting a concept on which, in Maranello, they still aim strongly.
"I'm very happy to see the car for the first time so complete, I saw it really a while ago for the first time and I'm still trying to understand it and get around to it because it looks really nice, even nicer than the F1-75."
"Now the red seems brighter, a little brighter. The car seems more defined, more refined, it looks like a nice evolution of last year's single-seater, more detailed. I can't wait to drive it".
Ferrari's ambitions, as well as Sainz's, are high. 2022 showed how much the team was, at least initially, on the right track. That's why with the SF-23 we will aim to do even better.
"Obviously I'll try to improve on what I did last year. I think the team's priority is to take another step forward compared to last season. Now we want to take another step further that can allow us to fight for the world titles and fight for the victory in all the grands prix, but also to be as competitive as we can. But at the same time we want to improve in all areas and we have set these as our main objectives".
Ferrari SF-23
Photo by: Ferrari
Sainz then recounted what he did in winter regarding his physical preparation. The break, which was longer than between 2021 and 2022, allowed Carlos to have more time to prepare and to do it more carefully and scrupulously.
"It's been a very long winter, because the season ended a little earlier than usual. So I started managing my preparation a little earlier than in past years, as well as being able to rest earlier. It's been a long two months , where I started my training program".
"I maybe concentrated a little more from a cardio point of view. Normally it would have been lifting weights to try to build up my muscles, but now I'm almost at my limit with regard to the weight allowed for riders. I need to concentrate more from a cardio point of view. heart view".
"I think my behavior is very close to that of the Italians and I feel that when I'm with my mechanics, engineers, obviously people I've known since I've been in Italy and I'm very similar to how they behave. Even my way of live here. One of the hardest things to do, being here, is to avoid gaining weight before the first race of the season. I'll have to give up something for lunch," concluded the Madrid native.
Read also: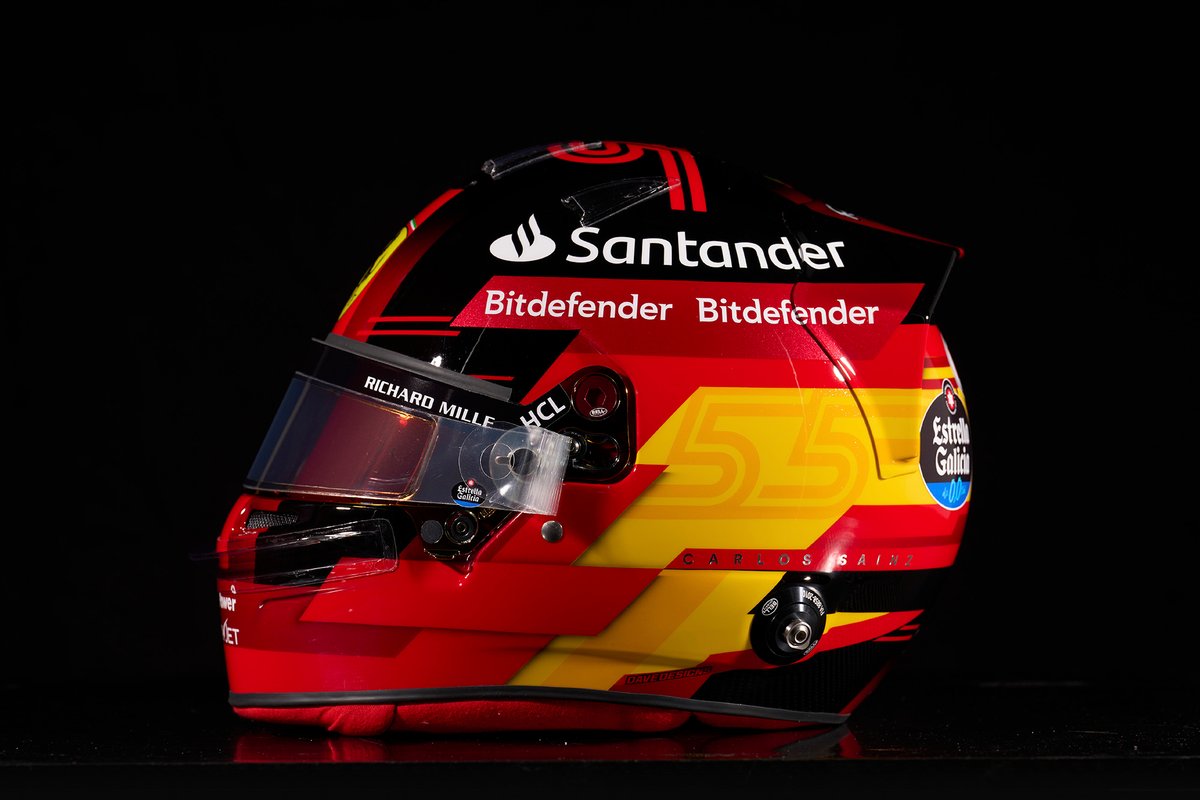 Helmet of Carlos Sainz, Ferrari
Photo by: Ferrari