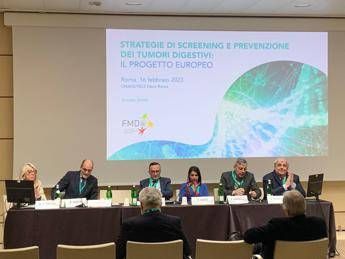 "Early diagnosis for colorectal cancer is essential. Many data produced in the pre-Covid phase tell us this, in particular the data that analyzed the population screenings that were instituted starting from the mid-2000s and which have shown that the use of screening has progressively reduced the incidence and mortality in the target population, which in Italy is between 50 and 70 years old". So Luigi Ricciardiello, associate professor of Gastroenterology at the University of Bologna and adviser to the Italian Society of Gastroenterology and Digestive Endoscopy (Sige), on the sidelines of the conference 'Screening strategies and prevention of digestive tumours: the European Project', promoted in Rome by the Foundation for Digestive Diseases (FMD) to illustrate the European recommendations and useful actions to be implemented in Italy to promote a healthier lifestyle and encourage prevention programmes.
"With early diagnosis – underlines Ricciardiello, who is also responsible for the company's colorectal cancer diagnostic and therapeutic pathway at the Sant'Orsola Malpighi University Hospital in Bologna – we certainly have the possibility of identifying pre-malignant lesions, i.e. polyps, through a simple fecal occult blood test. Therefore, colonoscopy in case of positivity gives the possibility to remove the polyps and to prevent what is the sequence that would then lead to the development of cancer".
Screening "also has the possibility of identifying malignant tumors in a very early stage – highlights the specialist at Adnkronos Salute – and therefore susceptible to treatment. Considering that colorectal cancer is the second most frequent cancer in the country with 48,000 cases diagnosed in 2022, with an increase of 1.5% in men and 1.6% in women, it is absolutely intuitive how fundamental screening is and early diagnosis equally". The tumor in the initial stages is asymptomatic "and this is why screening is important. However, there may be symptoms that can alert the patient, therefore the referring doctor – specifies Ricciardiello – in order to possibly refer the patient to colonoscopy : sudden bowel movements, unintentional weight loss, rectal bleeding, anemia and fatigue. With these symptoms, in fact, a patient should go to the treating doctor who should prescribe a colonoscopy".