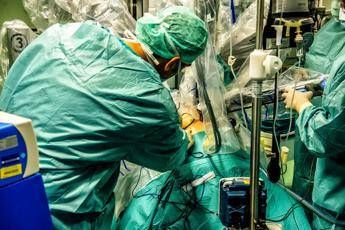 A rare tumor measuring over 30 centimeters and weighing about 2 kilos – even more exceptional considering that it was hosted by a woman weighing just 35 kg – was removed with an emergency operation performed at the Ospedali Riuniti Villa Sofia-Cervello in Palermo on a 70-year-old patient. The neoplasm, a so-called solitary fibrous tumor of the pleura, of mesenchymal origin, occupied her entire right pleural cavity, compressing her lung. For this reason, the lady arrived from another Sicilian hospital with severe respiratory failure, was transferred to intensive care and operated on last month by the thoracic surgery team of Villa Sofia-Cervello, directed by Giuseppe Agneta, with the collaboration of medical managers Fabio Lupo and Mariano Di Martino.
From the hospital they tell of "a result resulting from a team synergy and which further highlighted – especially in the context of highly complex operating cases, complicated as in this circumstance by a delicate cardiorespiratory condition of the patient – the fundamental role of doctors as well anesthetists-resuscitators". The anesthesiological team in the room consisted of Giovanni Milone and young assistants in training, reads a note. The immediate post-operative period was managed by the complex Intensive Care Unit of the Villa Sofia facility, directed by Paolino Savatteri, and a second step saw the commitment of the UOC of Long-Term Care directed by Isabella Nardi, who completed the process of "full recovery of the metabolic and motor functions" of the woman, guaranteeing her "a discharge 25 days after the operation with the resumption of full autonomy".
"The neoplastic pathology in question – explains Agneta – has an incidence of less than 2% of pleural pathologies and is characterized by a subtle trend since it is symptomatic. It is in fact generally revealed when it begins to cause respiratory disorders with breathlessness and easy fatigue, or rather pressing pain (characterized by a sense of painful weight) of the affected hemithorax. Only in very few cases is it appreciated with early diagnosis and often the finding is occasional, or connected to radiological investigations performed for other reasons".
"The dimensions and weight of the case treated present an aspect of exceptional confirmation in an absolute sense – underlines the surgeon – and even more in a relative sense in relation to the anthropomorphic characteristics of the patient: extremely thin, with a body weight of about 35 kg. Today this person has returned to his life, but this result also highlights the importance of highly qualified centers equipped with adequate surgical equipment and multidisciplinary teams suitable for treatment and appropriate management of post-operative management, which is very delicate especially in the early stages, at least as much as the strictly surgical one of these patients".