Suara.com – RANS Nusantara FC introduced New Coach Rodrigo Santana to wade through the remaining second round of BRI Liga 1 2022/2023, Wednesday (1/2/2023) evening. Not only coaches, several new players were also officially introduced.
The introduction of Rodrigo ended Rahmad Darmawan's work at RANS Nusantara FC. As for the figure known as RD, his contract expired and was not renewed.
"We are introducing a new coach, our team's condition needs to be evaluated to make it better. Here we are bringing in a new coach, whose contract was previously completed," said RANS Nusantara FC President Roofi Ardianto during a press conference, Wednesday (1/2/2023).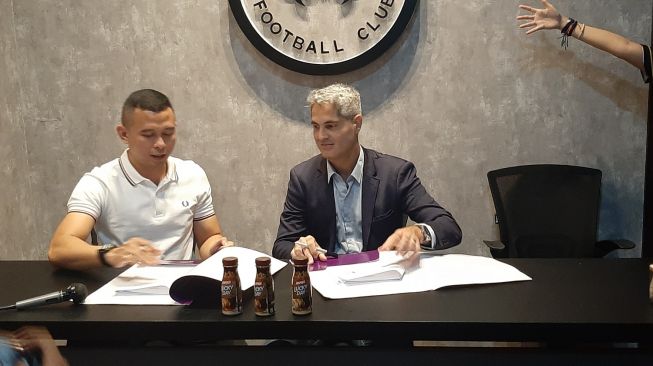 RANS Nusantara FC President Roofi Ardianto (left) and Rodrigo Santana (right) during a press conference in Jakarta, Wednesday (1/2/2023) evening. (Suara.com/Adie Prasetyo Nugraha).
"After evaluating, we chose the coach next to me (Rodrigo Santana). We also took this decision into consideration. So we agreed to change coaches," he continued.
Also Read: Official! Persija Jakarta Brings 35 Players to Face Second Round of BRI Liga 1, Here's the Complete List
Meanwhile, Rodrigo Santana is contracted for half a season. The 40-year-old figure also invited several of his assistants from Brazil.
"(Contract) until the end of the season. For the assistant coach to follow the head coach, again he has his own team. So this one was requested by the coach," he explained.
Meanwhile, Rodrigo Santana said he was happy to be able to train RANS Nusantara FC. He will try to make the best of this opportunity to train in Indonesia.
"I'm happy. Thank you. Today is the first time training with the team. I'm ready to be happy," said Rodrigo Santana.
As for the new players, RANS brought in Yanis Mbombo (foreign), M Tahir (Persipura Jayapura), Agus Nova (Semen Padang), and Bayu Setiawan (Sriwijaya).
Also Read: Madura United Brings in Otavia Dutra at the Closing of the Transfer, Instead, the Supporters Get Sneaky