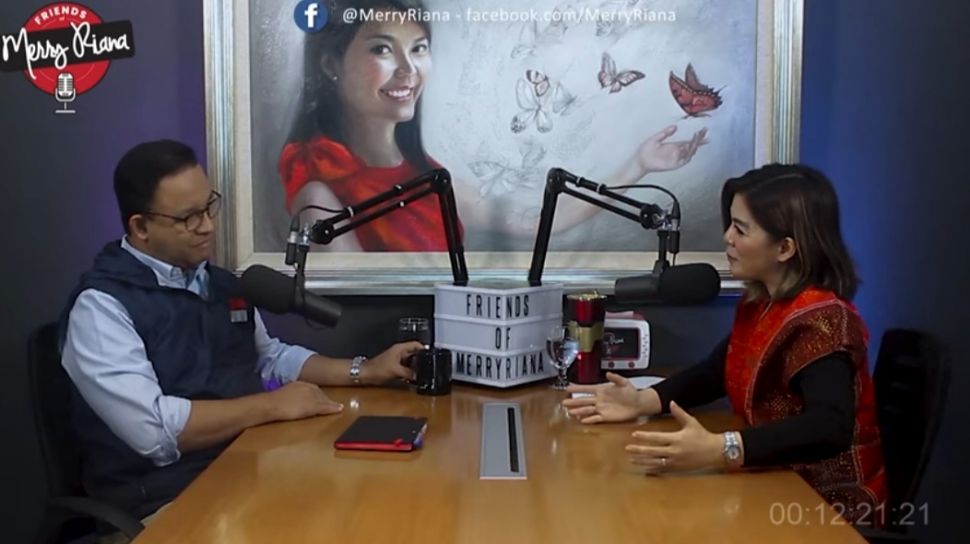 Suara.com – The prospective presidential candidate from the Coalition for Change, Anies Baswedan, spoke out in response to the issue of his agreement with the general chairman of the DPP Gerindra Party, Prabowo Subianto.
In the agreement it was stated that Anies stated that he would not run as a presidential candidate as long as Prabowo was still running as a presidential candidate as well.
Anies initially said that when he won the 2017 DKI Jakarta regional election, he had committed to completing his duties for the next 5 years and would not be tempted to take part in the presidential election.
"It's actually simple. I said when I started working that I would focus on Jakarta for 5 years, and after the 2017 Pilkada there was the 2019 Presidential Election, so I said I would not look left and right, I would be in Jakarta for 5 full years, therefore I will not following the presidential election," Anies said on Merry Riana's Youtube channel entitled 'PERDANA!! ANIES BASWEDAN WAS OUTRAND ABOUT THE PRABOWO-ANIES-SANDI POLITICAL AGREEMENT' that has been allowed to be quoted, Saturday (11/2/2023).
Also Read: Anies Baswedan Clarifies the IDR 50 Billion Debt, He Who Signs and Guarantor Is …
He then recalled the moment he took part in the DKI Pilkada debate where he was asked about the possibility of advancing in the Presidential Election. At that time, Anies firmly replied that he would be committed to completing his assignment in Jakarta.
"Well, this is the governor's debate, how come the presidential election was asked. I said 'no, I will be in Jakarta' and there is a recording, the name of the person is also debating," he said.
He admitted that after committing to complete his assignment in Jakarta, he had not thought about his future at that time. Including the question of the possibility of teaching or even returning to continue the advanced government in Jakarta.
Until finally, said Anies, when in 2018 he received an offer to become a vice presidential candidate from Prabowo Subianto. However, Anies stated that his commitment to return would still be in Jakarta.
"So when in 2018 I was invited to become Pak Prabowo's deputy partner, I also conveyed to him. 'Pak Prabowo, thank you for the invitation, this is an honor, but I have a commitment to finish in Jakarta for 5 years," he said.
Also Read: Finally, Anies Baswedan Provides Clarification Regarding Debt of IDR 50 Billion to Sandiaga Uno
Furthermore, he said, he refused the offer to become vice presidential candidate because he had made a promise to Jakarta residents. Especially to fulfill promises during the campaign.
"After that's done, I don't know what's next. Especially in 2017, where do we know what will happen in the next 5-7 years. But that's the commitment and that's what's being implemented," he said.
Anies admitted that when he spoke directly with Prabowo, he did not specifically promise not to run for the presidential election in the coming years.
"And indeed when talking, I didn't mention the year. For example, I promised (not to take part in the presidential election at any time), no. I promised to complete (the post of governor of DKI) 5 years. There was no mention of 5 years until 2022, then I won't take part in 1, 2 hehehe. Yes, I don't think so," he concluded.