Suara.com – Indonesia has a descendant of players who are currently captains of the top caste clubs of the Dutch League or Eredivisie, FC Groningen. He is Joey Pelupessy.
Even though he was only brought in in the 2022 summer transfer market, Joy Pelupessy's performance has made FC Groningen entrust him with the captain's armband.
Joey, who had played for the Premier League team, Sheffield Wednesday, was recruited by FC Groningen from the Turkish club, Gireunspor.
The player of Indonesian descent in fact did not experience a career decline and even managed to become one of the vital players in the main squad for Groningen.
Also Read: FACT CHECK: Indonesian National Team Coach Candidate Arsene Wenger Arrives in Jakarta, Really?
Entering the 2022-2023 season as well as his debut, Joey immediately served as captain of a team that has a long history like Ajax Amsterdam.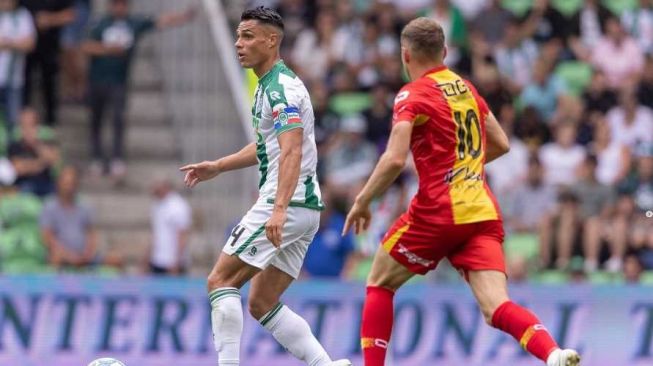 Profile of Joey Pelupessy (left), a player of Indonesian descent who is captain of the top Dutch League club, FC Groningen. (Instagram/@joeypelupessy)
Groningen FC is one of the big teams that has produced many star players, including Luis Suarez, Virgil van Dojk and Arjen Robben.
Unlike last season, when Groningen closed the 2021-2022 season in 12th place out of 18 contestants. In this season relegation actually threatens them.
Groningen is currently ranked 17th, aka one ladder above Cambuur, which is at the bottom of the 2022-2023 Eredivisie standings, where the two teams are only one point apart.
Apart from that, Joey Pelupessy was reportedly interested in becoming an Indonesian citizen after seeing Shayne Pattynama get this status.
Also Read: Profile of Charbel Shamoon, an Iraqi Naturalization Player that the U-20 Indonesian National Team Must Watch Out for
Naturalization status is not impossible to get, considering that Joey has Indonesian lineage, to be precise, from Maluku.