Suara.com – Persija Jakarta coach, Thomas Doll, went berserk after his team was held to a draw by Madura United in Week 27 of the BRI League 1 2022-2023. He sprayed the Persija players by calling the front line lacking quality.
The duel between Madura United and Persija Jakarta which took place at the Gelora Madura Bangkalan Stadium ended in a goalless draw. This result is a loss for the Kemayoran Tigers who are currently competing at the top of the standings.
In fact, Persija actually got a lot of opportunities in the game. However, Michael Krmencik and his friends failed to make use of it into goals.
That situation made Thomas Doll furious. He considered the quality of Persija's front line not as expected because they were unable to appear clinical in front of goal.
Also Read: Prediction for Bali United vs Persis in BRI Liga 1 Today: Head to Head Score, Lineups
"I don't understand what happened with today's game, it's sad to see it, because the game didn't go according to plan. I feel there is no quality at all up front, because we couldn't win the game even though we had a lot of chances today," said Thomas Doll after the game.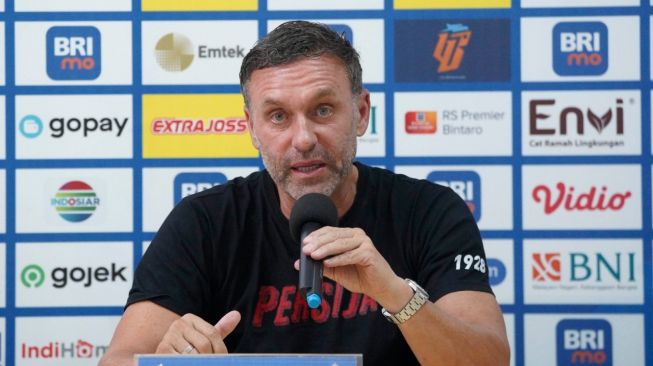 Persija Jakarta coach Thomas Doll gives a press statement ahead of the match against Bhayangkara FC at the Wibawa Mukti Stadium, Wednesday (15/2/2023). (Photo: New Indonesian League)
"Disappointed with the front line, no problem with the back line, the midfield. But the front line is disappointing. If, for example, we finish like this, we will not win a football match," explained the coach from Germany.
Thomas Doll said the absence of a number of players was not the reason Persija could not beat Madura United. Appearing imperfect, the Kemayoran Tigers continued to dominate but could not score.
Indeed, a number of names were absent in this match, such as the eight players who were called up to the U-20 Indonesian National Team. Then added three foreign legionnaires Hanno Behrens, Ondrej Kudela and Abdulla Yusuf Helal.
Persija also couldn't feature Resky Fandi and Firza Andika. In terms of quality, the ability of Jakmania's favorite team will decline because there are no names that usually fill the ranks of the first team.
Also Read: BRI League 1 Week 26 Best Goal Won by Persib Players
"Indeed we lost players, but we got a lot of opportunities in the final settlement, but we didn't take advantage of them. We have traveled a long way (to Madura island) and I'm sad we only got one point," he explained.