Can you learn from the original? We tell you everything about this beautiful RPG in our Octopath Traveler II analysis.
Switch is the RPG console. The usual sagas have fitted in with its format and audience, although the new franchises have also found the ideal place to make a name for themselves. Octopath Traveler He did it in 2018 with schemes typical of the more traditional role both in form and in mechanics. Now it's his turn to show that he has what it takes to establish himself as another benchmark in the genre with his second installment. They have achieved Acquire and the Team Asano refine the formula? Does Square Enix have another icon of the role on his hands? We tell you in our Octopath Traveler 2 analysis for Nintendo Switch.
The Eight Paths of Solistia
For those who do not know this IP, Octopath Traveler takes its name from its protagonists, 8 travelers whose paths cross by fate and who end up discovering that they have an unexpected destiny in common. Octopath Traveler 2 he maintains that same central scheme to develop his story. Even if he moves away from Orsterra to take us to the world of Soloistonce again divides his story into 8 characters with very different origins and natures.
A huntress, an apothecary, a dancer, a cleric, a thief, a warrior, a merchant, and a scholar. That is the main cast that we meet throughout this adventure and which we delve into as we discover the mysteries of the region. Because it is possible that each one has a different mission, but behind the curtain there are a series of threads that end up uniting them all to face something much bigger in common.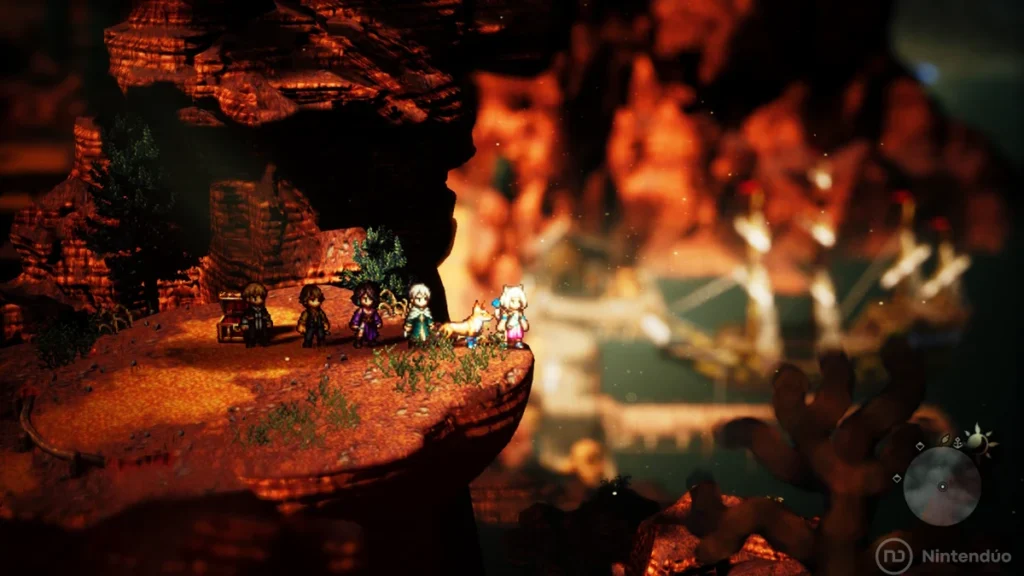 The truth is that the main group is very varied and, although there are certain fairly clear stereotypes between them, they give rise to very different situations that are fully enjoyed when their stories begin to intersect. we can't deny that Temenos, the cleric, is among our favourites, but Partitio (merchant) and Throné (thief) are not far behind. They all have something that makes them interesting to a greater or lesser extent, and it is this, together with the development of their stories, which makes it difficult to let go of the controller when you have been playing for a few hours.
And we say a few hours because startup can be slow. To unlock all of them, it is necessary to live their first episode, knowing their history, the characters that surround them, their motivations, their abilities and a long etcetera. It is the only "but" that can be attributed to the rhythm of the game, although it is a necessary sacrifice when there is so much to tell and it's so spread out.
A lesson half learned
One of the big problems with the first Octopath Traveler was the lack of connection between the protagonists. Each story unfolded independently, with each character living out her story as if the others were just there to fight. In this analysis of Octopath Traveler 2 we must tell you that the same thing happens during most episodes. But There are exceptions.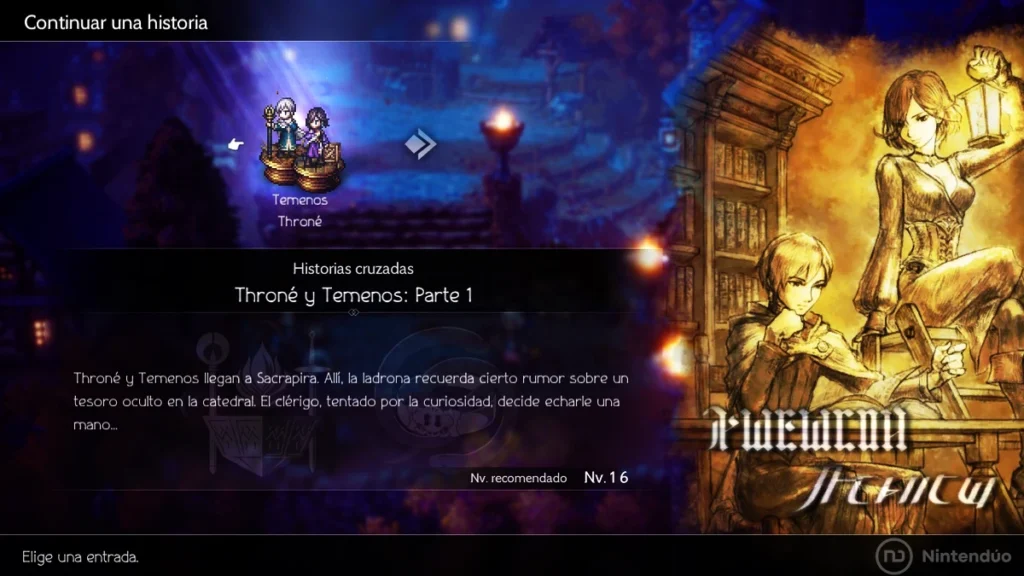 One of the great novelties of this installment are its Crossing stories. Chapters that are interspersed during the adventure and that unite several characters for a while. It is an attempt to improve the development of the first game that works, but in which we miss a greater depth. In the end, even though there are connections and even talks between colleagues, a person is still missing greater sense of team during the development of the story.
Driving Rupture throughout the day
As you continue to progress through the different chapters of each character, which open before you when you reach the locations marked on the map (although you are free to visit these locations, as the game asks whether you want to follow the plot or not), come into play. the other key pillar of Octopath Traveler 2: their battles.
The title does not waive usual language of RPGs: equipment system, skills acquired by leveling up, primary and secondary professions that are unlocked with special missions… All of this is still present, as in the first, just like the Impulse and Rupture system of the original. similar to Bravely Default IIcan boost your skills or attack more times in the same turn using IP, Impulse Points, which accumulate automatically after each turn.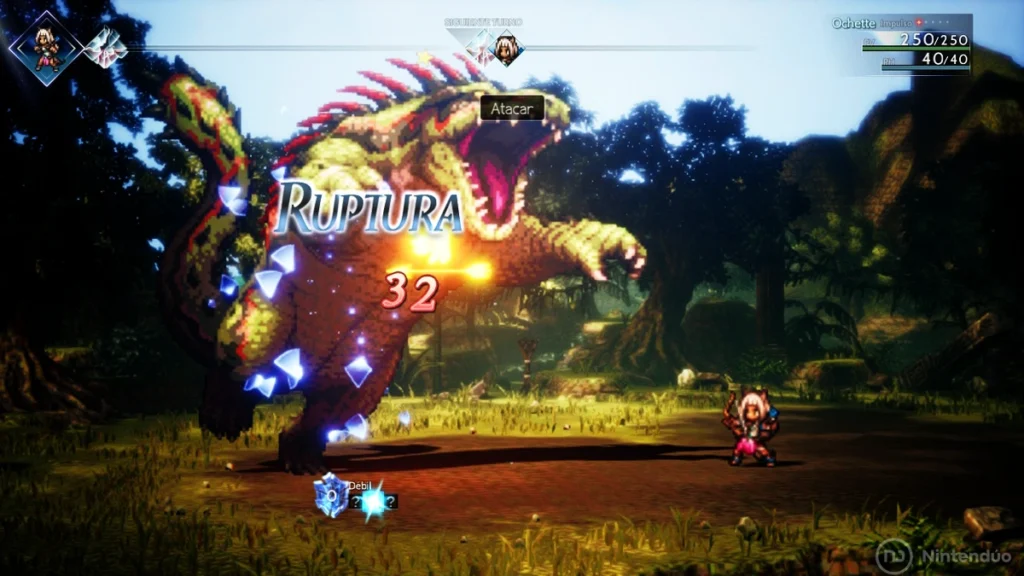 the system of Breaking off it's still there too. Its premise is very simple: you must find the enemy's weak point using the weapons or the elements that do the most damage. Getting it right has double rewardbecause not only do you do more damage, you also reduce his defense to 0, causing him to be stunned and lose a turn.
Mastering both elements, that of Impulse and Rupture, is essential to succeed in combat, although at first it is somewhat random as you have to guess enemy weaknesses. Luckily, it's not complex enough to detract from its charm, and it takes little time to both understand and master it, even getting a sense of what a new monster's weaknesses might be just by looking at it.
more is not always better
If it stayed there, even though it would work pretty well, Octopath Traveler 2 would be too cowardly. For this reason, it adds as the main novelty to the combats the system of Potentiala series of special abilities which are unlocked when a meter is filled that only progresses by completely breaking through the enemy defense or by taking hits.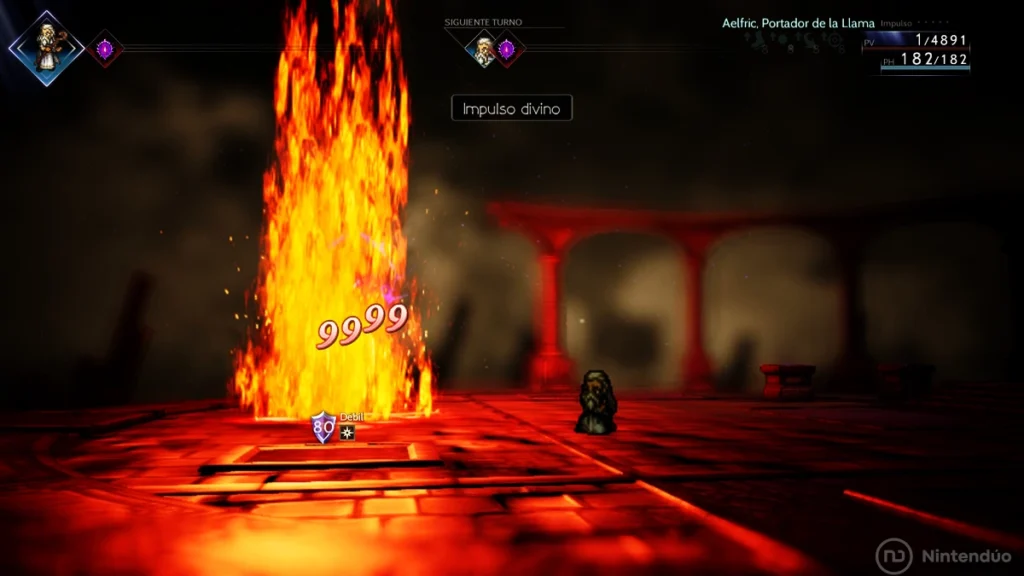 Its combination with Impulse and Rupture is what allows you to launch the most devastating attacks, and it is what manages to make the combat system of this installment much deeper than the previous one. It's a very simple item, but one with enough weight to change the course of a fight. all a success.
The role of the personal skills of each protagonist also greatly influences. Now that you have implemented a day and night system (you can toggle between one and the other by pressing the ZR button), Octopath has taken advantage so that each one has 2 field abilities (Path Actions) different. For example, Ochette (hunter) can launch the monsters you capture during battles to fight against NPCs anywhere; but, at night, she can recruit NPCs by offering them food, to help her when fighting.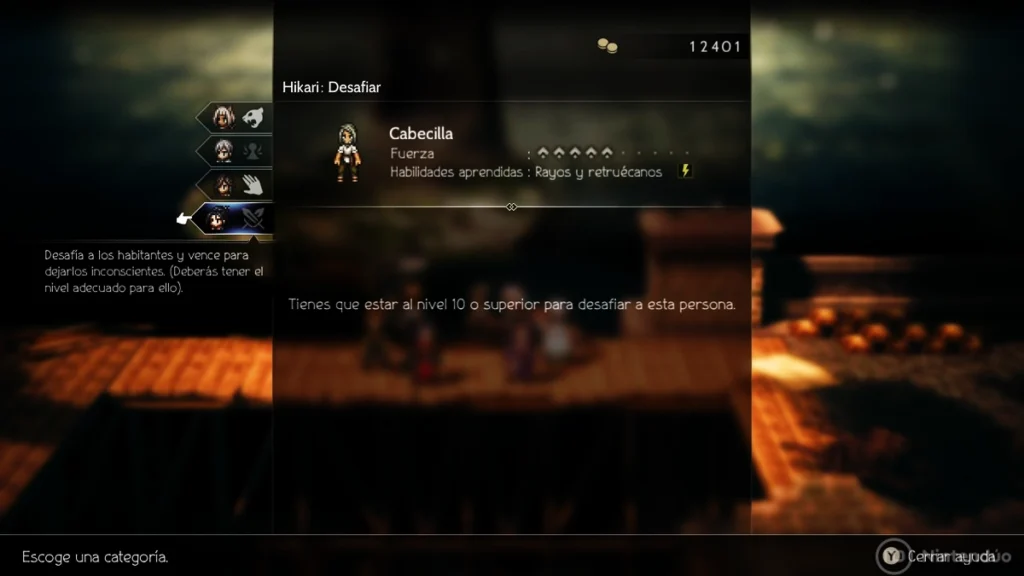 This element means that we still have to add more factors to take into account because, if you can't convince an NPC, he defeats you or catches you stealing, for example, that it affects your reputation in the city in question and makes it more difficult for you to achieve good results in the future. That reputation can be restored at a price, but this punishment is not what really weighs on the player. What weighs is the repetitiveness of Path Actions, since there are characters that in the end cause similar effects on the NPCs. And it's a shame, because it could be something that triggered the playable possibilities, and that already failed in the first game.
This world is a precious devourer of hours
Any of the images that you have seen throughout the analysis, or even in the videos released during these months, make it clear that Octopath Traveler 2 has managed to give a huge leap in graphics in front of his first installment. The technology and hardware are the same, but you can tell that the team dominates the game more than ever. estilo HD-2D that they themselves devised.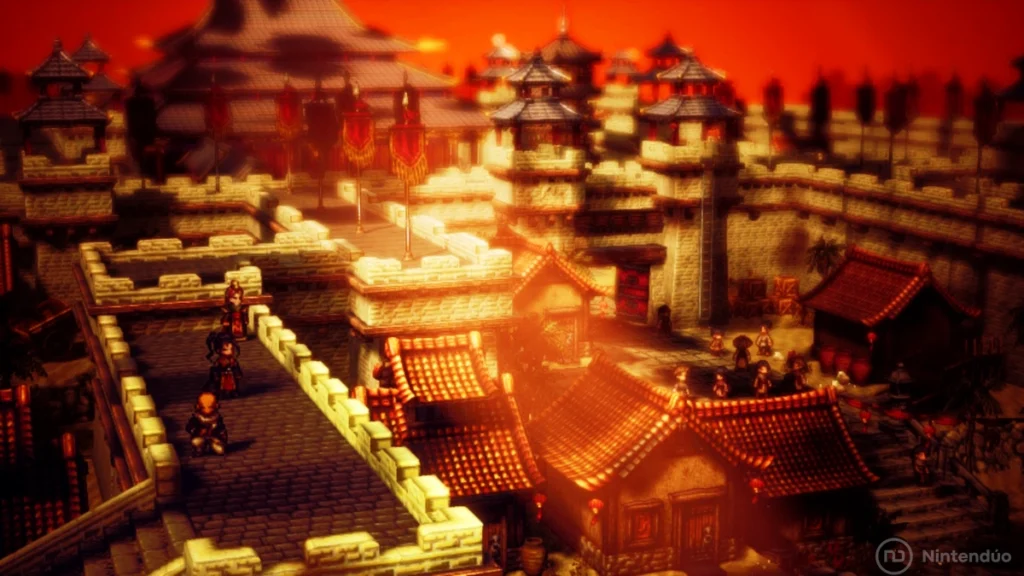 There are many more camera games both inside and outside of combat the particle and lighting effects are superb and the depth effect never fails. At all times, it seems that you are playing with small characters in a huge diorama teeming with pixelated life. There is no snowy mountain, lake, waterfall, desert, cave or castle that will disappoint. It's amazing on both the Switch screen and the TV.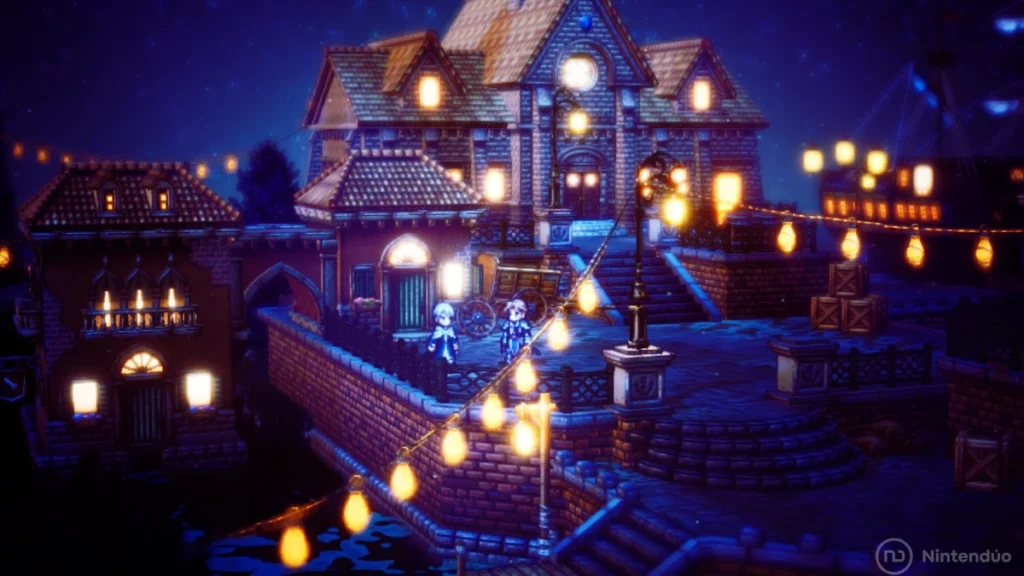 Nor is it far behind in the musical. We can safely say that there is no bad song in this gameIn fact, the display of themes is larger than the first one, having day and night versions for each zone, even for the menu! Its soundtrack is evocative, nostalgic, subtle and direct when you need it. Octopath Traveler 2 is a true audiovisual delight.
so big it's scary
While Octopath Traveler 2's main campaign may drag on until 50 hours or more easily, Solistia is not confirmed with that. Each city or town you visit, even more than one path, has a number of side quests that force you to explore other corners of the map or even go in search of all kinds of challenges.
It is something that leads you not only to obtain better equipment, more money or objects that come in handy for the battle. It also takes you to unlock secondary classes to expand the abilities of your characters and keep throwing more and more layers of depth into combat. And yes, also to discover the most powerful weapons of the game.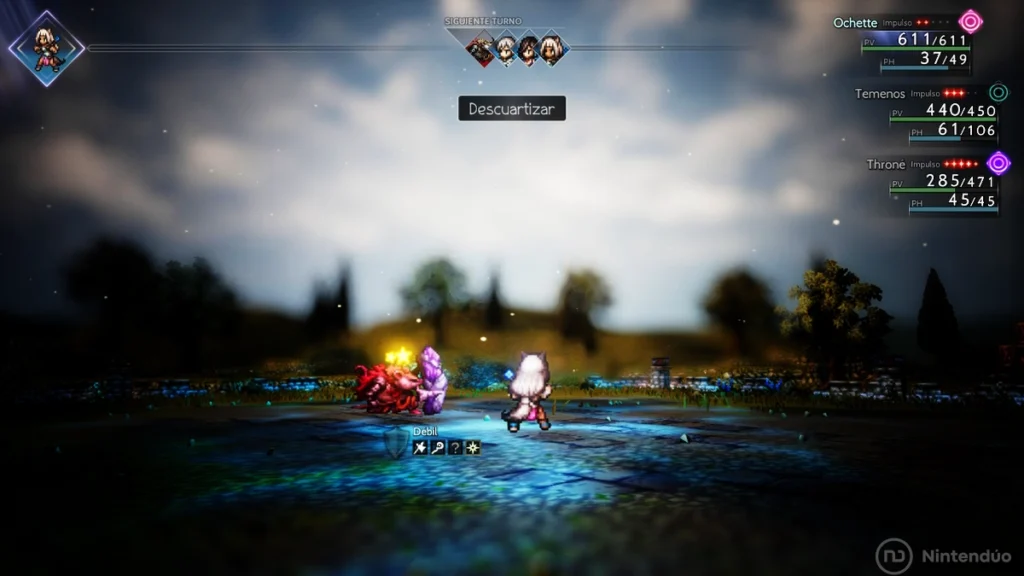 In fact, in this desire to offer more, Octopath Traveler 2 extends beyond the earth of his world for the player to explore new areas inaccessible at first. Something that expands the possibilities of the game and that is essential for complete the true ending which, luckily, this time is not hidden behind a secondary school.
A small big step for Octopath
With everything that is inherited and everything that is added, Team Asano and Acquire have made Octopath Traveler 2 a declaration of intent. The series is here to stay, and it doesn't shy away from refining its ideas and concepts, nor when it comes to exploring new ways to grow and offer more to the player.
It's a Content-packed RPG, with a story full of surprises, a truly addictive combat system and a brilliant audiovisual section. But it does not get rid of the ballast of a heavy initial rhythm and a plot development in which a real team feeling.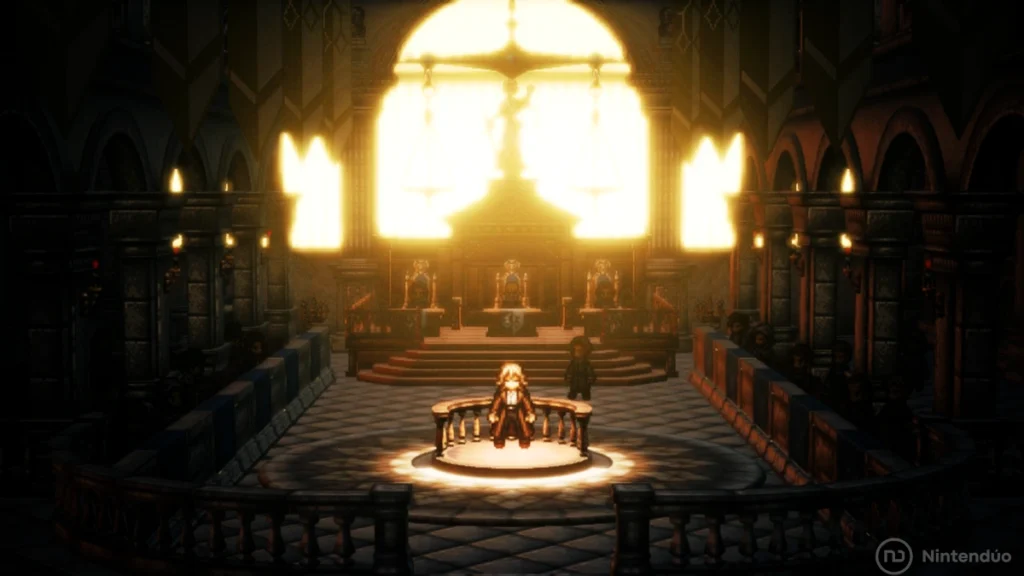 Still, it's a essential of the genre in the Nintendo Switch catalog. A title that advances little, but enough to expand enormously and hook anyone who enjoys a good classic RPG.
If you liked the analysis of Octopath Traveler 2 for Nintendo Switch, do not forget to stop for the rest of the analysis in The List.
Analysis of Octopath Traveler 2 for Nintendo Switch