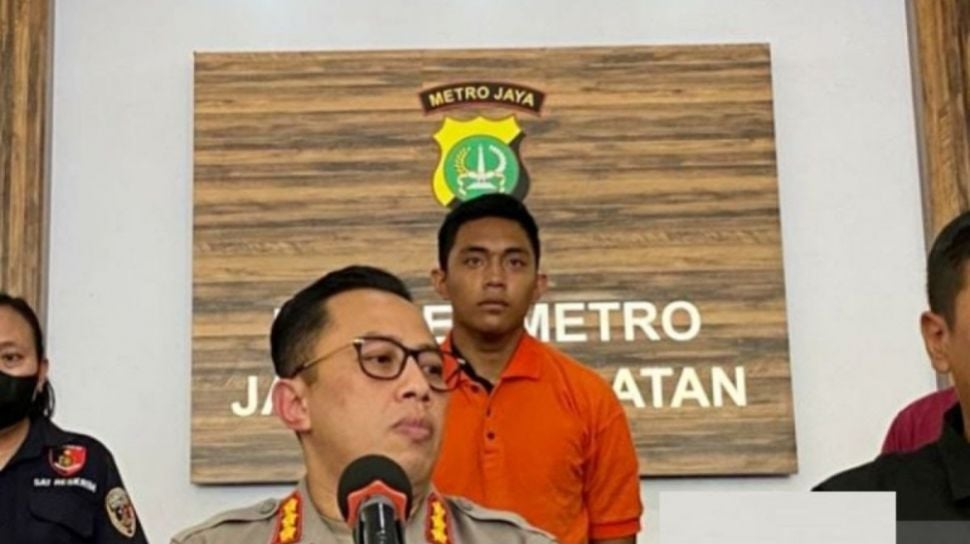 Suara.com – It turned out that the son of former tax official Mario Dandy Satriyo (20) did not only abuse David (17), the son of Ansor Youth Movement (GP) administrators. But also forcing push ups 50 times and doing penitence on the asphalt.
South Jakarta Metro Police Chief Kombes Pol Ade Ary Syam revealed this based on the results of the latest investigation.
"But because the victim was not strong and was only able to act 20 times, the victim was ordered to repent by the suspect MDS (Mario)," said Ade Ary at the South Jakarta Metro Police, Friday (24/2/2023).
At that time, said Ade Ary, David stated that he could not carry out an attitude of repentance. Next, Mario asked his friend Shane Lukas Rotua Pangondian Lumbantoruan (19) to set an example.
Also Read: Profile of Jonathan Latumahina, Important Figure of GP Ansor, Known to be Close to the Minister of Religion
"Victim D (David) could not (repentance), so the MDS suspect ordered the victim D's child to take a push-up position while the suspect S (Shane) recorded a video using the MDS suspect's cellphone," he said.
"In accordance with what the video shows, namely there was violence against D by kicking the victim's child's head several times. Then stomping on the victim's child's head several times and also kicking the victim's child in the stomach and hitting the victim's child's head while in a push-up position," he said.
Shane Officially Arrested
In this case, investigators have also officially arrested Shane. Mario's friend was detained after being named a suspect.
Based on monitoring by Suara.com, Shane kept his head down when investigators led him to the media crew at the South Jakarta Metro Police on Friday (24/2/2023) evening. There were not a few words of regret that came out of his mouth when asked by the media crew.
Also Read: Only 20 Years Old, Suspect Mario Dandy Son of a Tax Official Becomes a Boarding House Owner
Ade Ary said that Shane was named a suspect because he was proven to have allowed the abuse carried out by the suspect Mario against David. Apart from allowing it, Shane also took part in recording a video with Mario's cell phone or cell phone when the abuse occurred.
"We detained the suspect S after being questioned as a suspect," said Ade Ary.
Ade Ary said that the suspect Shane did not only play a role in allowing and they video of the abuse committed by Mario against David. But he also set an example of repentance towards David at Mario's command.
"Set an example of 'repentance' at the request of the MDS suspect so that the victim imitates it," explained Ade Ary.
For his actions, said Ade Ary, Shane was charged under Article 76C Juncto Article 80 Law Number 35 of 2014. He is threatened with a maximum sentence of 5 years in prison.
Motif
Mario was arrested by security at the Grand Permata Boulevard Complex, Pesanggrahan, South Jakarta on Monday (20/2/2023) evening. He was arrested after assaulting David.
Ade Ary currently stated that after being arrested Mario was handed over by security to the Pesanggrahan Police. The investigators then named him a suspect and detained him.
"The MDS suspect has been detained," Ade Ary told reporters, Wednesday (22/2/2023).
Ade Ary revealed Mario's motive for abusing David because he received information from a girlfriend named Agnes about the victim's actions which he felt were not good. Hearing this, Mario was furious and went to the victim.
"The motive for the violence against the child was that the perpetrator took out his anger on the victim, because the perpetrator received information from the perpetrator's female friend, A's sister. That A had experienced something that was not good, so the suspect vented his anger on the victim," explained Ade Ary.
Ade Ary said Mario when carrying out the act of persecution used the Rubicon luxury car. Then the victim was taken to an alley around the Grand Permata Boulevard Complex and abused.
"By committing violence punching, kicking, punching and kicking," said Ade.