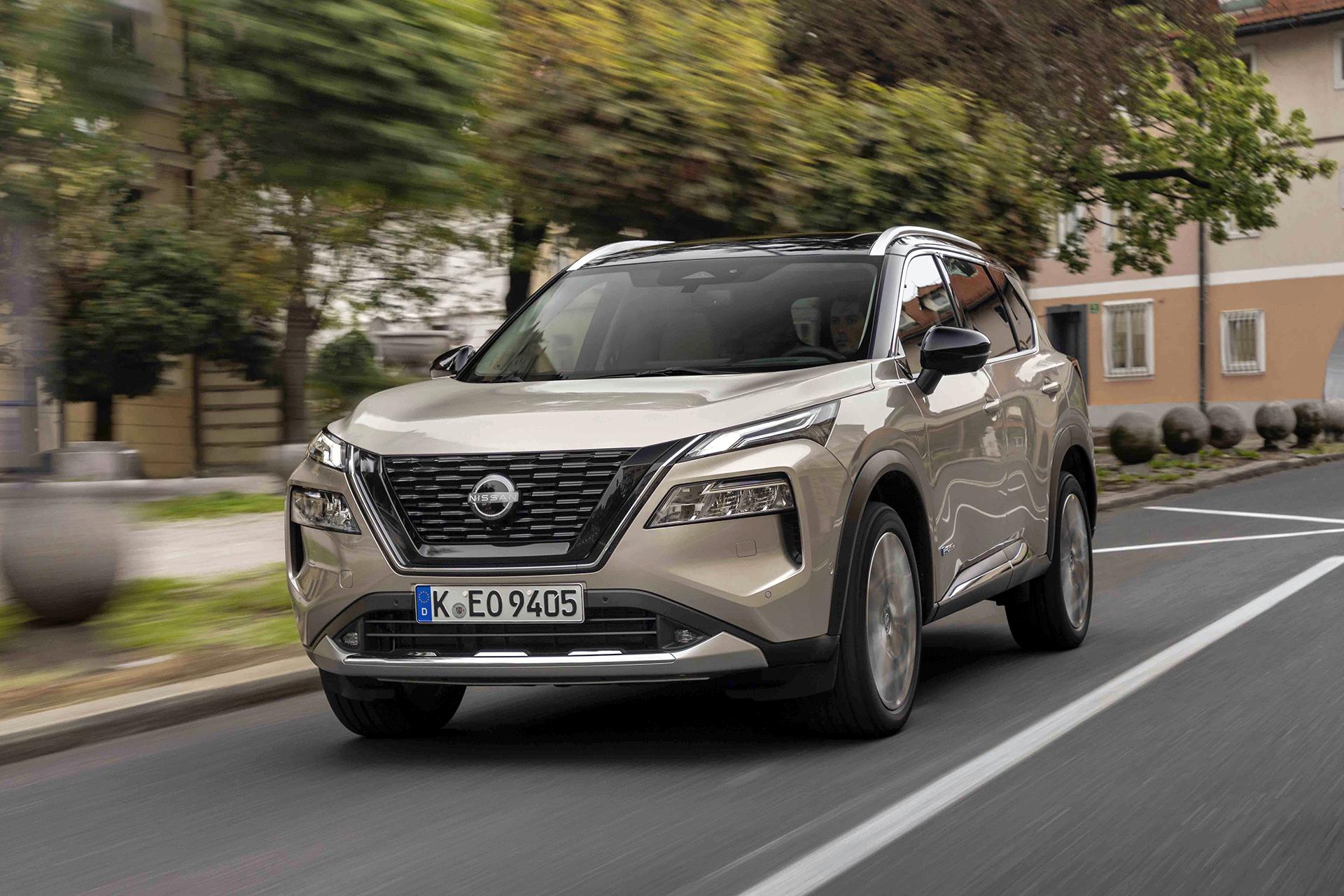 Energy prices started to rise to such an extent that electric driving became more expensive than tapping old-fashioned petrol. And very briefly, this X-Trail e-Power e-4orce (you pronounce it e-Force – nice that they hire dyslexics at Nissan) offered the best of both worlds: the flexibility of electric driving, but the 'lower costs of gasoline driving. We live in strange times.
But alas: the price cap sent the marketing department back to the drawing board. Nissan's e-Power powertrain uses one or two electric motors for movement, but cannot be charged with a plug. A petrol engine takes over the function of the socket and has the sole task of supplying power to the battery. The blowing motor does not drive the wheels at any time.
Is the Nissan X-Trail e-Power a hybrid?
Nissan itself firmly maintains that e-Power is a kind of intermediate form of electric driving and old-fashioned driving on fuel. We already said it with the Qashqai e-Power, but put very bluntly, the thing converts petrol into motion and an electric motor (or two) makes the whole thing more economical. They will not agree with Nissan, but as far as we are concerned it is just a hybrid, but with a different approach.
Existential crisis aside, the Nissan X-Trail e-Power e-4orce (yes, we still hate the name too) is a very nice car. Because indeed, if an EV delivers instantaneous torque and accelerates effortlessly, this X-Trail does that perfectly. So we drive with the e-4orce, which adds an extra electric motor with 195 Nm on the rear axle and is therefore four-wheel drive.
Should you take four-wheel drive?
The front-wheel drive X-Trail was not present at this press launch, but we've previously driven that version of the powertrain in the Qashqai, and this e-4orce accelerates effortlessly and just a little smoother. You do not necessarily have to take the four-wheel drive for the extra speed, but it is worth considering for the usability (for example on winter sports) and the overall comfort.
For example, the torque-vectoring system (which distributes the power over the wheels) works very well to maintain grip. The extra electric motor costs about 4,000 euros more and increases fuel consumption by about half a liter per 100 kilometers.
With reasonably normal driving behavior on the mountain roads of Slovenia, we arrived at about 7.5 liters of petrol per 100 kilometers, which is quite acceptable for a large seven-seater – especially if you calculate it back per person.
The third row of seats is not very large
The optional third row of seats is, as Nissan itself admits, more of an emergency solution. For example, if you have to pick up grandpa and grandma from the station, the children can sit in the back for a while. Fully electric, the Nissan X-Trail e-Power only travels a few kilometers, so the combustion engine kicks in very regularly.
He does this not unnoticed, but certainly not in a disturbing way. The funny thing is that while it would be more efficient if the petrol engine held one rpm, Nissan still chooses to let the rpm run along with the acceleration.
This should ensure that the whole feels more natural and is a counter-noise to the roar of a powertrain with CVT. The engine sound isn't 100 per cent in sync with acceleration, so it sometimes feels like you're driving with a slipping clutch, but it's not annoying – especially if you're just driving slowly.
The inside of the Nissan X-Trail e-Power
The interior is otherwise fine. Everything is where it should be and Nissan was not so stubborn that they brushed away all the buttons. The screens behind the wheel and in the center console work fine and the safety systems also function mainly quietly in the background. The Tekna+ we drive is beautifully finished with diamond stitching and brown leather – although we would have preferred the leather a touch darker, it now looks a bit cheap.
Does the SUV still drive sporty?
As with the Qashqai, there is no forced search for sportiness, the car is pleasantly damped and it is stable and balanced on the road. It is slightly quieter than the Qashqai e-Power and can optionally be equipped with massage seats. We can think of a difficult metaphor, but very succinctly, this X-Trail is 'just a very nice car'.
Not very exciting, but actually no objections when it comes to use. Still it gnaws: what if they had put a plug on it and screwed a slightly larger battery underneath? The e-Power is one of the finest electrified powertrains at the moment and removes almost all the objections that we often have with hybrids: it does not stutter, is smooth, never hesitates between power sources and therefore drives very smoothly.
The Nissan X-Trail e-Power is not super economical
But you will never succeed in really using little fuel. Something that is possible with a PHEV. In addition, it would solve another disadvantage: at some point the small battery is full. The petrol you have used driving up a mountain can therefore only be partially recovered downhill.
When the battery is full, it will dump energy by using the generator to run the petrol engine without fuel. If the powertrain could recover more energy in such a situation, you could drive fully electrically a lot further. Moreover, an X-Trail with a larger battery and a plug would probably be a bit cheaper in the Netherlands, due to a lower BPM.
Unfortunately, Nissan will never come up with a version with a longer electric range. The larger battery would take up too much interior space, make the car heavier and less efficient, and drive up the price. According to Nissan, a PHEV is only economical for people who charge faithfully. And for those people, they have a fully electric alternative. Also worth saying.
So, buy or not?
As far as we are concerned, the new X-Trail e-Power is the perfect successor to your hybrid without a plug and certainly a nice replacement for a conventional petrol or diesel car. You will not regret the four-wheel drive version in particular, but as a former PHEV driver you will miss the plug when you are refueling.
Specifications of the Nissan X-Trail e-Power e-4orce Tekna+ (2023)
Motor
1.497 cc
three-cylinder turbo hybrid
213 pk
330 + 200 Nm
Drive
four wheels
stepless
Performance
0-100 km/u in 7,0 s
top 180 km/u
Consumption (average)
6.4l/100km
146 g/km CO2 C label
Dimensions
4.680 x 1.840 x
1.725 mm (l x b x h)
2,705 mm (wheelbase)
1.917 kg
55 l (benzine)
485 / 1,296 l (luggage)
Prices
€ 63.440 (NL)
€ 61.250 (B)