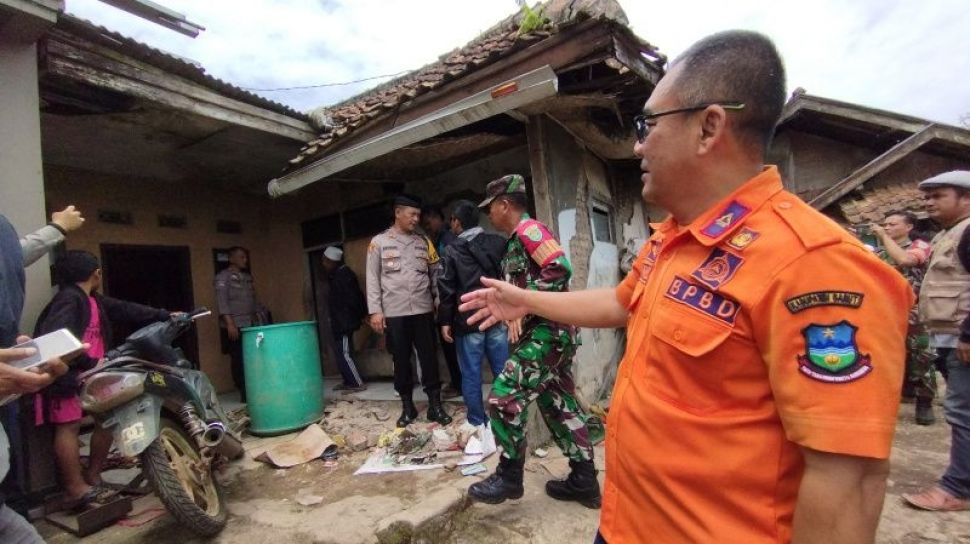 Suara.com – Deputy Regent of Garut Helmi Budiman said as many as 495 houses were reported damaged due to the earthquake activity of the Garsela Fault with a magnitude of 4.3 in Samarang and Pasirwangi Districts, Garut Regency, West Java, Wednesday (1/2/2023) night.
"We already have a rapid assessment team, a quick assessment in the field. From this rapid assessment, data was found on 495 houses that suffered light, moderate or severe damage," Helmi Budiman told reporters in Garut, Friday.
He said the Garut Regency Government had deployed a team to deal with disaster victims and record the amount of damage caused by the earthquake shaking from the Garsela Fault activity in Garut, Wednesday (1/2) evening.
The results of reports in the field, he said, were 495 residents' houses and eight school buildings damaged, but all of that would be re-validated so that further preparations for reconstruction could be decided.
Also Read: Garsela Fault Stretches, Garut and Bandung Residents Asked to Do This
"Today we are validating, later we will find out how much the loss will be, how much we will carry out the reconstruction of the budget. Today, if it is not enough, maximum Monday (6/2) will have the results, including what should we do," he said.
He said that the earthquake disaster only caused material losses, while there were no casualties. Regarding a resident who was reported to have suffered an injury, according to him, it turned out that he had a sprain due to panic during the earthquake.
"There were no casualties, some panicked and then ran away, shocked and sprained their legs," he said.
He said that there were 1,531 people affected by the earthquake or 450 households spread across two sub-districts which are currently receiving treatment by the government.
"There are quite a lot of people, namely 1,531 people, in two sub-districts, namely Samarang and Pasirwangi," he said.
Also Read: Latest News on the February 1, 2023 Garut Earthquake, A Number of Houses of Padaawas Pasirwangi Garut Villagers Are Damaged
Previously, based on information from the Meteorology, Climatology and Geophysics Agency (BMKG), there was a tectonic earthquake with a magnitude of 4.3 centered on land at a distance of 19 km Southwest of Garut Regency, a depth of 3 km, Wednesday, 1 February 2023 at 22.57.21 WIB .
The earthquake shock was felt by a number of residents in Garut Regency, and even made residents run out of their homes.