More details about Dabi's powers and appearance have been revealed.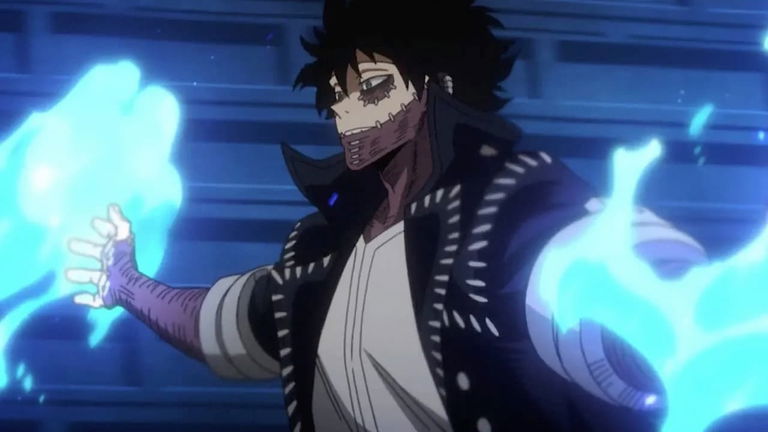 Dabi's terrifying appearance and powerful quirk have been recently explained in My Hero Academia.
join the conversation
After Dabi's true identity was revealed, this villain has taken the spotlight, as they have many doubts have arisen regarding his purposes or motivations, since being the son of a hero everyone would expect him to follow his father's legacy. However, this has not been the case because Dabi plans to destroy everything in his path in order to fulfill his revenge.
Dabi has been one of the most relevant villains during the Paranormal Liberation War, since, with the revelations about his past and some quite questionable attitudes from the heroes, he has managed to increase chaos and hopelessness in the inhabitants that they are about to enter their anarchic phase.
Likewise, there are still certain doubts about this villain, since he managed to go unnoticed due to his appearance and his Blue Flame quirk, these being one of the reasons why his family never realized his true identity. However, in recent episodes Dabi's powers and appearance have been explained. Next, we tell you the details.
It's fasting contains spoilers for episode #17 of the sixth season of My Hero Academia.
My Hero Academia has revealed details about Dabi's appearance and powers
As we have already mentioned, Dabi's past has caused a great impact on the followers of My Hero Academia, since since his appearance this character has been surrounded by much mysteryso much so that even his teammates in the League of Villains were unaware of his origin or motivations.
However, the enigma that surrounds this character seems to be clearing up, since the most recent episodes of My Hero Academia have decided address Dabi's past in greater detailexplaining the reason for his appearance and his powerful quirk.
Evidently Dabi's appearance is quite grim, because this villain has a large part of his body burned and some others have some sewn skin, giving it a quite terrifying and impressive look. However, the appearance of this young man is linked to his tragic past.
Dabi's appearance has been explained in episode #17 of the sixth season of My Hero Academia, since more details about the tragic past of this villain have been seen in it, as this was the first of many "failures". that Endeavor had with Rei Himura in his sick obsession with creating the perfect Hero to surpass All Might.
Dabi or Touya Todoroki, inherited his father's quirk, who upon realizing that this boy's flames were more powerful than his own, he decided to train him to carry out his wish to surpass All Might. However, as they progressed through the training, Endeavor noted that Touya was frequently injuring himself with his own quirk, confirming that this young man had no resistance to heat or the power of his flames.
Because of this, and to "protect" him, Endeavor asks Touya to give up the idea of ​​becoming a hero, because he had only inherited resistance to cold like his mother and if he continued to insist, he could do a lot of damage. However, it was too late, as little Touya he wanted to fulfill his father's sick wishes at all costs.
Touya continued training secretly from his parents, because he wanted to show that he was capable of meeting their expectations, apparently his perseverance and discipline were paying off, since the color of its flames had changed to a blue hue as he was growing up and he wanted to show this progress to his father.
For this reason, the young man summoned Endeavor to Sekoto Peak, a place where he used to practice away from them, but the #1 hero never came, due to Enji Todoroki's (Endeavor) rejection, little Touya went into crisis and his powerful flames fanned by his feelings burned the entire mountaingetting caught in the fire.
Miraculously, Touya managed to survive the brutal fire, but due to the intensity of its flames suffered severe burns all over his body, which is why it looks like that. Also, Touya didn't know how to control his flames, since his father during his training only taught him how to increase their intensity.
Without a doubt, Dabi or Touya Todoroki is one of the characters that has had the worst time due to his extremely tragic past that led him to gestate a hatred and desire for revenge that it has completely consumed him, since his only objective is to make his father suffer.
join the conversation