The bike for everyone will be the new Ducati that replaces Energica: the championship is mostly Italian. In the previous four editions, an Italian won, twice a Spanish and a Swiss
February 21, 2023
Last year the Swiss won Dominique Aegerterbefore him twice Spanish Jordi Torres and, in the first edition, Matthew Ferrari.
This year the MotoE try to grow up: from cup to world championship, from Energica to Ducati.
The first race weekend is that of Le Mans. Below is the complete program and, to follow, the 18 riders who make up the grid, nine of which are Italian.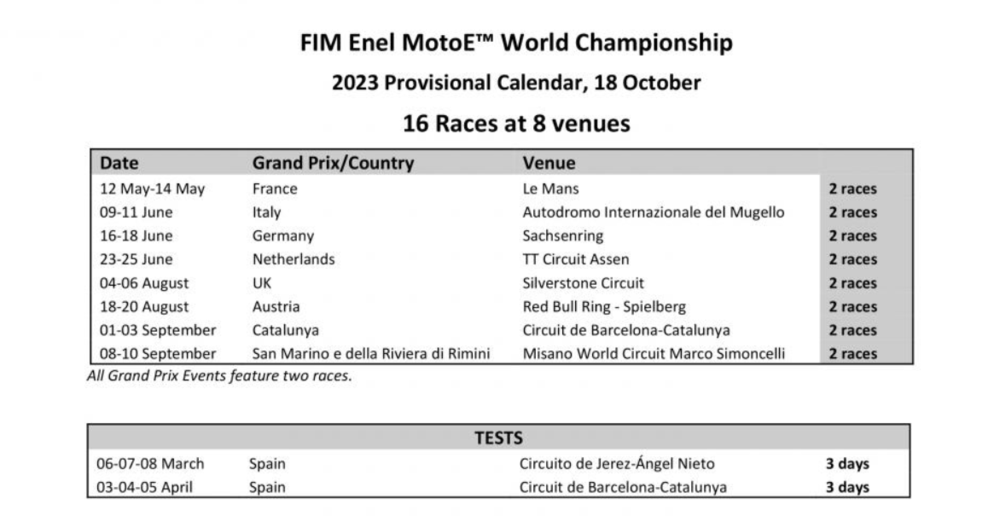 All the pilots of 2023

There will be no reigning world champion Dominique Aegerter, moved to Superbike. Three Italian teams: Gresini, Pramac and Sic58. Also among the protagonists Luca Salvadori, Maria Herrera
Here are the teams and drivers:
– Dynavolt Intact GP: Randy Krummenacher (Switzerland) and Hector Garzò (Spain)
– Felo Gresini: Matteo Ferrari (Italy) and Alessio Finello (Italy)
– LCR E-Team: Eric Granado (Brazil) and Miquel Pons (Spain)
– Octo Pramac: Luca Salvadori (Italy) and Tito Rabat (Spain)
– Ongetta Sic58: Kevin Zannoni (Italy) and Kevin Manfredi (Italy)
– Openbank Aspar: Maria Herrera (Spain) and Jordi Torres (Spain)
– Pons Racing 40: Nicholas Spinelli (Italy) and Mattia Casadei (Italy)
– RNF MotoE Team: Andrea Mantovani (Italy) and Mika Perez (Spain)
– Tech3 E-Racing: Alessandro Zaccone (Italy) and Hikari Okubo (Japan)
Drivers by nationality: Italy 9, Spain 6, Switzerland, Brazil and Japan 1