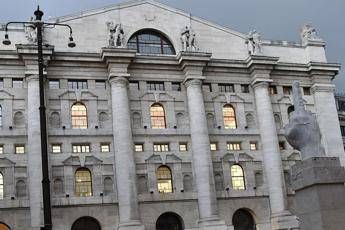 Bad day for European stocks, with widespread selling as investors continue to distance themselves from the stock market. The concern mostly concerns the measures of the Fed and the ECB on rates. In Italy, the president of Confindustria Carlo Bonomi openly invites the European Central Bank to reflect on its monetary policy, which is not producing the desired effects. Then there is the very gloomy war scenario after Vladimir Putin's speech, his threats to the West and Russia's exit from the START treaty on the limits to nuclear weapons.
The price of gas dates back to the TTF in Amsterdam, above 50 euros per megawatt hour. The value of oil fell sharply, with Brent and Wti dropping by about 2%. In Milan, the Ftse Mib lost 1.12% and closed at 27,101.53. The spread between the Btp and the German Bund increased, moving above 185 basis points. The yield on the 10-year bond also grew, around 4.47%.
Stellantis (+2.21%) is doing well on the main list of Piazza Affari (+2.21%), which is flying after having released record-breaking accounts: in 2022 net revenues reached 179.6 billion euros, with an increase of 18% on 2021 and the 'net profit was 16.8 billion euros, up 26%. There is now a 1.5 billion buyback planned.
Tim also rises (+2.79%). The telephone company announced that it had received from Kkr the request for the extension to March 24 of the deadline for the offer on the group's fixed infrastructure. Tim then confirmed that the board meeting to discuss the offer will be held the day after tomorrow, February 24th.
Bad utilities and banks. In fact, Hera (-1.40%), Enel (-1.43%), Snam (-2.48%) and Terna (-2.03%) are negative. At the bottom, then, Bper (-4.39%), Banco Bpm (-1.93%), Fineco (-4.77%), Intesa Sanpaolo (-3.00%) and Unicredit (-2.67% ). (in collaboration with Money.it)