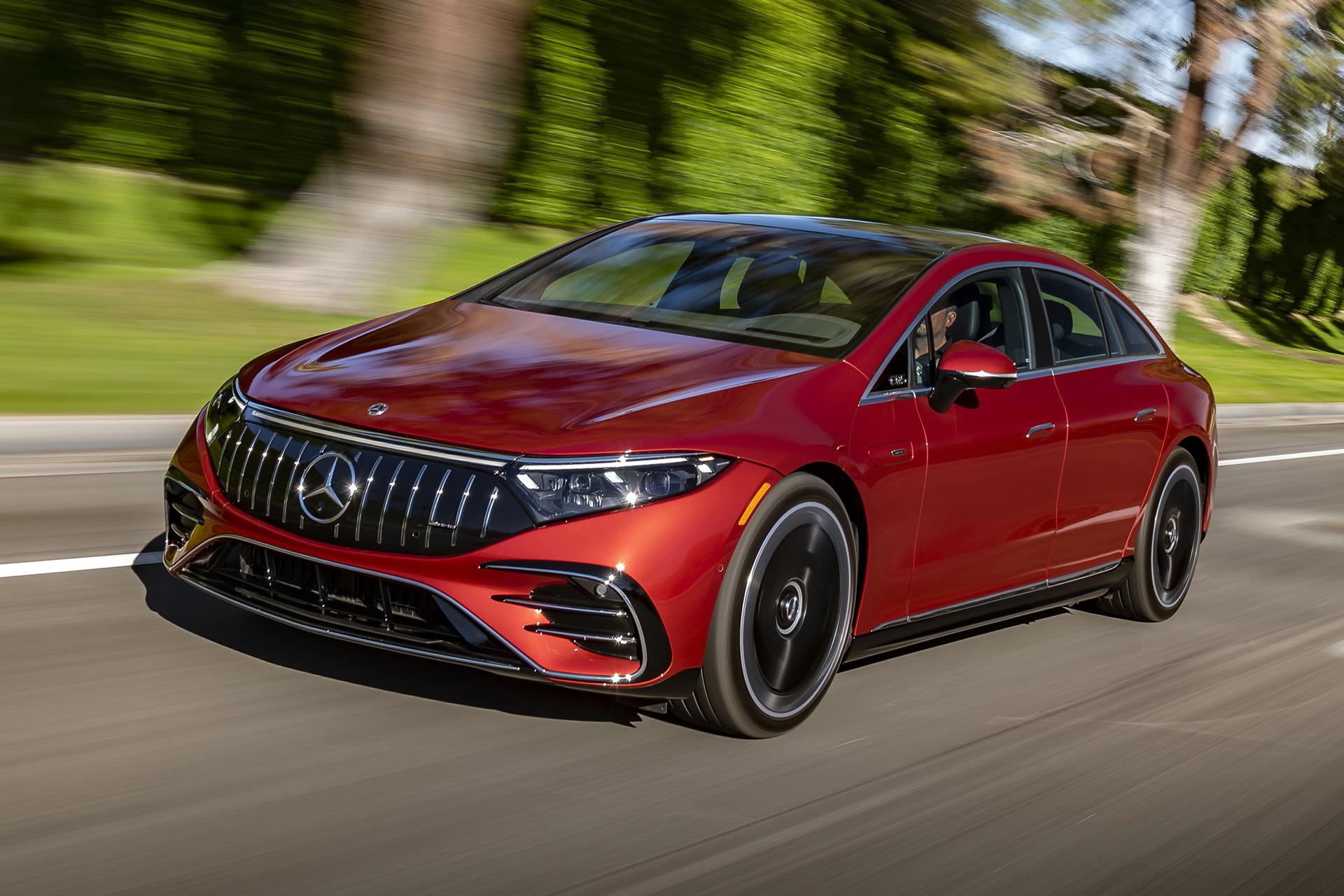 For years, AMG was the purveyor of beautiful eight-cylinder engines with heavy rolls that continued to sing around in your gut for hours. But times change. And so the V specialists from Affalterbach also have to go to the battery; with the streamlined EQS 53 as the first achievement and immediately as a reassurance for enthusiasts. Because this AMG is also old-fashioned sensational.
You will, for understandable reasons, have to look for that sensation in something other than that baritone sound, although sound is indeed part of the experience. Especially if you put the EQS in Sport Plus and switch on launch control, which Mercedes has dubbed Race Start mode. Your seatbelt is tightened, your seat vibrates and a racing game-like sound is playing in the background, as if something is charging.
The power of the Mercedes-AMG EQS 53
Release the brake and it sounds like a cocked arc being fired. And that's how it feels, because the recoil you feel during the sprint to 100 km / h is enormous thanks to the 761 hp and 1,020 Nm. You could almost end up with whiplash. Meanwhile, a difficult to describe, but unmistakably sporty hum can be heard, both inside and outside the car.
Which, by the way, is slightly rawer in Sport Plus than in Sport. If you don't want any sound at all, you can also turn it off. Incidentally, it must be said: you only have that 761 hp and 1,020 Nm during the launch if you equip your EQS with the Dynamic Plus package. If you don't, you will have to make do with 'only' 658 hp and 950 Nm.
How does such an electric AMG drive?
Because of all that brutal violence you would almost forget that you are dealing with a heavy boy here: the EQS weighs about 2,600 kilos. But thanks to a smart interplay of a lot of power and sophisticated controls, you never have the idea that you are driving a rolling colossus. The EQS is rather surprisingly agile and direct to steer and even when braking hard you will not be surprised by a bucket of weight that interferes with your turn.
You really have to do your utmost to knock the EQS off the hook and in the exceptional case that you succeed, little trouser-tearing actually happens. And although its dimensions are not exactly subtle, its turning circle thanks to its steering rear wheels – visible in your exterior mirror, remains fun – surprisingly small.
The interior of the EQS
The impressive infotainment screen is certainly not small. Mercedes itself calls it the Hyperscreen and it's easy to see why: it's a glossy cluster of three huge screens across the full width of the car. It looks fantastic, sometimes works a bit slow, but otherwise flawless and offers you all the options you want.
Two drawbacks. Firstly, it takes a while before you know where all those options are hidden, it is not very intuitive. And second: you must not have a greasy finger phobia. Because with touch screens in a 141 centimeter long glass plate, you know one thing for sure: this will be a stain and wipe feast. Fortunately, there are massage chairs to soothe you if it gets too much.
The final verdict of the Mercedes-AMG EQS 53
Is the EQS 53, despite the absence of a V8 and spoilers – after all, which would not benefit the driving range – a real AMG? That depends on what you call 'AMG'. Does that mean a lot of muscle noise and extreme air scoops for you, then not. But does it stand for awe-inspiring performance and an insanely good driving experience, then certainly. Experience a Race Start moment like this once and you'll understand why we're in the second camp.
Specifications of the Mercedes-AMG EQS 53 4Matic+ (2023)
Motor
2 electric motors
761 pk
1.020 Nm
107.8 kWh (battery)
Drive
four wheels
stepless
Performance
0-100 km/u in 3,4 s
top 250 km/u
Consumption (average)
22.2 kWh/100 km The label
Range (assignment)
563 km (WLTP)
Loading time
11:15 am at 22 kW
34 min. at 350 kW (80%)
Dimensions
5.223 x 1.926 x
1.518 mm (l x b x h)
3,210 mm (wheelbase)
>2.555 kg
610 / 1,770 l (luggage)
Prices
€ 176.608 (NL)
€ 178.475 (B)