Nintendo has announced an entirely new track for the Mario Kart series. Piranha Plant Cove arrives in days to the mobile game.
(Update) Nintendo has published the Trailer for the new season of Mario Kart Tour Exploration in which we can finally see how is the new circuit which debuts in the franchise, Piranha Plant Cove. Take a look!
(Original News) While the DLC arrives at Mario Kart 8 Deluxe with numerous familiar tracks, Nintendo continues to feed its mobile game. The company has just announced a completely new circuit that will come to Mario Kart Tour next February 7: Piranha Plant Cove (Piranha Plant Cove).
With the following message, the date and time that this new track will be available has been announced. Piranha Plant Cove is coming to Mario Kart Tour on February 7 at 7:00 PM (19:00) in peninsular Spanish time, as part of the new Exploration Tour. To accompany the announcement, they have made a little game of spot the differences.
Piranha Plant Cove, an all-new course for the Mario Kart series, will appear in the Exploration Tour starting Feb. 7, 10:00 PM PT! To get ready, can you spot the differences between these two images? There are 10 in total! #MarioKartTour pic.twitter.com/TV0dus2CZJ

— Mario Kart Tour (@mariokarttourEN) February 2, 2023
Mario's classic suit and the Blue Shell replacement are quite sobering. Are you taking the opportunity to announce a new object, the Bowser's shell, or is it just a modification to make users look for the differences? Be that as it may, there is a new circuit on the way, and it would not be surprising if It will end up coming to Mario Kart 8 Deluxeespecially if we take into account the leaks of its DLC.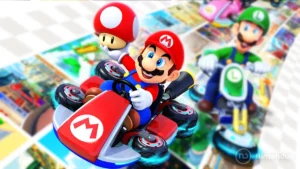 Nintendo surprise launches a digital Mario Kart 8 Deluxe pack with all the Extra Tracks Pass DLC for Nintendo Switch.
Fuente