Suara.com – The arrest of the suspect in the bribery, gratuity and money laundering crime case (TPPU) of Central Mamberamo Regent Ricky Ham Pagawak began with information from a contact person. Then, who is the liaison figure?
Chairman of the Corruption Eradication Commission (KPK) Firli Bahuri said that the link behind Ricky's arrest was an ordinary civilian.
"These are civilians who are known, questioned," said Firli in a press conference at the KPK's Red and White Building, South Jakarta, Monday (20/2/2023).
Firli was reluctant to mention in detail the liaison figure. He only said the liaison played a role in Ricky's arrest.
Also Read: KPK Officially Arrests Central Mamberamo Regent Ricky Ham Pagawak
"Until now the liaison is helping the KPK. But we need to explore it again because we know someone, we know someone's whereabouts because there are other people," said Firli.
Previously reported, the KPK also arrested the subordinates of Central Mamberamo Regent Ricky Ham Pagawak. The crew's role is to act as a liaison while Ricky is on the run and in hiding.
It was from this liaison figure that the KPK managed to track down and arrest Ricky Ham Pagawak.
KPK Deputy Chairman Nurul Ghufron revealed that the KPK had been spying on Ricky's movements since he fled to Papua New Guinea in July 2022.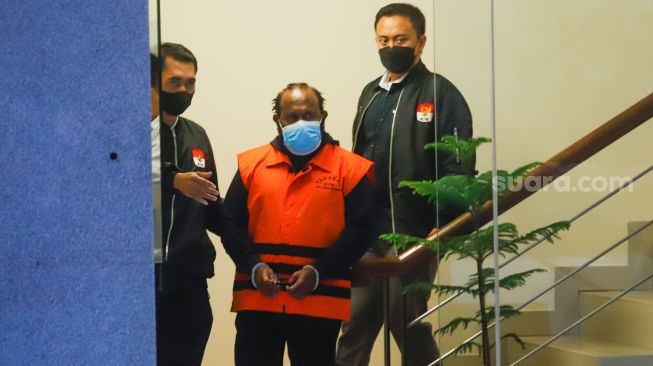 The suspect in the Non-Active Regent of Central Mamberamo, Papua, Ricky Ham Pagawak walks in wearing a prisoner's vest when he is about to be presented at a press conference announcing the detention of the suspect at the KPK's Red and White Building, South Jakarta, Monday (20/2/2023). (Suara.com/Alfian Winanto)
"It's true that we monitored the movements of RHP (Ricky Ham Pagawak) after they started entering Indonesian territory after 6 months from fleeing Papua New Guinea," Ghurfon told reporters, Monday (20/2/2023).
Also Read: Officially Detained, Central Mamberamo Regent Allegedly Enjoyed Rp. 200 Billion in Bribery
Traces of Ricky were apparently known from his subordinates who often communicated between Ricky and his family. However, Ghufron has not explained the identity of Ricky's men.
Because of this, the KPK began pursuing Ricky's men. Finally, Ricky's men were arrested on Saturday (18/2/2023) and then Ricky was arrested on the same day.