The model and television presenter revealed suffering from a skin disease. Know what it is and what are its care.
Former beauty queen Karen Schwarz, who recently said goodbye after 11 years from the Latina television house, shared a revelation about her skin on her official Instagram account. "A few months ago I started this rosacea adventure. They say that it can occur for different types and reasons, one of them stress and yes, it just started in August of last year, where I only slept three hours, long story…", He confessed in his last publication on social networks. In this way, we will tell you what this disease is and what its care is.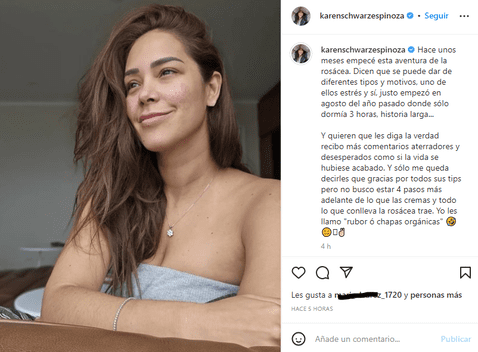 "I call them blush or organic sheets," said Karen Schwarz after revealing that she has rosacea. Photo: Instagram capture/Karen Schwarz
What is rosacea?
According to information from EsSalud, rosacea is a common skin condition that causes redness and visible blood vessels on the face. In other cases, lumps with pus may occur. These signs can be present for weeks and months, and then disappear over time. Also, it can appear in both men and women, but it is more common in middle-aged females with fair complexions.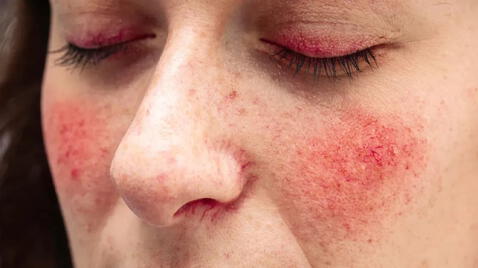 Rosacea mostly occurs in middle-aged women. Photo: Medical News Today
Rosacea: why does it occur?
The cause of this skin disease is unknown, according to EsSalud, but it could be caused by the following aspects:
Overactive immune system. Hereditary factor. Some outbreaks could be developed by: hot drinks, extreme temperatures, emotions, stress, cosmetic products for skin and hair care. Sudden changes in temperature and sun exposure.
rosacea symptoms
This disease has multiple symptoms, one of them is frequent redness in the face, especially in the central part. Burning in the face and reddish lines under the skin because the blood vessels located under it have a tendency to enlarge.
Is rosacea treated?
Although there is no medication that completely cures it, the symptoms can be softened.
These symptoms can be minimized with the use of drugs such as antibiotics and topical preparations. Laser therapies to reduce redness and Intense Pulsed Light to give the skin a rejuvenated appearance.